15 Useful Ways to Increase Storage In Your Small Space
Adequate storage seems to be a problem no matter how much space you have. It's a much bigger issue when you're dealiing with a smaller space. Here are 15 ways the help you increase storage in your small space.
Storage space is a hot commodity in any home, and it seems like it's the first thing you run out of. We've all dealt with it at one point or another.
You go to put something away, and there's just no more room. You try to shuffle stuff around to clear a big enough space, but it's just not working. It's going to take a bit more than your simple 'shove it to the side' technique.
It's time to get serious and maximize your storage space.
Increase Storage
Building another storage shed or buying a bigger house just isn't an option, but you've had enough and can't take it any longer. You need more storage space and you need it now.
I hear ya. I'm constantly trying new organization and storage solutions myself.
When you actually find the right storage solution, it will serve your needs for years. It will also be easily adaptable to your changing needs. It will be pure storage nirvana!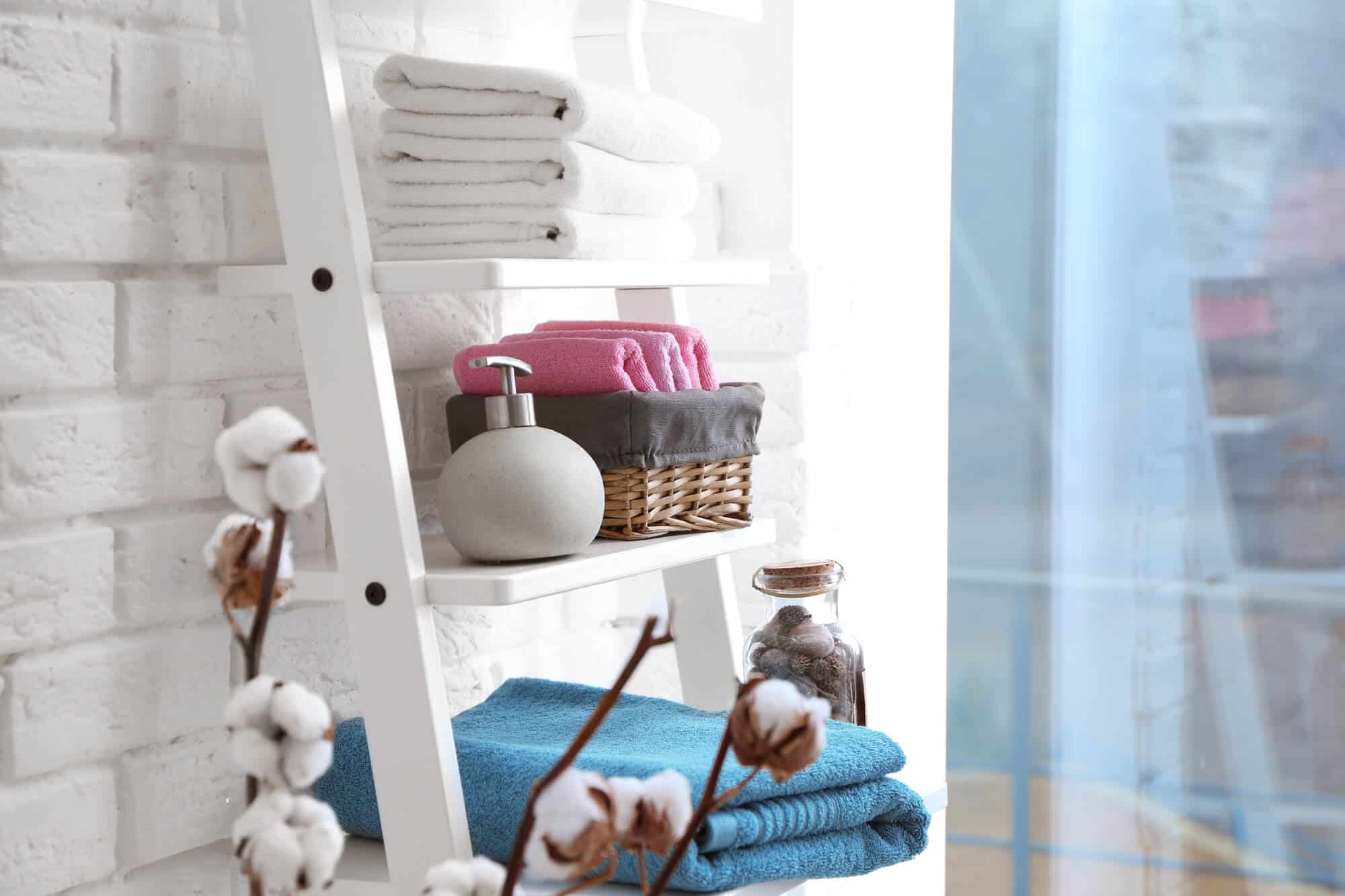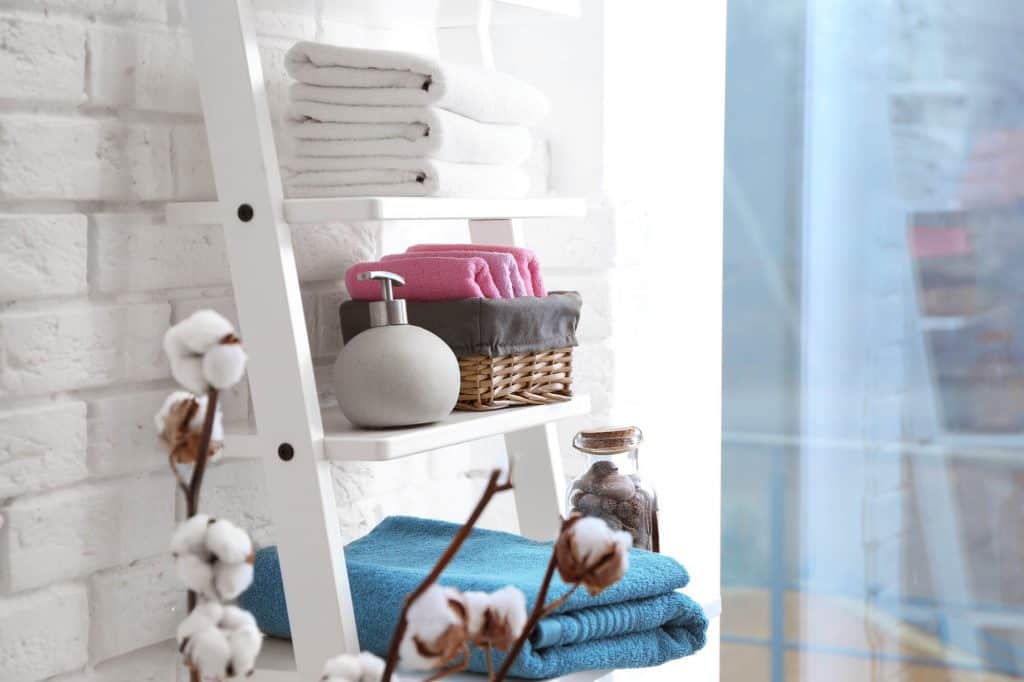 This post may contain affiliate links. Please see my disclosure policy for details.
Storage Solution Nirvana
What is storage solution nirvana? It's that storage solution that fits all of your needs for that particular space.
Here's a perfect example. My home features a tv nook in the family room. When we first moved in, we had a glass, open shelf tv stand that held the tv and all the related components. Everything was piled on the open glass shelves and looked messy no matter how often I cleaned and tidied it.
I had a vision for the perfect cabinet and searched for years (seriously, like three or four), but couldn't find what I wanted. I was ready to give up and have my father-in-law help me build one.
The Perfect Cabinet
Then one day, I happened to be running some errands in a neighboring town that has an amazing furniture store (The Old Cannery), so I stopped by and took a stroll. You see, they also have a wonderful little fudge shop, so . . . need I say more!
Anyway, when I walked around a corner, there it was! The perfect cabinet. It was like somebody took the picture out of my head and plopped it right there in the store. I bought it immediately.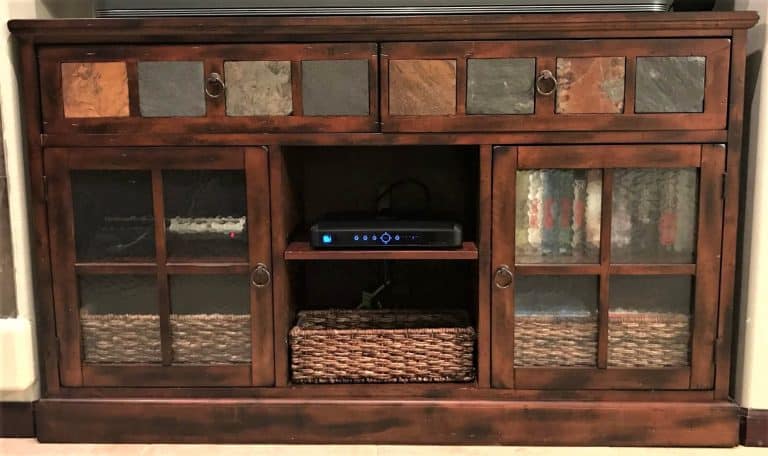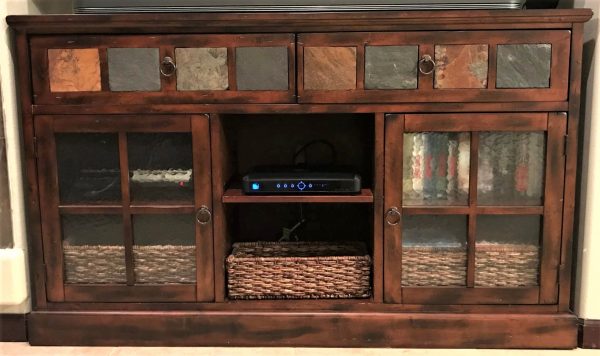 The cabinet is a tight fit. We almost had to remove the trim to get it to fit into the nook, but it slides in perfectly, no vaseline needed. It has drawers for storing DVD's out of sight, and shelves on the bottom behind textured glass for storing the tv components.
The shelves are big enough to accommodate baskets across the entire bottom row. I use those baskets to corral all of the extra cords and miscellaneous small items that go to the gaming systems. I have another basket that holds a microfiber duster and cleaning supplies for the electronics.
That stand keeps everything I need, right where I need it, and pretty much out of sight.
15 Ways to Increase Storage
Now it's your turn to find your storage nirvana. Try one, two, or all of the suggestions below to increase storage in your small space.
1. Declutter and Purge
Yep, I went there right away! Sometimes I like to ease people into it, but other times it's just better to deal with the elephant in the room. I don't want you waiting for it and missing the benefits of all of the ways to increase storage in your space, so let's get to it.
Clutter is a real problem in most homes, big and small. It's actually a little shocking how much stuff people accumulate without even realizing it. All of that stuff gets crammed in random drawers or stashed in forgotten places until there's no room for the things that actually belong.
Since this isn't meant to be a lecture on clutter, I'm just going to say that decluttering your problem areas, or purging duplicate, broken, or unnecessary items is one of the quickest, cheapest, and easiest ways to free up extra storage space in any room.
Imagine how much space you could free up if you decluttered your kitchen or removed all of the random stuff from your bathroom. Grab our decluttering guide below for over 100 things you can declutter from your home today.
100 GUILT-FREE ITEMS YOU CAN DECLUTTER TODAY!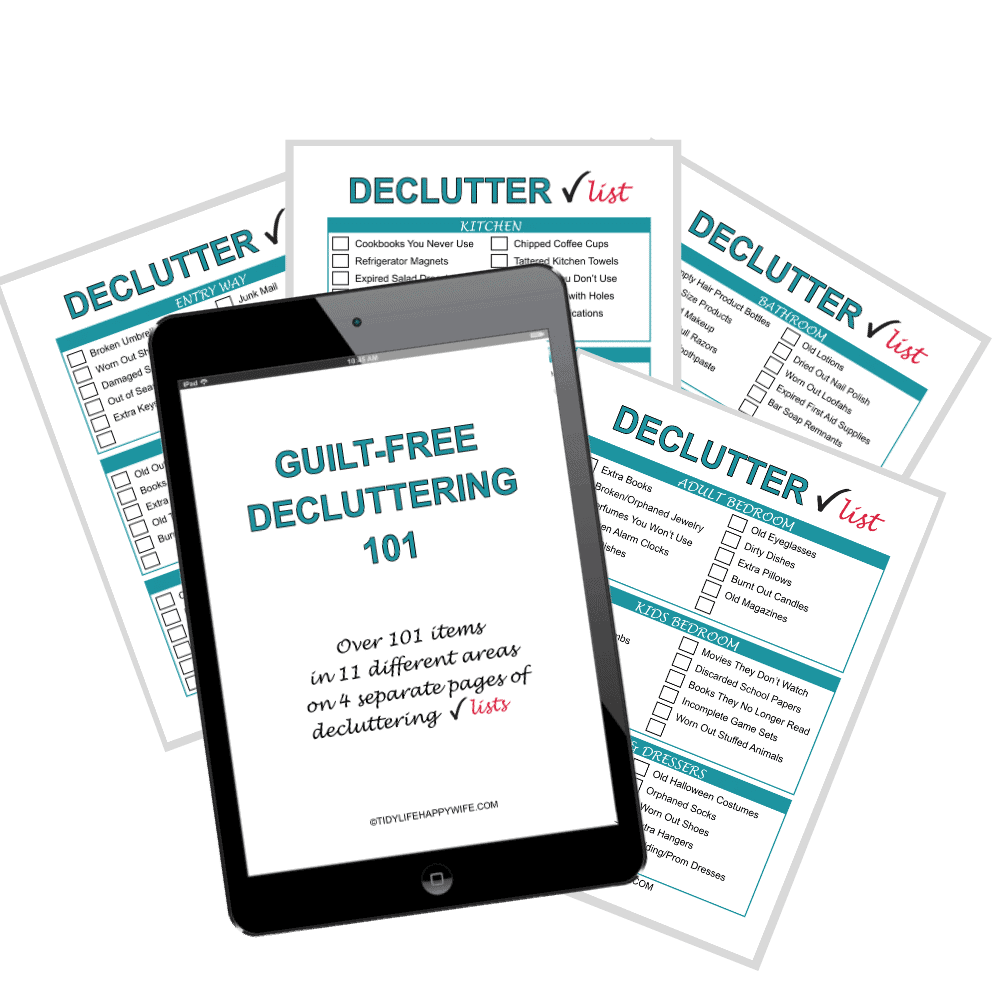 Join thousands of VIPs for cleaning, decluttering, and organizing tips sent straight to your inbox. As a welcome gift, we'll send you these FREE printable lists of Over 100 Easy Items You Can Declutter Today!
2. Eliminate Junk Drawers
Get up right now and go open your junk drawer. If you just said 'which one', you're wasting more space than you even know. For now, just pick the closest one and you can deal with the rest later.
Open that junk drawer, and identify and remove any items that are duplicates, haven't been used in years, belong somewhere else, or that you aren't even sure why you have them.
Is there anything left in the drawer that didn't fit one of the categories above? If so, redefine the purpose of the drawer to store those items and look at all of that additional storage space you freed up.
3. Add Shelving to Current Cabinets and Closets
This is one of my favorite and most used tricks for creating more storage. Customize the interiors of your current cabinets, closets, and storage spaces by adding extra shelves.
A lot of modern cabinetry is made with adjustable shelving. It allows you to move your shelves to accommodate the heights of what you're storing.
Arrange your shelves to leave enough room to easily retrieve the items stored in that cabinet. If you have enough room left over, you can add an extra shelf instead of buying stackable, raised storage caddies.
This works great for dinnerware cabinets, under sink storage, closets, buffets, hutches, and pantries.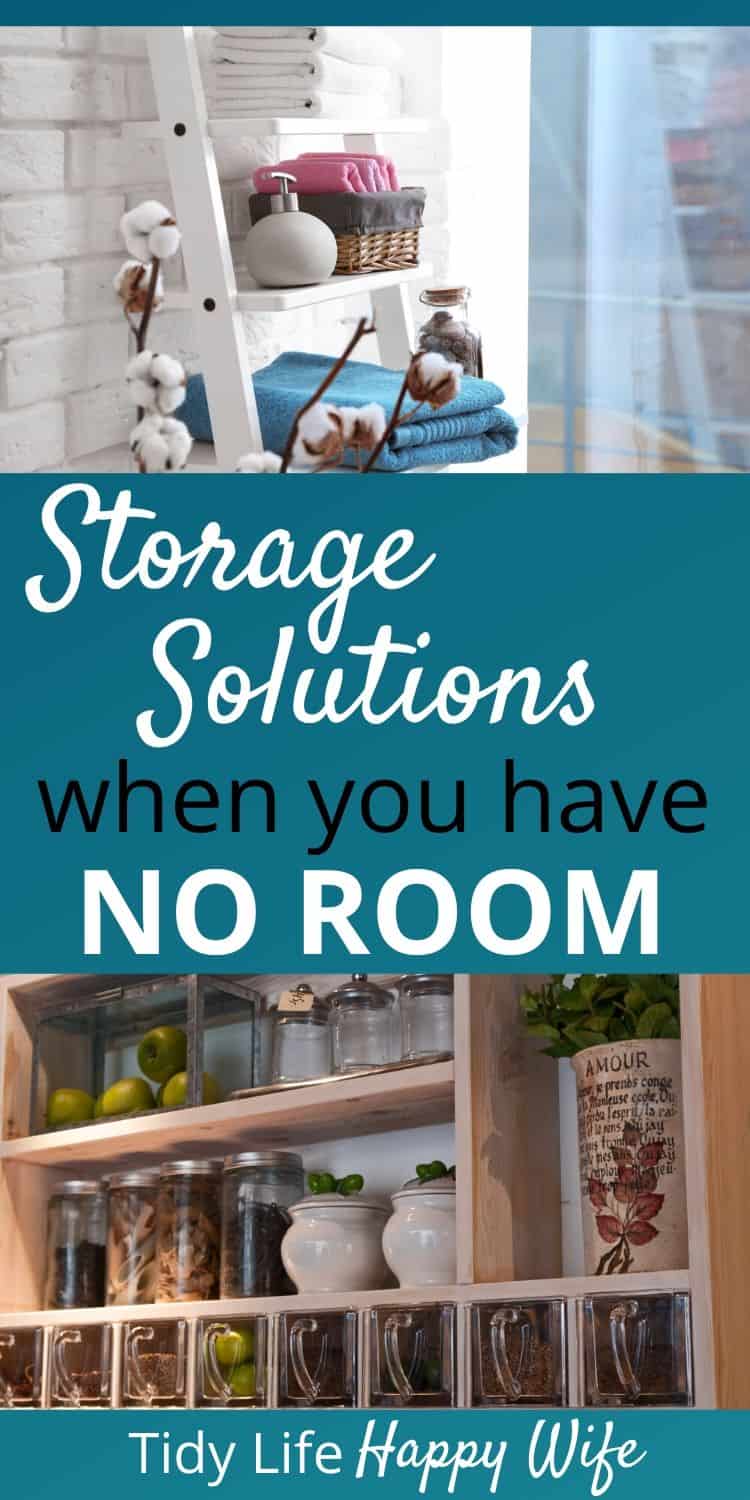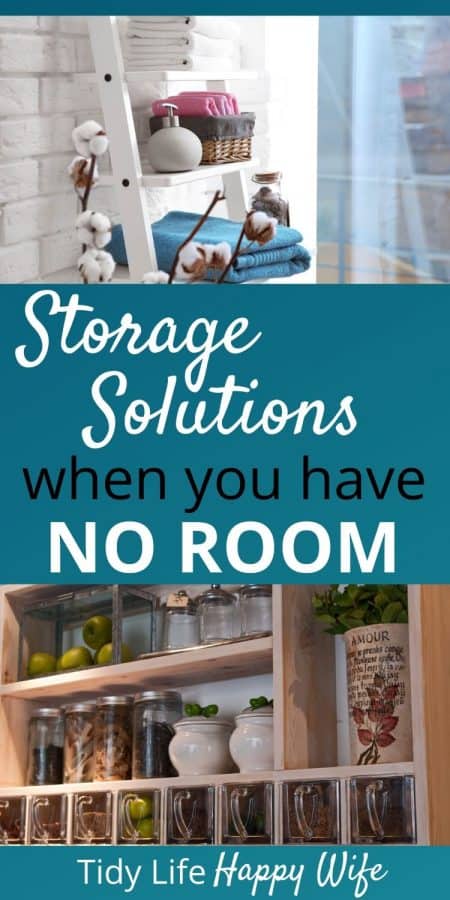 4. Utilize Double-Duty Items for More Storage
Double-duty items are items that you need but can serve as storage for other items when they aren't being used.
An obvious example of an item performing double-duty is a larger food storage container being used to store smaller containers or to store all of the lids so the other containers can be stacked inside of each other.
Other ideas include keeping a decorative pitcher or vase on the kitchen counter to store cooking utensils and storing measuring cups and spoons in a mixing bowl.
You can store your salad tongs inside the salad spinner or bowl, and use your Instant Pot to store any accessories.
Use a decorative box or dish near the door to store keys, wallets, and anything else you might need as you're walking out the door.
Double duty items are great for the bedroom too. We have a ton of storage hacks for small bedrooms.
5. Go Vertical
Utilize your vertical spaces to add storage without taking up more square footage.
You can increase storage by installing shelving vertically up a wall, up the sides of cabinets, and behind the toilet.
Another example of vertical storage is placing seldom-used decorative holiday platters and bowls on top of cabinets. It adds a touch of decor and gets the dish out of your way.
Increase your utility room and garage shelving by taking it all the way to the ceiling.
6. Use Wall Space
Much like going vertical, use your wall space to add storage.
You can put spice and storage racks on kitchen walls, cabinet or shelving above the toilet, and extra storage above the washer and dryer. Add mirrored cabinets over the sink. Install shelving or small cabinets to utilize empty corner spaces.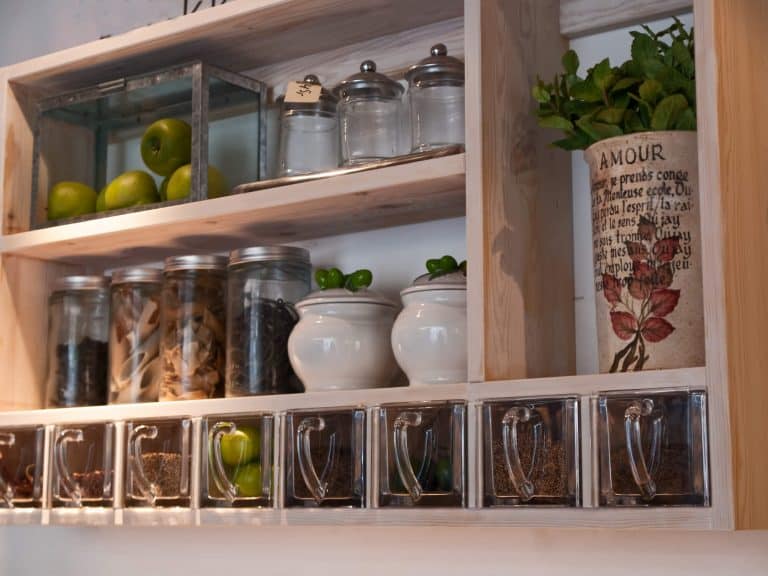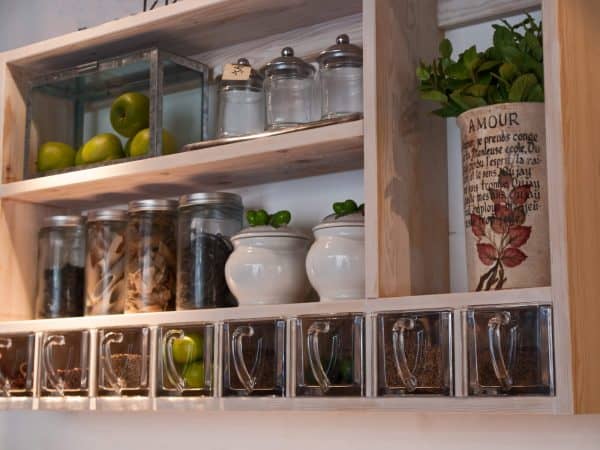 Install hooks or racks to hang things from. I use command hooks to store our snorkel equipment. It doesn't take up too much room and it's out of the way.
7. Select Double-Duty Furniture
Double-duty furniture is any furniture piece that can be used for more than one purpose, but in our case, we're talking about pieces that help increase storage space in our homes.
Entertainment Stands
These stands don't just hold your tv, they can also be a place to store your media library, your satellite components, your gaming systems, and your electronics cleaning supplies.
Hutches, Sideboards, and Buffets
Here are some different ways you can use these furniture pieces to increase storage in your small space.
If you still have a separate set of china, you can store it in a separate hutch so it isn't taking up valuable kitchen cabinet space. I store most of mine in the glass display case on top and use the bottom to hide my liquor stash – shh – don't tell.
A buffet or sideboard is great storage and functions as extra counter space when you have lots of guests.
Storage Headboard
If your bedroom is fairly small, consider getting a headboard that has some storage space. Some have open shelving storage and others have closed cubbies.
You can store decorative items on the shelving and tuck the rest in the cubbies.
Storage Ottomans
Storage ottomans are the workhorse of double-duty furniture and rockstars when it comes to increasing storage in your home. I have one at the foot of my bed that serves many purposes.
That ottoman holds the extra linens for my bed. It's where I lay out my clothes during my evening routine, the place I sit to put my socks on, and an extra step for my cat to get on the bed.
When we're having people over, it becomes extra seating for our party guests. That thing does way more than double-duty.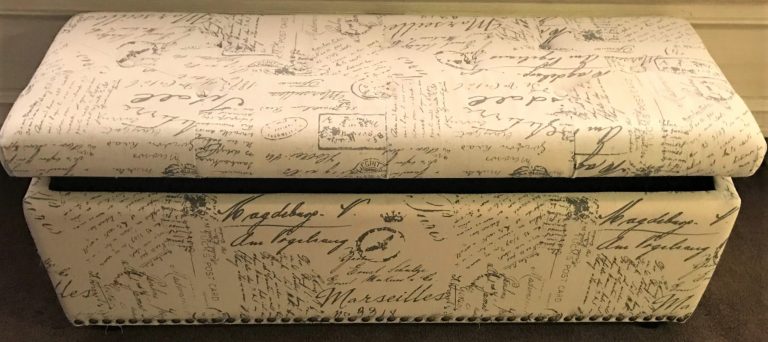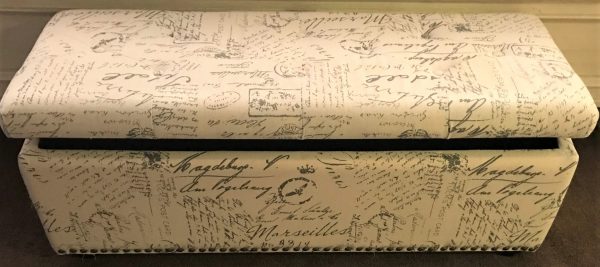 Under Bed Drawers
A lot of platform beds come with storage built in underneath. If you don't have one of those, consider getting some drawers on wheels to increase storage under your bed. It's a great place to store those seasonal clothes that take up too much closet space in the offseason.
Nightstand With Drawers
Another good option for increased storage space is a nightstand with drawers. It gives you a place to tuck things away and keep the top of the stand relatively cleared off.
8. Use Open Floor Space to Increase Storage
The floors of closets and pantries are often underutilized. Change that.
Pantry
Use the floor of the pantry to store larger, heavy appliances that you don't use regularly like the Instant Pot, Crock-Pot, and electric roasting pan. It will be a little harder to lift them up (use your legs), but they won't be weighing down your pantry shelves.
Linen Closet
You don't want to store your clean linens on the floor, so use this space to store extra toilet tissue, foot spas, or any other larger items that don't need to be on the shelving.
9. Use Command Hooks
Command hooks can increase storage in spots that other storage solutions won't work.
I use them instead of a towel bar in my bathroom to hold our wet towels, on the back of my pantry door for my apron, and several on a narrow wall in my spare bedroom to hold my resistance bands and my snorkel equipment.
They can also be used on the inside of cabinet doors to hold pan lids, measuring cups, and potholders.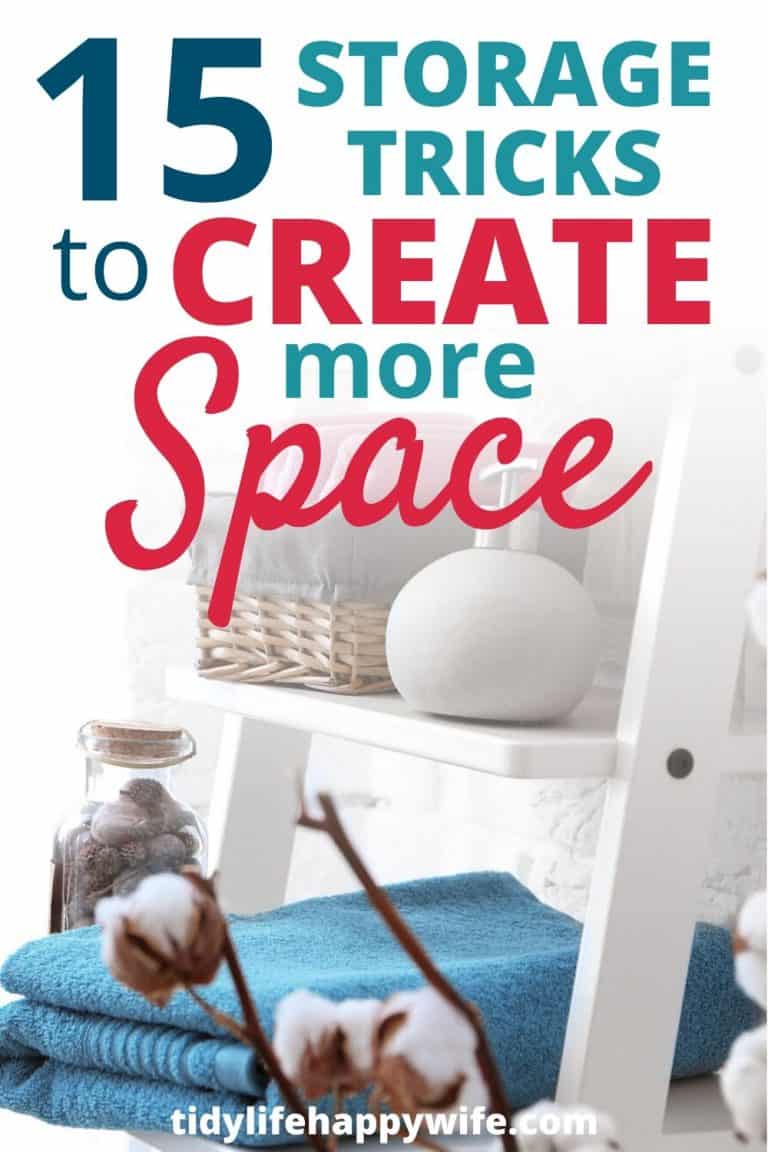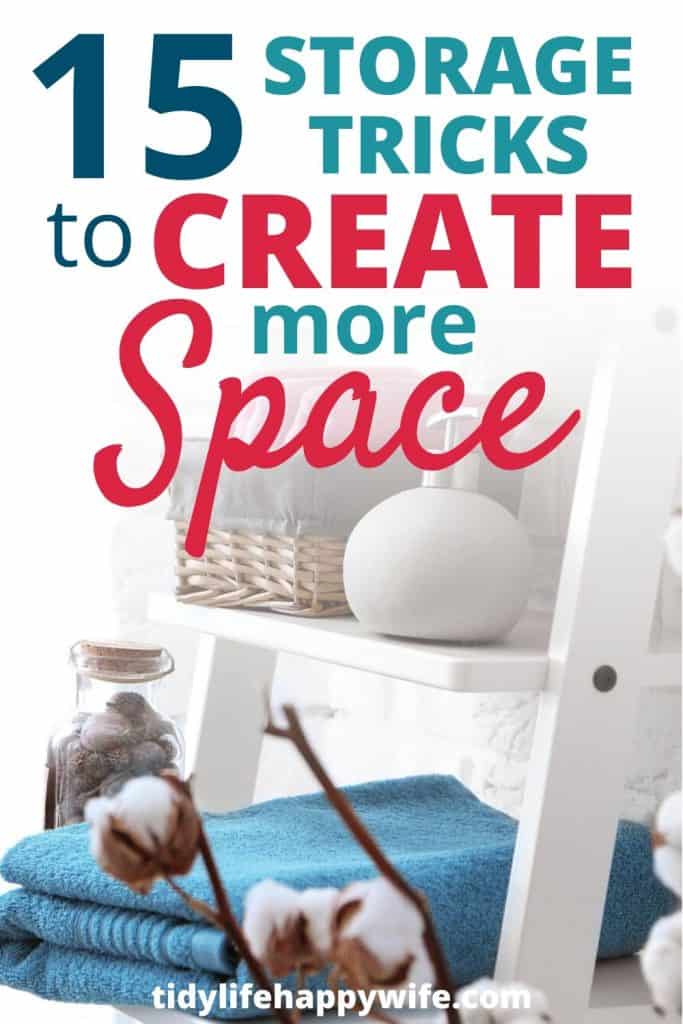 10. Add Storage Between the Studs
Install storage cabinets between the studs in your home. Interior walls are the best option so you aren't messing with too much insulation.
Mirrored Cabinet
Turn your bathroom mirror into a storage cabinet tucked in between the studs in the bathroom to provide extra storage for toiletries, hygiene, and hair products.
Ironing Board Cabinet
Tuck an ironing board cabinet in the wall of a bedroom or the laundry room to keep your ironing board tucked away until you need it.
The options are endless, you just need to use your imagination.
11. Use the Insides of Doors
Increase storage space by installing storage systems on the insides of cabinet and closet doors.
You can hang measuring cups and spoons on the inside of a cabinet door. Sponges and dishrags can be stored in a caddy attached to the inside of the base cabinet.
Put a shoe organizer or custom storage shelf on the inside of a door to provide storage for smaller, lighter-weight items like spices, foil, saran wrap, seasoning packets, and disposable utensils.
12. Install Shelves in Corners
You can gain a ton of storage space by putting shelving up in the corners of rooms.
You can use these for storing decorative candles and family photos instead of having them stacked on top of a table or buffet.
They also work well for increasing storage for your books, CDs, DVDs, and other small items.
13. Create Storage Cubbies or Drawers Under Staircases
Pretend you're living in a tiny home and channel your storage spirit animal. Take advantage of every hidden nook and cranny you possibly can.
Add cubbies under staircases or drawers to each of the stair risers. Depending on where your staircase is located, it could be a really good place for a mudroom-style bench.
14. Select Appropriate Storage Containers
Storage containers are tricky because if you don't choose correctly, they just contribute to the clutter.
You should select your storage containers to fit your space and the items you're storing in them.
If you want to store soup cans in a double row, but you bought a storage container that's not quite wide enough, you'll end up wasting a full can width of space. Because there's extra room in the container, somebody will put something else there, and soon enough your organized pantry will look like a cluttered mess again.
15. Utilize the Attic or Shed
When all else fails and you just can't part with something, store it in the attic or shed so it's not taking up valuable interior space. These are also good places to store seasonal items that you only access once a year.
Storage Solution Nirvana Achieved
We covered decluttering and purging, then we talked about a lot of vertical and hidden storage solutions. I gave you some ideas for double-duty items and furniture, then talked about the old standby of the attic or shed storage.
Now that you have all of these options to increase storage in your small space, get busy and go find your perfect storage solution and don't forget your decluttering checklist.