11 Frustrating Decluttering Mistakes and Easy Ways to Prevent Them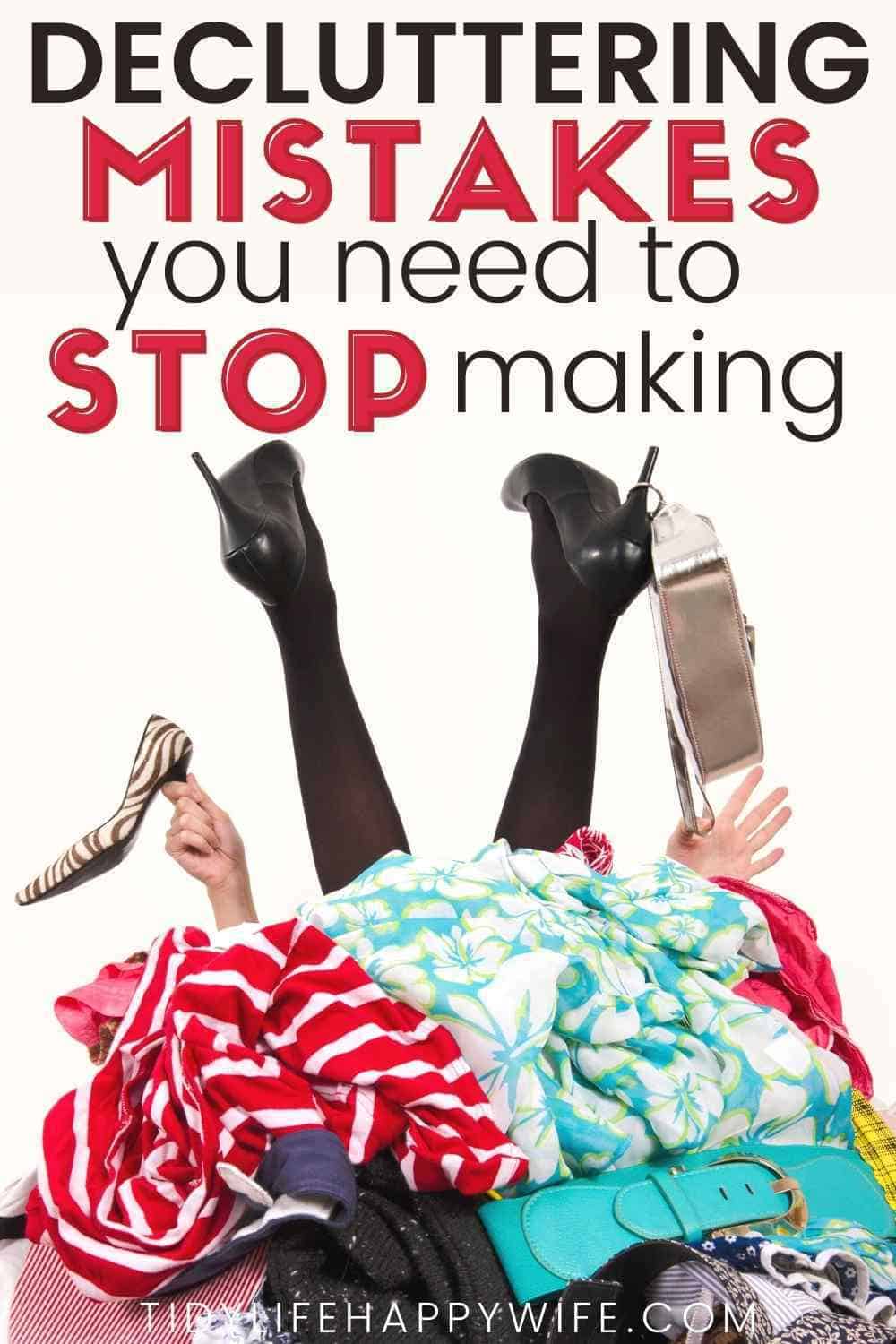 Tired of feeling like your decluttering efforts aren't producing good results and you still have too much stuff? You might be struggling with some common decluttering mistakes a lot of people make.
Read on to see what the common mistakes are and some easy ways to avoid them on your decluttering journey.
Why is decluttering so hard?
Decluttering is tough for many reasons. Despite your best intentions, you might have unrealistic expectations of the decluttering process. You may have emotional attachments or other decluttering blocks that make it difficult to let things go.
What is the easiest way to declutter?
The easiest way to declutter is whichever way works best for you. You might like the Marie Kondo1 method of decluttering to tidy up your home, the Joshua Becker2 method of adopting a minimalistic lifestyle, or one of the many ways in between.
By definition, decluttering is 'removing a mess or clutter from a place'.3 Whether you just want a tidier home, subscribe to simple living, or want to adopt a minimalist mindset, they all require some decluttering.
Personally, I despise dusting and cleaning, but function much better in a clean home! Getting rid of the excess clutter makes cleaning and dusting quicker and easier!
Decluttering Mistakes: What Not to Do When Decluttering
Here are some of the biggest decluttering mistakes people make (in no particular order) and how you can avoid making them.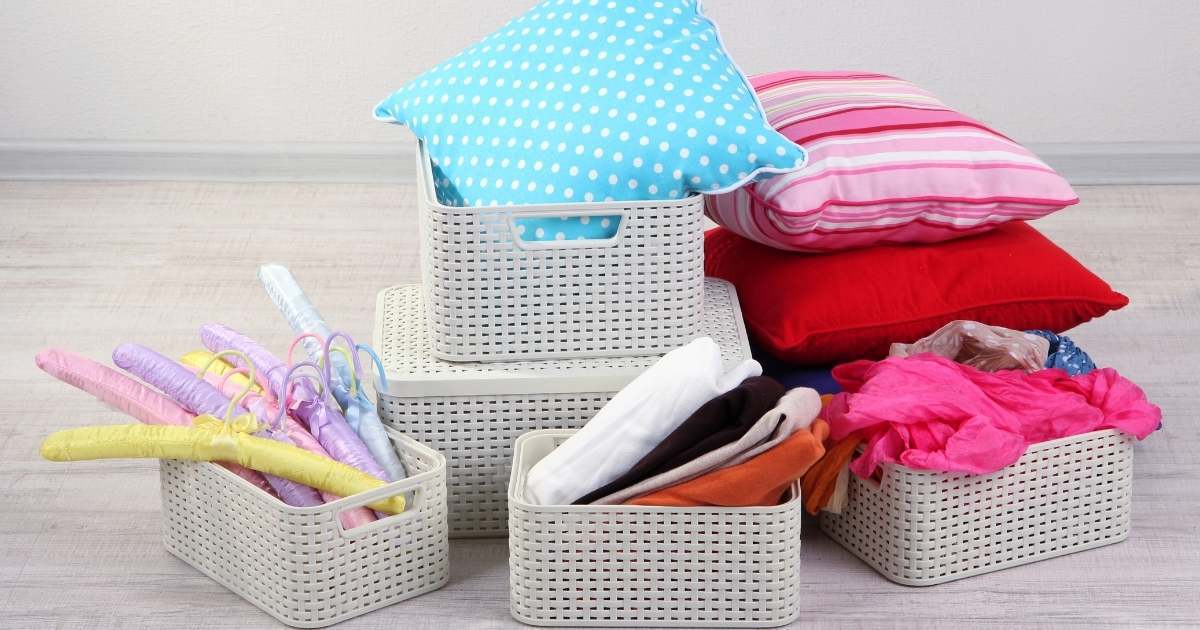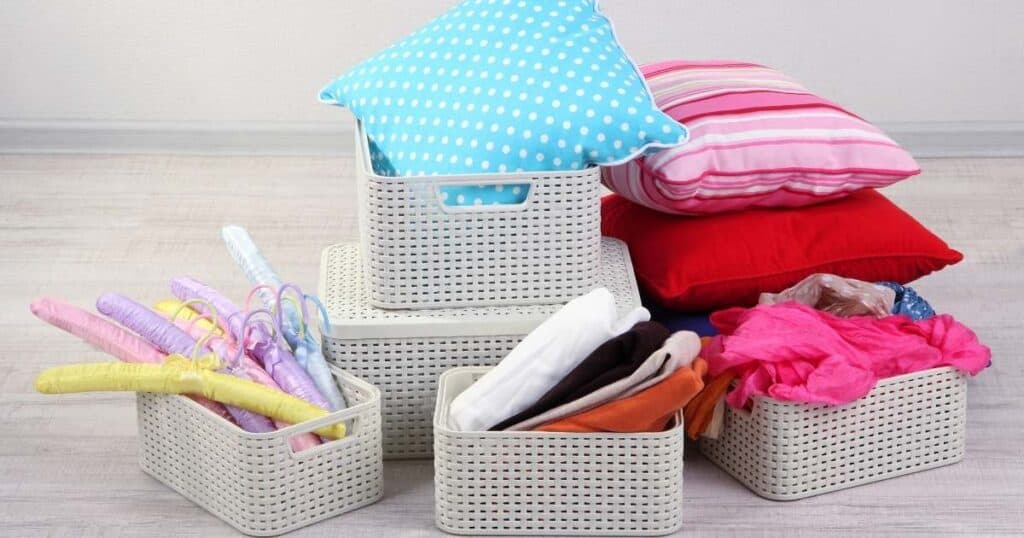 This post may contain affiliate links. Please see my disclosure policy for details.
1. Starting a Major Decluttering Project Without a Plan
Benjamin Franklin said 'A Failure to Plan is a Plan to Fail', and it couldn't be truer when doing a major decluttering project. Starting a major decluttering project without a plan leaves lots of room for distraction, frustration, and ultimate failure of your decluttering efforts.
How to Avoid Decluttering Without a Plan:
Set yourself up for success and create a decluttering plan that keeps you working through your entire home, room by room in a logical pattern. It's a good idea to break each room into separate small areas or smaller projects so you can start and stop easily if you're interrupted during your decluttering process.
Always start with smaller areas and quick decluttering tasks to help you gain momentum and make the mental shift before you declutter tougher areas or an entire room.
2. Not Using a Sorting System While Decluttering
Whether you're doing a quick declutter or tackling an entire living room at once, leaving the room to 'put stuff away' is a surefire way to get distracted, which will ultimately derail your decluttering session.
You need to stay put and stay focused on the task at hand.
How to Avoid the Sorting System Mistake:
Set up a sorting system before tackling your decluttering project. One of the most widely used is the 4 box method where you label 4 boxes as follows; Trash, Put Away, Donate/Sell, and Store.
I use the 4 box method but instead of just boxes, I use a garbage can for the Trash, a large storage basket for collecting the Put-Away items, a cardboard box for the Donate/Sell stuff, and a clear plastic storage bin for the Store Items.
AVOID THE COMMON DECLUTTERING MISTAKES OTHERS MAKE!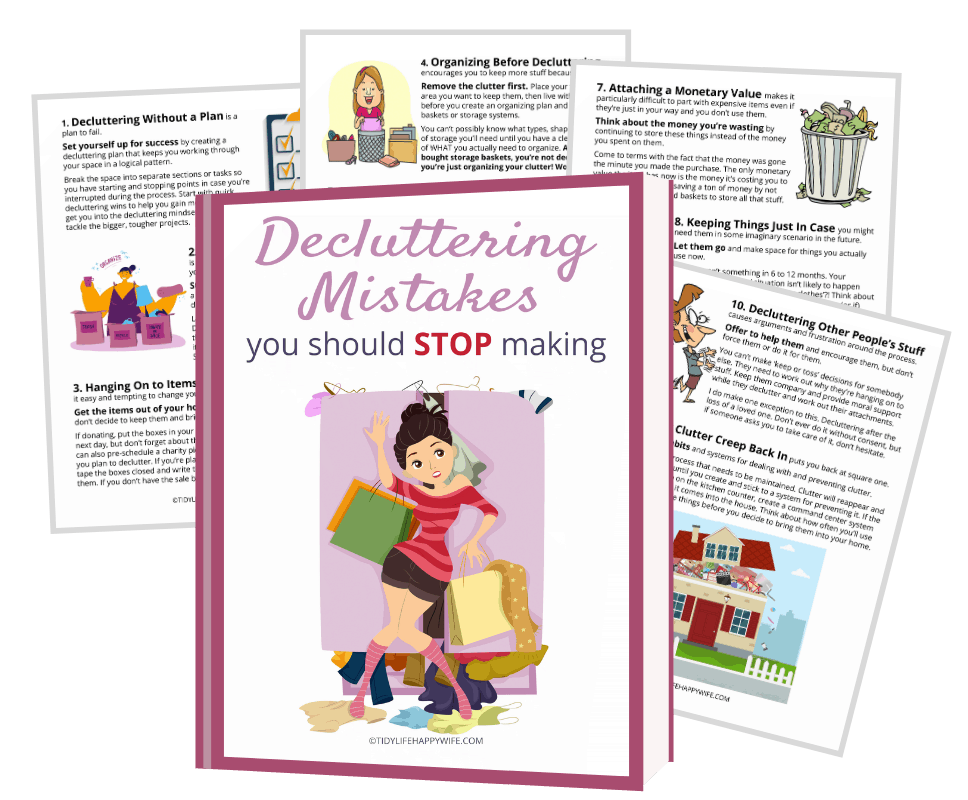 Join thousands of VIPs for cleaning, decluttering, and organizing tips sent straight to your inbox. As a welcome gift, we'll send you this FREE printable Decluttering Mistakes Guide that tells you exactly what NOT to do when decluttering.
3. Hanging On to Donate/Sell Items Too Long
One of the secrets to decluttering success is getting the items out of your house quickly and permanently.
Storing unwanted items in the garage in a box waiting to take them to a thrift store or have a garage sale is not decluttering, it's just rearranging!
It's also hazardous to your progress because it gives you the chance to bring the items back into the house.
How To Avoid Keeping Clutter Too Long:
Get rid of these things immediately or make sure it's scheduled in the very near future.
If you're donating things to a charity, put the boxes in the trunk of your car to drop off the next day. Just don't forget about them.
Place a sticky note by the speedometer of your car, and a note on your bathroom mirror so you remember to leave extra time in your schedule the next day.
If you're planning a garage sale, box similar items together, then tape the boxes closed and write the likely date of the garage sale on them. If the date has passed and you don't have a sale coming soon, just drop the boxes at a donation station.
4. Trying to Organize Before Decluttering
This is a huge decluttering mistake. I can't tell you how many times I've heard somebody say 'I'm so excited to start my decluttering, I stopped by Dollar Tree and bought all of these amazing baskets'.
If you already bought storage baskets, you're not decluttering, you're organizing your clutter! Womp, womp!
It's one of the worst things you can do because those baskets typically end up being the wrong size and just contribute to the clutter.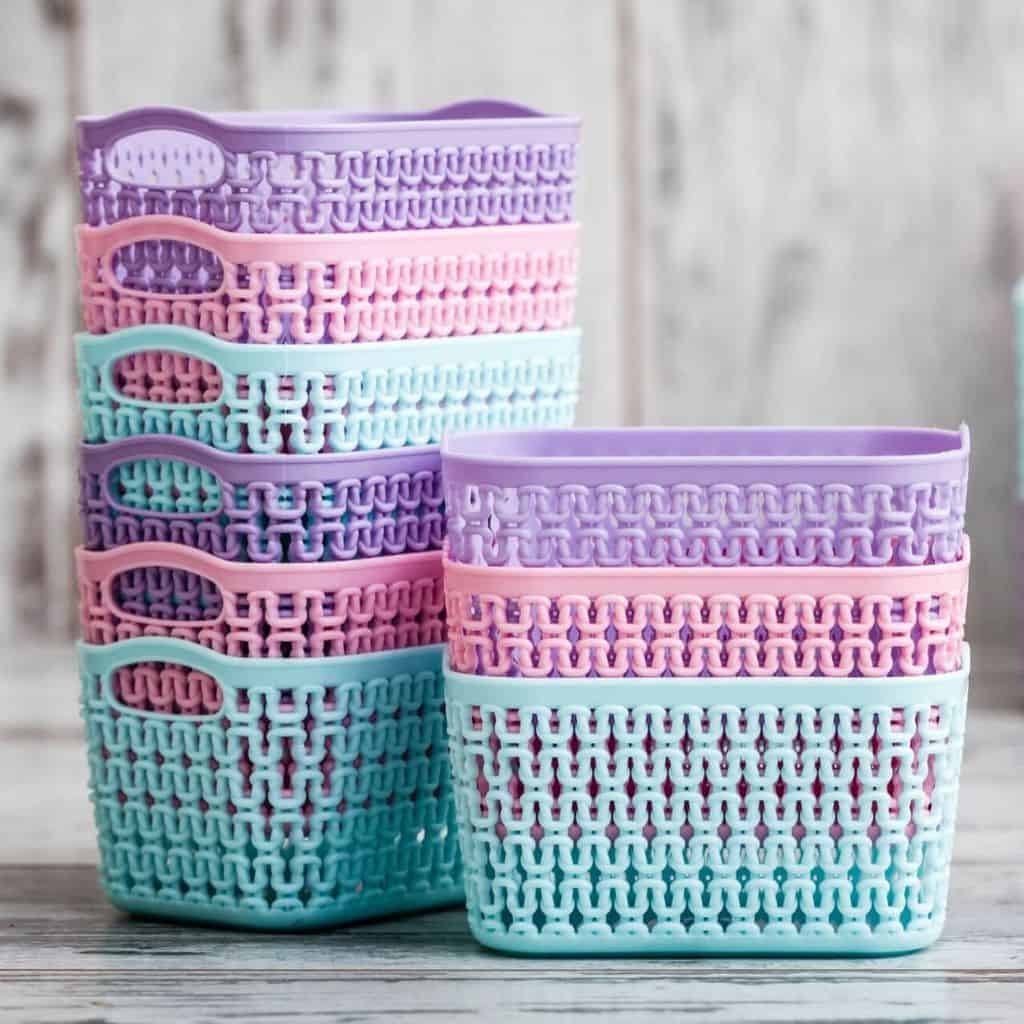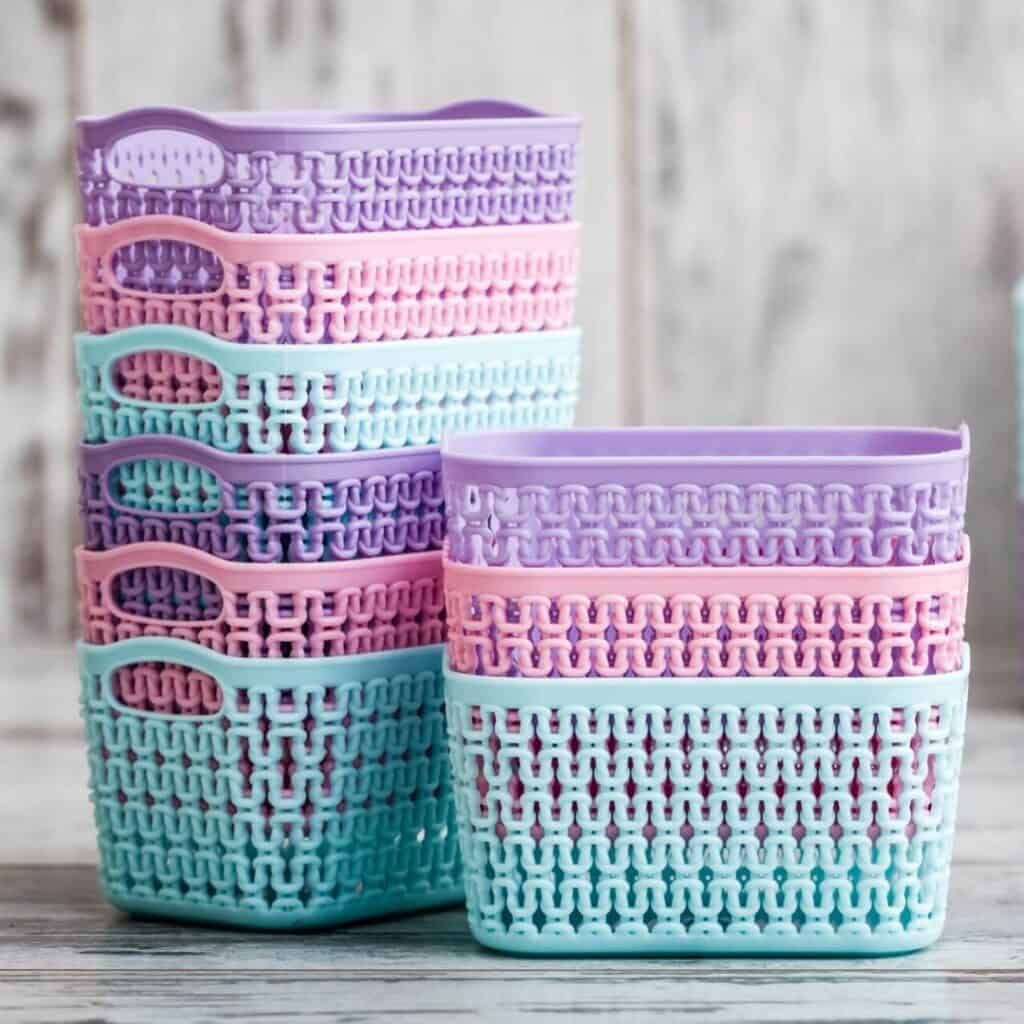 How To Prevent Organizing Instead of Decluttering Mistake:
STOP – Do Not Buy ANY Organizing Baskets or Storage Containers!!!
You can't possibly know what types, shapes, and sizes of baskets you'll need until you have a clearer picture of WHAT you actually need to organize.
Remove the clutter first, place your things in the area you want them, then live with it for a bit before you create an organizing plan and start buying organizing baskets or systems.
5. Trying to Declutter Everything All At Once
Decluttering is a process, and a very tough one if you don't have a regular habit of decluttering. Trying to do it all at once will lead to frustration and overwhelm and can be the one blunder that makes you hate decluttering altogether.
How To Stop Trying to Declutter All at Once:
When creating your decluttering plan of attack, break big projects into smaller ones, then schedule each smaller project for a separate time.
If you have an entire weekend to devote to decluttering your whole house, that might be the best way. But if you're like the rest of us and can't spare that much time at once, divide everything into 20-30 minute increments with 5-10 minute breaks in between.
Here's a smaller project list to give you some ideas.
junk drawer
bedroom closet
coffee table
end tables
medicine cabinet
kids toys
cleaning products
sports equipment
paper clutter pile
Need some help with time management, read more about the time blocking Pomodoro Technique.
6. Getting Wrapped Up In the Sentimental Items
Get ready, because this one's a biggy! Sentimental items are the most overwhelming clutter you'll probably deal with. The emotional connection you have to sentimental items like family photo albums and your kid's toys can take you down memory lane and keep you there.
Sentimental stuff will be one of the biggest decluttering roadblocks you'll face and can cause you to stop decluttering completely or keep you from getting started at all. They can also have a deep emotional effect.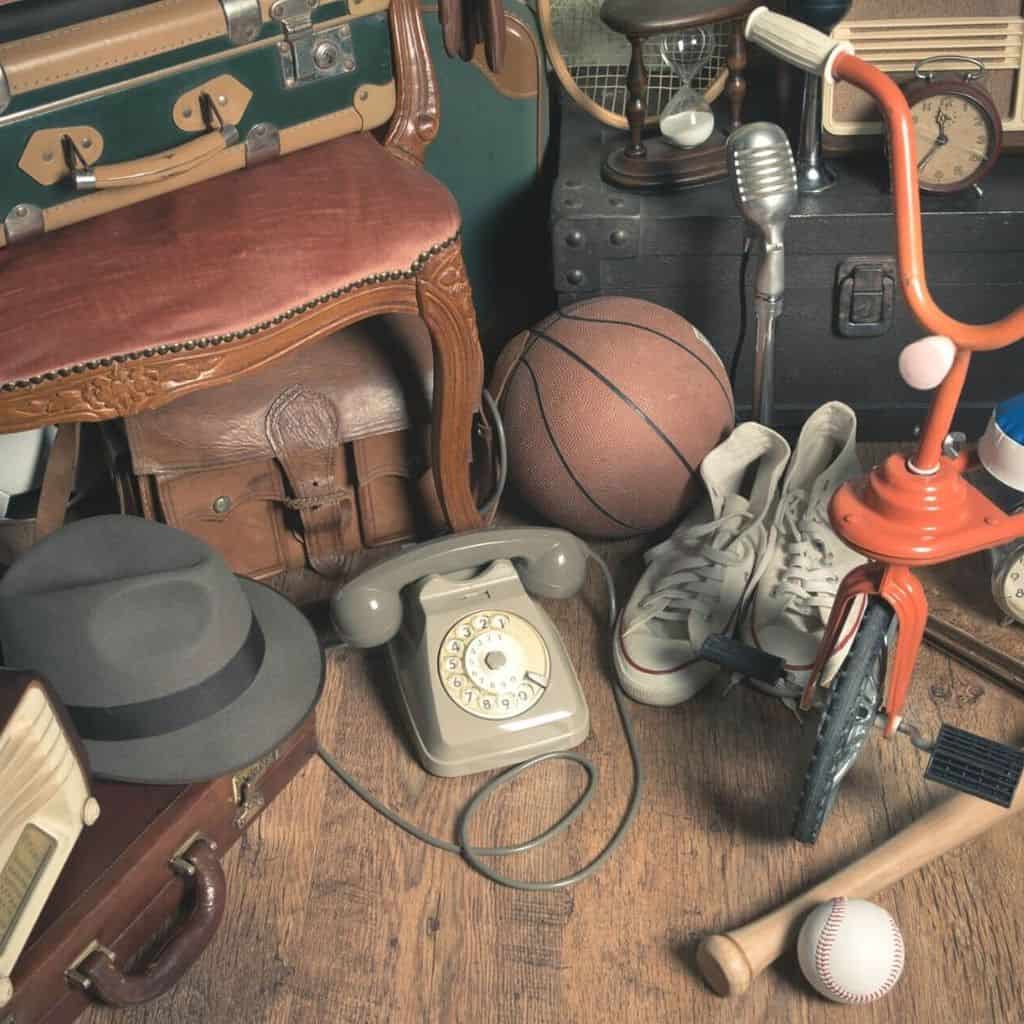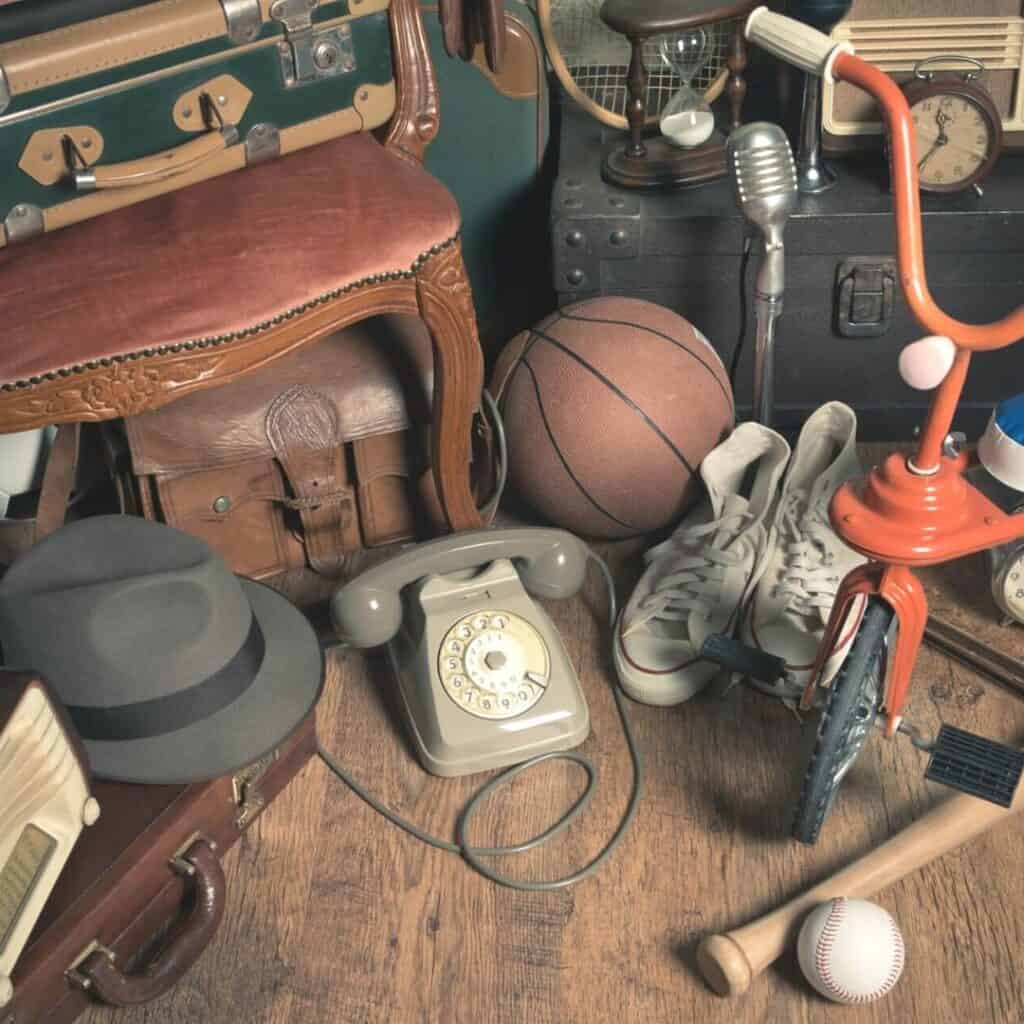 How to Start Purging Sentimental Items Even When It's Hard
Leave sentimental items for last and try some tricks for dealing with the sentimental and emotional attachments.
When you begin your decluttering journey one of the best things you can do is build momentum with quick wins. If you leave the sentimental items for last, you'll have made a mental shift and will be more equipped to deal with and declutter the sentimental things.
7. Attaching a Monetary Value to Your Clutter
I used to be super guilty of this decluttering misstep. It's human nature to associate the purchase price of an item when you start considering disposing of it.
This makes it particularly difficult to part with expensive items even if you no longer use them and they're just in your way.
How To Avoid the Money Trap Mistake:
Change your mindset! Instead of thinking about the money you spent on it, think about the money you're wasting by storing it.
Come to terms with the fact that the money was gone the minute you made the purchase. The only monetary value the item has now is the money it's costing you to store it in your house.
8. Keeping Things Just In Case
You hang on to things 'just in case' you need them.
I think the only people not guilty of this mistake are the truly extreme minimalists. Not a minimalist? I'll bet you can look around the room you're currently sitting in and spy at least one thing you're keeping 'just in case' you need it.
Can you say 'skinny clothes'?! This is one of the most obvious examples and I'll be the first to admit that I'm super guilty.
I have a clear plastic storage bin with 5 pairs of jeans, 5 pairs of shorts, and 12 blouses tucked under my bed waiting for the day they fit again.
And that's progress. I actually started out with 3 full hanging racks in an extra bedroom that I turned into a walk-in closet. I decluttered that room about 3 months ago and got rid of a bunch of those clothes that I don't think I'll wear again.
In another 3 months, my plan is to get rid of the rest. If I manage to fit into those sizes again, I certainly deserve some new clothes!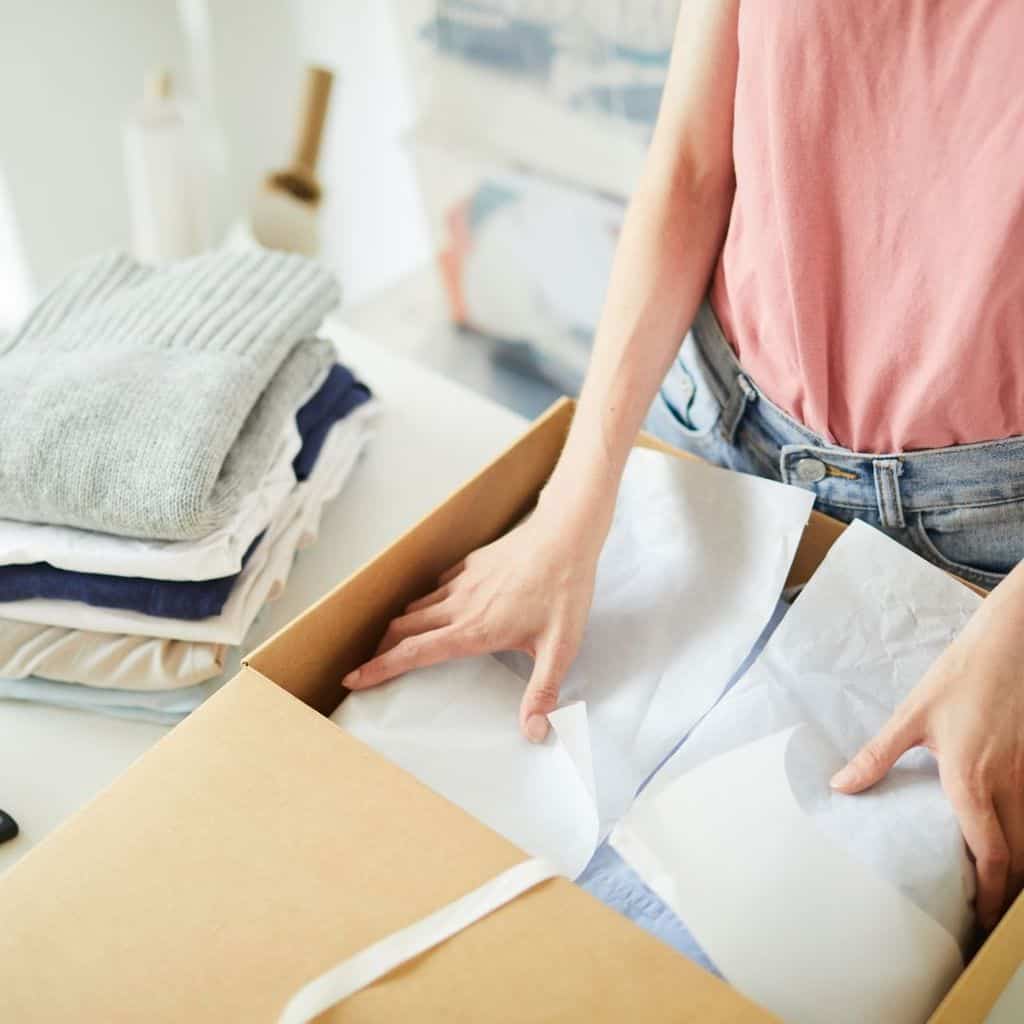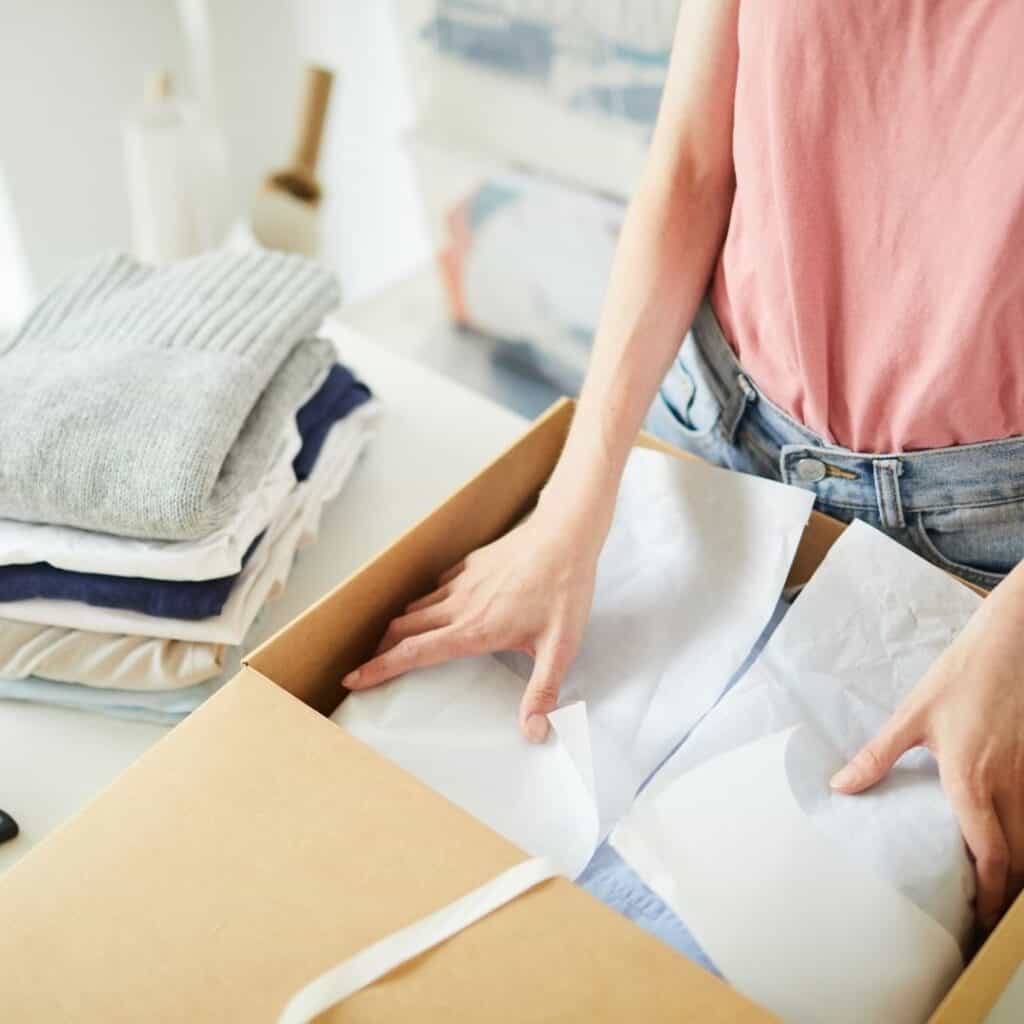 How To Avoid the Just in Case Decluttering Mistake:
This is another mindset thing. If you haven't used it in 6 to 12 months, 'just in case' isn't likely to come in a timely manner.
Think about the item and what you might need it for. Identify how often that's likely to occur. Figure out if you have something else you could use in its place, or is there some way you could rent or borrow it if you do happen to need it.
9. Avoiding the Room Bothering You the Most
I'm all about quick wins, but if you declutter a drawer in the bathroom and what bothers you the most is the kitchen counter, chances are the joy and momentum of your accomplishment will be short-lived once you walk into the kitchen and see the same old mountain of clutter.
Most people need to see positive progress to stay motivated and on task. I know I certainly do.
How To Avoid the Easy Way Out Mistake:
Start with the room that bothers you the most, but make sure you break it into smaller areas and manageable tasks. If the thorn in your side is those kitchen counters I mentioned, start with those to make the biggest and quickest impact and get your quick win there.
10. Decluttering Other People's Stuff
Want to start an argument or fast-track your frustration, this miscalculation will get you there fast. Just try to declutter for your family members and let me know how that works out for you.
You can't make those 'keep or toss' decisions for somebody else. At least not without consequences.
These are personal decisions and regardless of what they say, people have hung onto things for a reason. They need to work through those reasons.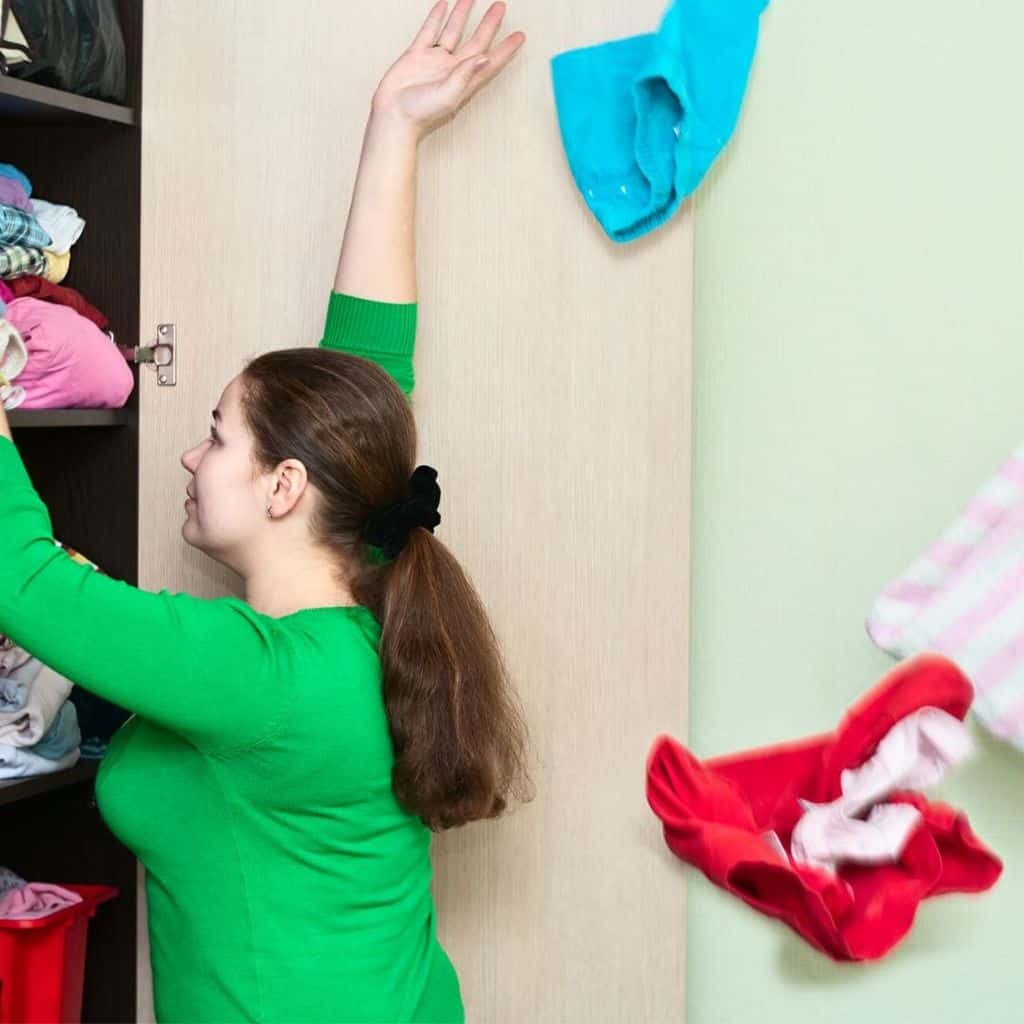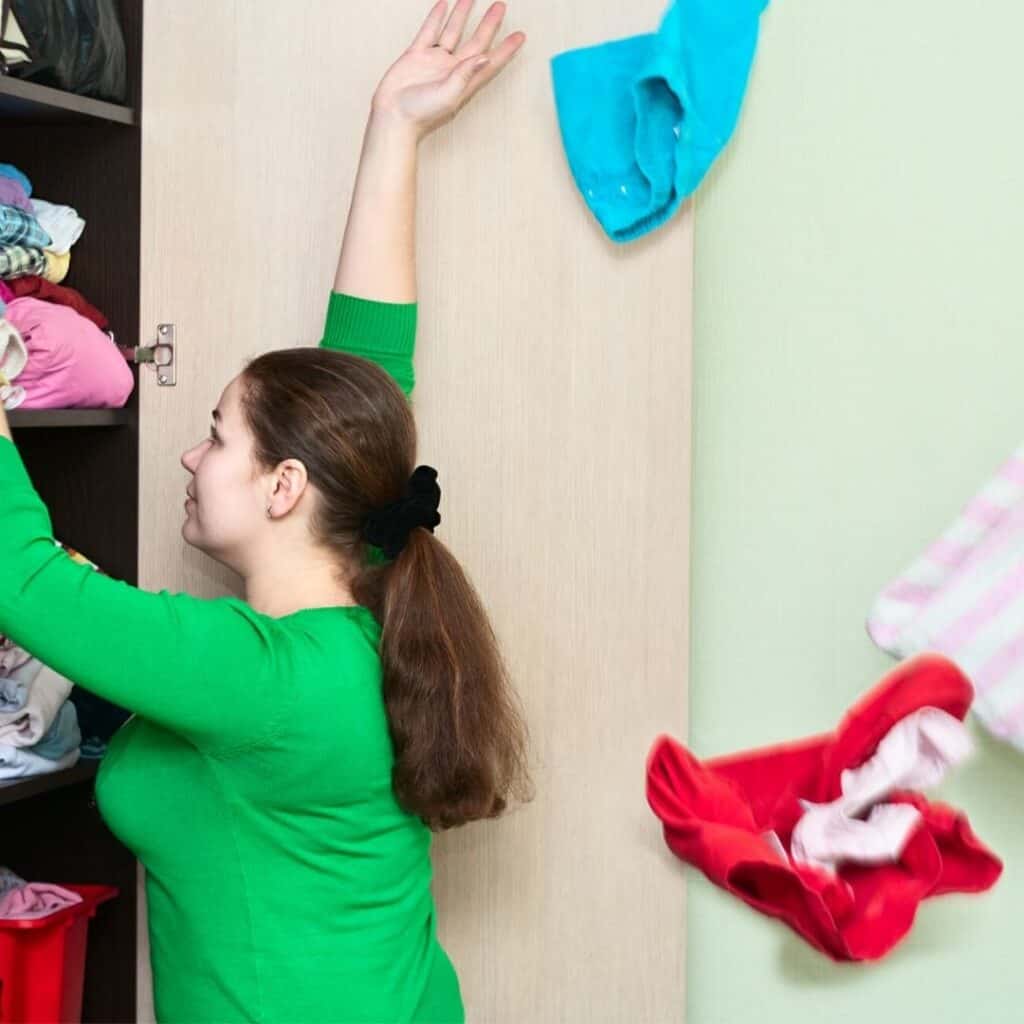 How To Avoid Decluttering Other Peoples Stuff:
Offer to help them, encourage them to declutter, but don't force them or do it for them.
Helping can be as simple as sitting there and keeping them company while they're sorting through things. It can also be as complicated as helping them deal with some pretty deep and raw emotions with each item.
I do make one exception to this. Clutter from the loss of a loved one. Don't ever do it without consent, but if someone asks you to take care of it, don't hesitate.
Sometimes that kind of clutter keeps a person neck-deep in their grief. If you find yourself helping with this, I suggest boxing the things up, taping the boxes shut, and placing them in the garage.
After a predetermined period of time, donate those boxes without revisiting what's inside of them.
11. Not Maintaining Your Clutter-Free Home
Decluttering is a process and needs to be maintained. Don't just declutter once and think that you're finished, that's a mistake you can't afford to make.
Clutter will reappear and continue to collect until you create, and stick to a system for preventing it.
How to Avoid Letting Clutter Pile Up Again:
Create new habits that help keep clutter at bay. Create systems for dealing with and preventing clutter.
If the mail always piles up on the kitchen counter, create a command center system for dealing with it as it comes into the house.
If children's toys are always cluttering up the living room, strategically place some storage bins in different areas that make the toys easier to put away.
Ensure Your Success by Avoiding Common Decluttering Mistakes
Before you begin any decluttering project, set yourself up for success by avoiding some of these common decluttering mistakes.
Create a plan and sorting system to move you through the process. Make sure that plan includes how and when you'll dispose of decluttered items, what you'll do when you get stuck associating a cost to things, getting sentimental, or 'just in case'.
Start with the room that's bothering you the most, don't make the mistake of decluttering somebody else's stuff.
Adopt some new habits to help you maintain your new clutter-free state.
What Decluttering Mistakes are You Making?
Leave a comment below and share any decluttering mistakes I might have missed and how you go about avoiding them.
1 Konmari Method of Tidying Up – Maria Kondo
2 Becoming Minimalist – Joshua Becker
3 Declutter – Dictionary.com