11 Ways to Impress Your Guests and Get Your Home Holiday Ready
Back in June, it seemed like a good idea to say you'd host Thanksgiving dinner, the White Elephant holiday party, and Christmas day. Now the clock is ticking away and you need to get busy. Here's how to get your home Holiday Ready in no time.
You're running out of time and you seem busier than ever. Your house is a mess, and you have no idea how you're going to pull it off.
The panic sets in and you consider taking two days off work just to get everything done. Not so fast, save that vacation time for self-care and relaxation.
I've got a plan for you. The plan includes eleven steps for getting your home 'holiday ready'.
Since we've already established that you don't have two free days to get it all done, I suggest you set aside one hour a day for the next two weeks. Use that hour to work through each of the tasks below and by the end of the week, your home will be ready for the holidays.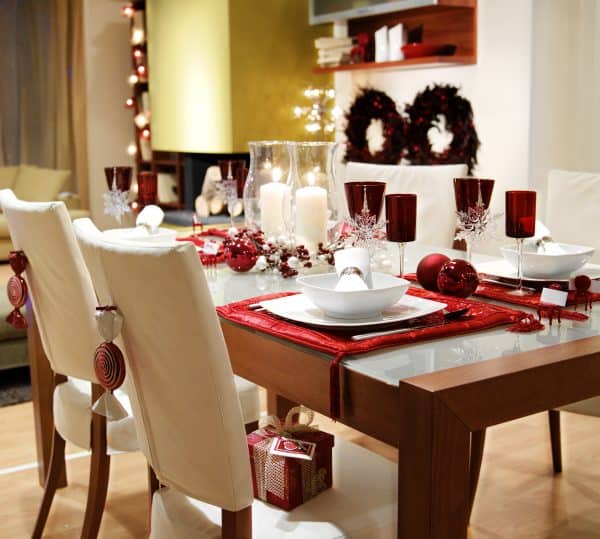 This post may contain affiliate links. Please see my disclosure policy for details.
11 Steps to Getting Your Home Holiday Ready
I like to start with easier, quicker tasks and work my way up to the harder ones while leaving the fun ones for last. This list is set up with that in mind, however, you can mix up the order if you like.
Getting that clean, cozy, welcoming, ready for the holidays home, in the end, is all that matters.
1. Do a Quick Declutter
Start with a quick declutter throughout the entire house to put away random items that have been left out. Clean or not, extra clutter will make your home look messy.
Grab a storage bin or two and walk through your home removing any decorative or unnecessary items that can be put away for the season.
Try to make sure your flat surfaces are cleared off as much as possible so you have plenty of room for holiday decorations. You'll also need room to put all of those yummy holiday snacks and adult beverages.
Protect and store extra items in the bins. Place the bins in the garage or shed where they're out of the way until it's time to bring them back out.


2. Spot Clean Your Office
There shouldn't be a lot of traffic in your office, but it doesn't hurt to give it a once over so you can keep the door slightly ajar.
File any papers that are lying around. Tidy up the flat surfaces and bookshelves. Dust your computers and monitors. Empty the garbage can and shredder.
Spot clean the windows and window coverings and finish up by cleaning the floors.
3. Tidy the Laundry Room and Mud Room
Accidents happen, and somebody is likely to need your spray-n-wash, so make sure your laundry room is at least presentable.
Finish any remaining laundry. Vacuum the exhaust fan cover. Wipe down the exterior surfaces of your cabinets and appliances, and tidy up the cleaning closet and supplies.
Empty the garbage can and clean the floors.
4. Straighten Up the Bedrooms
Unless you're planning to have overnight guests, your bedrooms shouldn't need a ton of attention. The most they should be used for is pass-throughs to the bathroom or extra room for storing jackets and purses.
Make sure your clothing and shoes are all put away and all closest doors and dresser drawers are able to close completely. They don't have to be neat and perfect, just able to close.
Clear the visual clutter off of all flat surfaces. Even if you normally keep something in your bedroom all of the time, see if you can tuck it away in a nightstand or closet for the holiday season.
Dust everything including lighting fixtures, lamps, etc. Spot clean all windows, glass, and mirrors.
Dust and spot clean window blinds and curtains. Make the bed and fluff the pillows. Clean your floors and call it good.
GET YOUR CLEANING DONE DURING THE WEEK!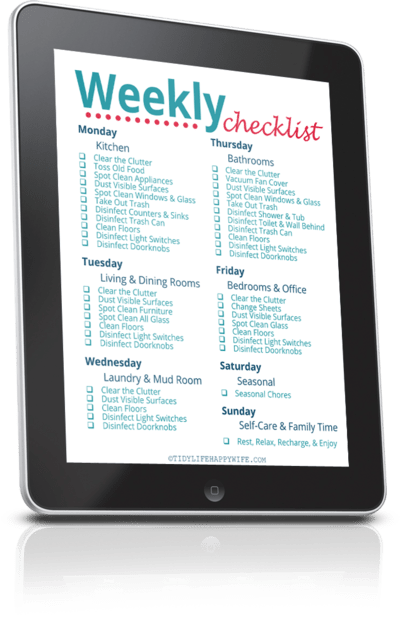 Join thousands of VIPs for cleaning, decluttering, and organizing tips sent straight to your inbox. As a welcome gift, we'll send you this FREE printable Weekly Cleaning Checklist that lists exactly what to deep clean in every room of your home.
5. Freshen Up the Dining Room
This room will be one of your workhorses, so be fairly thorough here.
Dust all lighting fixture and flat surfaces. Wipe down the table, chairs, hutches, sideboards, etc.
Wash any china, glassware, flatware or serving dishes that have been stored but will likely be used during the holiday season.
Clean the floors.
6. Tidy Up the Living Room
Your living room will also get a lot of use, so be thorough here as well.
Dust your entertainment center and television screen. Dust all lampshades and flat surfaces.
Wipe down your furniture, clean under any removable cushions, and fluff the cushions and any throw pillows.
Wipe down the tabletops and tidy up any drawers. Clean those filthy remote controls. Wipe down your drink coasters and clean all other furniture surfaces.
Spot clean television, windows, mirrors, and any other glass, then clean the floors.
7. Sanitize the Bathrooms
If your parties are anything like mine, the bathrooms will tie with the kitchen for the most used room in your home when you have extra guests. Consequently, you'll want them sparkling clean and ready for the workout.
Start by dusting the light fixtures and all flat surfaces. Clean and shine all mirrors and glass.
Vacuum the exhaust fan cover. Scrub the sinks and polish all plumbing fixtures. Scrub the shower and bathtub.
Disinfect the toilet and the walls behind it. Most people tend to forget this, making it one of the dirtiest spots in your home.
Check stock of bathroom tissue and hand soap. Add them to the shopping list as needed. I also like to set out disposable hand towels.
Empty the garbage cans and clean your floors.


8. Deep Clean the Kitchen
Besides the bathrooms, my kitchen gets the most use during the holiday season. It's where the majority of our guests spend most of their time. Because of that, I like to do a fairly deep clean to get it company ready.
Start by dusting lighting fixtures and cleaning any windows. Then dust and/or wash any window coverings. Now that the easy stuff is out of the way, get the elbow grease ready.
Stove, Oven, and Microwave
Remove all the food particles and clean your oven. Scrub the racks and don't forget to clean the door glass.
Clean and polish the stovetop and knobs. Wipe down the vent hood and clean vent screens.
Clean inside of the microwave, then clean and polish the glass and outside surfaces.
Refrigerator
Dust the top of the refrigerator. Discard any old or expired food, then disinfect the inside of the refrigerator and freezer.
Empty and wash out the ice maker and water dispenser. Change the water dispenser filter if needed.
Vacuum the coils on the backside of the refrigerator to ensure proper and efficient operation.
Dishwasher
Check and clean the dishwasher filter if needed. Run the sanitize cycle or run a cycle with just a bowl full of vinegar, then clean and polish the exterior surface.
Pantry
Tidy up the pantry and throw away any expired food. While doing this, take stock of all normal holiday ingredients and make note of any you need to restock.
Also check the stock of any paper products that might be needed during the season, especially plastic wrap, foil, storage bags, etc.
Cabinets and Drawers
Check your drawers and cabinets for any dirt and dust that has built up. Vacuum and wash out as necessary.
Dust the tops of cupboards, then wipe down all exterior surfaces.
Floor
Scrub and polish your floors.
9. Final Walkthrough
Grab a couple Clorox wipes and sanitize all knobs, door handles, and light switches throughout your entire house. I find that starting at one end of the house and moving through each room helps me make sure I don't miss any.
I also use this walkthrough to take one final visual scan of each room and make sure there isn't anything needing attention.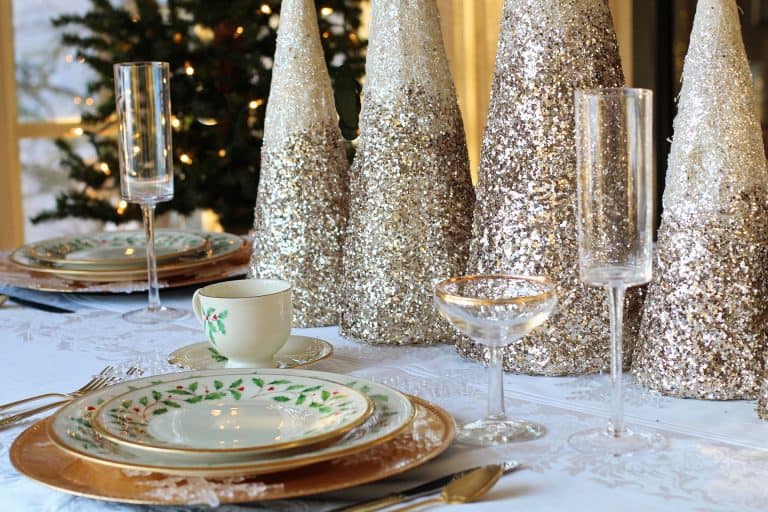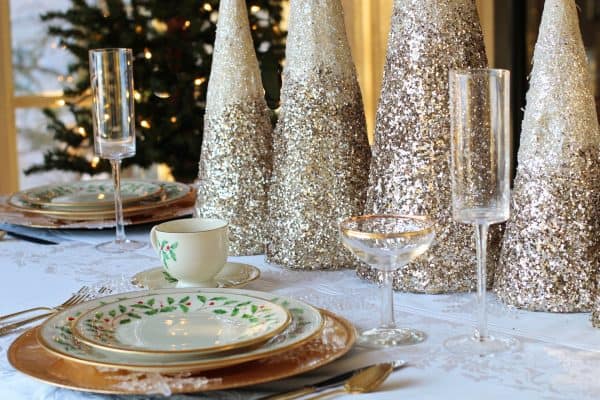 10. Put Up the Holiday Decorations
Now that the cleaning part is done and your home is ready for the holidays, let's get to the fun stuff.
It's time to break out the holiday decorations. Even if it's as simple as a fall wreath on the front door and a couple of cornucopia centerpieces on certain tables, a few holiday decorations can make a very big impact.
11. Set the Mood
Smell has a significant effect on mood and stress levels.
A mind mapping comparison by Stephen Warrenburg on Oxford Academic showed that clementine left participants feeling happy and stimulated versus the vanilla bean that left them feeling happy and relaxed.
Set out and light a few holiday scented candles. Not a candle fan? Put a simmering pot of water, vanilla beans, cinnamon sticks, and orange slices on your stove to help set the mood.
You could also bake some fresh cookies right before your guests arrive. Ginger molasses sugar cookies are my favorites for Christmas time!
Finish Getting Your Home Ready for the Holidays
If you have any energy left, put on some holiday music, relax, and enjoy.
You decluttered, tidied up and spot cleaned the low use rooms, deep cleaned the high use rooms, decorated, and set the mood.
You did it, you're finished getting your home ready for the holidays.
Now when the unexpected guest knocks on the door or the first party guest rings the doorbell, you can be sure you're ready for them.
Worried you're not going to be a great hostess? Check out these tips to make your guests feel welcome in your home.
Tell me what things you do to get your home ready for the holidays.