How To Be an Amazing Party Hostess (and Make Your Guests Feel Welcome)
All anybody can talk about is the dinner party last Saturday, and not in a good way. Everybody felt uncomfortable and left early. You're hosting the next time and want to know how to be an amazing hostess.
But isn't it kind of up to them how they feel about something? Yes and no. You can't control how somebody feels but you can certainly create an environment to influence those feelings.
Think of the parties you've attended. The good and the bad. What was the difference?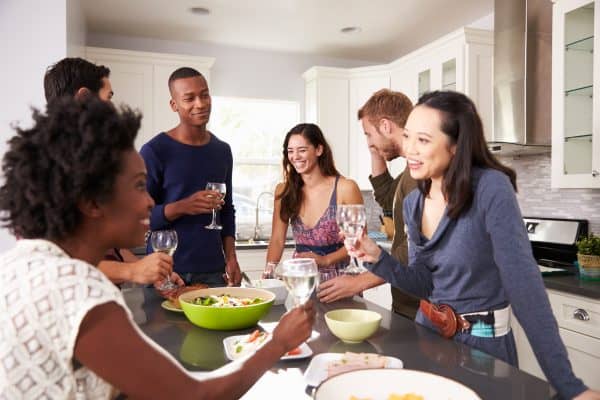 This post may contain affiliate links. Please see my disclosure policy for details.
The Good Party
The good party was relaxing. You mingled and chatted with everybody throughout the night, even the guests you didn't already know.
The environment was comfortable and there wasn't a single thing you needed. You stayed much later than you'd planned and you don't regret a single minute.
You're ready to RSVP for the next one – whenever that might be.
The Bad One
The bad one sticks in your mind just as much if not more. Nobody really knew what was going on. People gathered in small groups and stayed that way. There was no mingling outside of the small cliques.
You would've loved another drink but couldn't find one. You couldn't wait to get out of there and are pretty sure you have something else going on when the next one comes around.
Your mindset and mood were the same walking into both parties, but the environment drastically influenced the way you perceived the evening.
So how do you create the right environment and make your guests feel welcome?
Make Your Guests Feel Welcome
Setting the moods, controlling the environment, and keeping things flowing can go a long way towards having a great party. Here are my never-fail tips for making my guests feel welcome.
1. Clean Your House
Nothing says you're not ready for company louder than a dirty house.
Clutter piled up on your kitchen counter, a filthy toilet and an old dirty hand towel scream that you didn't care enough to prepare for your guests.
If they showed up unexpectedly, they get what they get, but if you extended an invitation, you should be ready with a clean house.
During the holiday season, I have an open invitation to all friends and family, so I keep my house what I call Company Ready or Holiday Ready.
Want to know what that looks like? Check out how to Get Your Home Holiday Ready to see my cleaning routine.
GET YOUR CLEANING DONE DURING THE WEEK!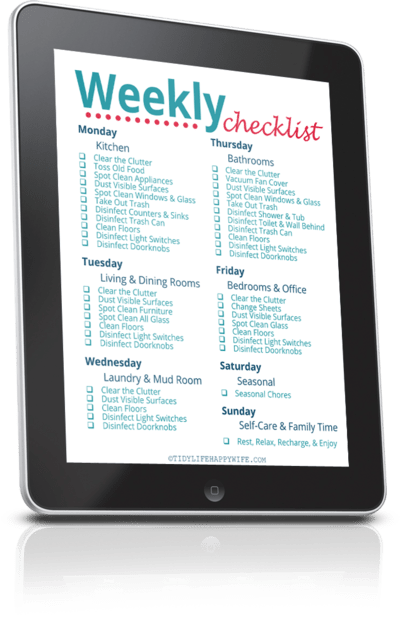 Join thousands of VIPs for cleaning, decluttering, and organizing tips sent straight to your inbox. As a welcome gift, we'll send you this FREE printable Weekly Cleaning Checklist that lists exactly what to deep clean in every room of your home.
2. Be Ready
If your invitation said the party would start at 6:00 pm, be ready by 5:00 pm. Set up as much as you can ahead of time.
Have your hair and makeup done, your outfit on, and all necessities already set up.
I once had a guest show up two hours early for a dinner party. GASP!!!
Normally that would've just given us extra time to visit but that time I happened to be running quite a bit behind and was in panic mode. I was in the middle of vacuuming and hadn't even taken a shower yet.
Needless to say, it was more than a little uncomfortable for both of us even though we got through it.
Get your cleaning done the day before, and take your shower several hours in advance.
The extra time will allow you to deal with any last-minute issues, and you'll be relaxed and ready to entertain when your first guests start to arrive – even if those guests are early.
3. Maintain A Comfortable Temperature
Keep the thermostat warm enough to just knock the chill off of the room. Once people start arriving, turn the thermostat down.
A room that's too cold will have guests clinging to their jackets and thinking about how warm it could be in their car.
Keep it too warm and your guests could get very uncomfortable and even a bit sleepy. Nobody wants to stick around when they're sweating and yawning.
Both scenarios will likely cause your guests to start slipping out early.
Be mindful of other factors that can raise the heat in a room including alcohol consumption and oven/stovetop use. If you notice the room's getting a little warm, crack a few windows before it gets out of hand.
You'll be surprised at how quickly a lot of people in the same place will raise the room temperature, and uncomfortable temperatures will have your guests running for the door.
4. Provide Ample Seating
Unless you're putting on a concert, chances are your guests will want to sit down at some point. Don't make them feel like they need to get up to let somebody else sit down.
Provide enough seating so everybody can sit down, but no so much extra seating that there's not enough room for people to comfortably move around.
I use a combination of fancy folding chairs that are stored in my garage when not in use, stools from my kitchen island, and a storage ottoman from my bedroom when I need extra seating.
Make sure your extra seating is appropriate for the type of party and environment. Nobody wants to sit in a bean bag chair during a dinner party.
5. Have Storage For Purses And Jackets
Clear out a closet or designate a spot for guests to hang jackets and purses. If you don't have a closet or designated space, try putting a portable coat rack and hangers in the middle of a bedroom.
No room for that, designate a bedroom where guests can lay jackets on the bed and purses on a dresser.
I take everything out of my coat closet and stash it in the garage for the night so guests can use the coat closet.
6. Set Out Extra Hand Towels
Place a stack of extra hand towels in your bathroom. This will be a very busy room, and hand towels get wet and dirty quickly.
I have two bathrooms and always use my master bathroom. Since it doesn't get used as much as the main bathroom, I hadn't realized how icky the towel gets until I experienced it at somebody else's party.
Nobody wants to wipe their clean hands on a damp towel.
I recently started using disposable hand towels, just be sure to watch the trash can as it'll fill up quickly.

7. Be Considerate Of Dietary Sensitivities
Most dietary sensitivities aren't that difficult to accommodate for one meal if you do a little planning.
Try to prepare dishes that don't present any concerns, or prepare an alternative to the dishes that do.
Take Thanksgiving for example. If you have family members with gluten allergies, it's fairly easy to make most of the dishes gluten-free by watching which seasonings you use.
Stuffing can be made with gluten-free bread, and green bean casserole can be made with gluten-free soup and Funyons.
Related Article: Tips for a stress-free Thanksgiving
I promise you, your guests will be grateful when they realize they can eat the entire meal or have alternate options for the dishes they can't eat.
8. Make Introductions
If you have a new guest, make sure you initiate all of the appropriate introductions. It's incredibly awkward for a new person to walk into a party and only know one other person.
If the person they know gets tied up talking to somebody else, the newbie will be sitting alone wondering what to do and who to talk to. Once that guest falls into the solo wallflower corner, they'll be uncomfortable and want to leave.
Intentionally engage them in conversation and introduce them to others that have common interests.
If the guest is a 'plus one' that's new to you, make it a point to chat with them briefly so you can figure out which of your other guests they might have something in common with.
9. Save The Cleanup For Later
I've been totally guilty of this in the past.
In my effort to keep the dishes done, foods stocked and everything tidy throughout the night, I missed out on all of the fun everybody else had playing games, chatting and mingling.
Yes, I hosted a successful party, but I didn't get to enjoy socializing with my guests, and several of them noticed.
I didn't realize what I was doing until my niece came into the kitchen and pleaded with me to sit down and play just one game.
Make it a point to prepare ahead of time, leave the mess until the last guest has left, and enjoy the time you have with others.
Their time is just as precious as yours, and they've chosen to spend a few hours of it with you. Soak in, enjoy, and cherish that time before it's gone.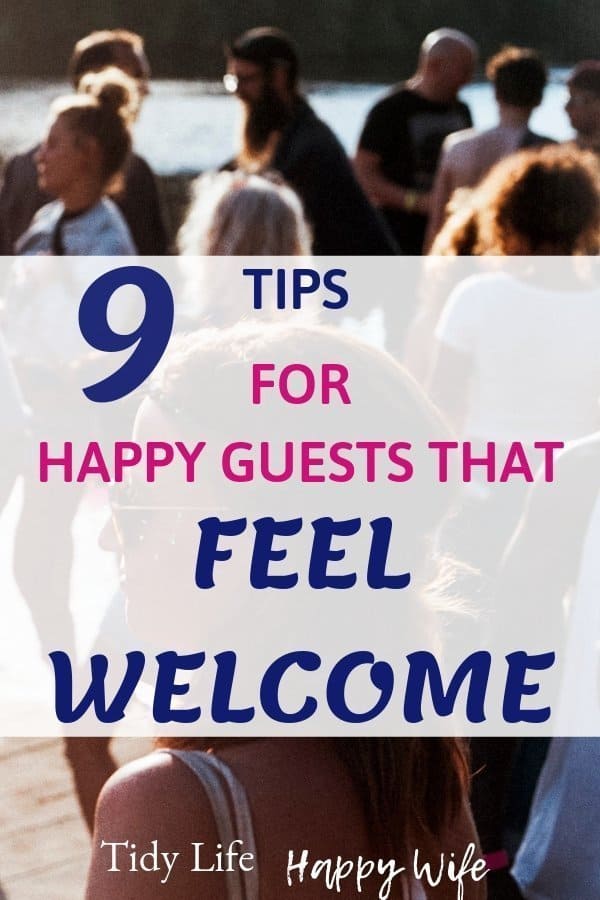 A Successful Party and Guests Who Feel Welcome
By preparing your home, setting the mood, controlling the flow, and encouraging the conversation, you're sure to throw an amazing party and make all of your guests feel welcome.
What other things do you do to make your guests feel welcome?