11 Brilliant Life Hacks to Have a Stress-Free Thanksgiving This Year
So you're hosting Thanksgiving! You haven't even planned the menu yet and you're already starting to stress. Take a deep breath and relax because I'm going to get you through it. I'll show you how to have a stress-free Thanksgiving using some proven hacks that are husband tested and family-approved.
You spent the morning looking up recipes for your big Thanksgiving Day meal. The first sign of stress flickered when you realized that in order to have any leftovers for sandwiches, which is a must in your family of 10, you're going to need a 20lb turkey. According to the Butterball website, it's going to take 4-5 hours just to cook that thing.
Dinner on the table at 2:00 pm and 30 minutes of rest time before carving means you need to put the turkey in the oven no later than 8:00 am, and that doesn't even account for the prep time. It's going to be an early morning and now the stress is really building.
As you sit down and start planning the full Thanksgiving meal you start to see the impact of what you volunteered for. You knew it would be a lot of work, but you still had no idea just how much.
Relax. It's going to be a wildly successful and stress-free Thanksgiving, and I'll tell you how.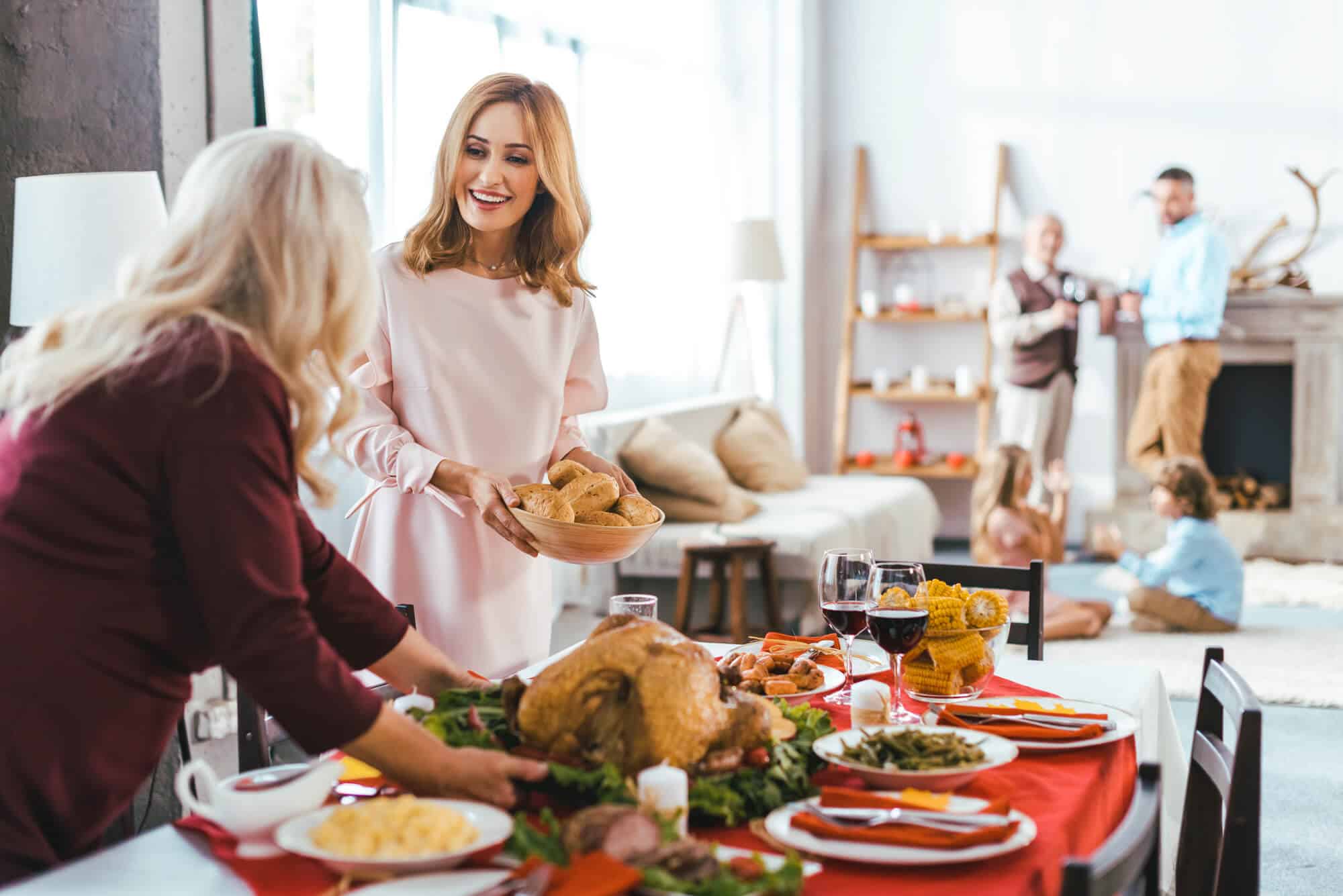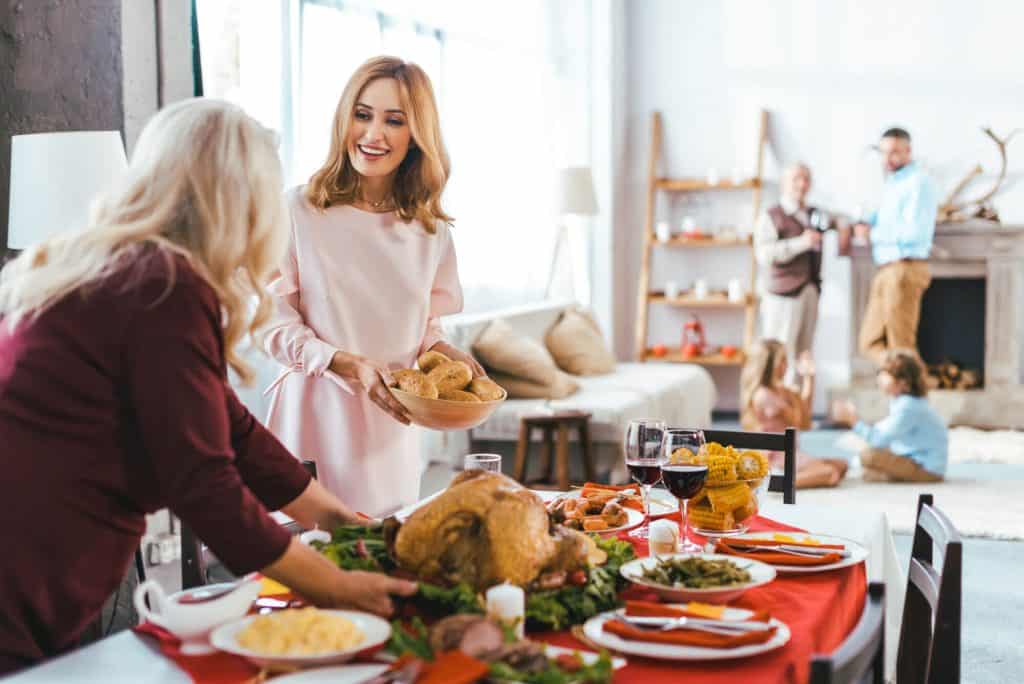 This post may contain affiliate links. Please see my disclosure policy for details.
1. Plan Ahead
Start planning your guest list, menu, and shopping list a few weeks ahead of time.
Buy your non-perishables as far ahead as possible and save the perishables shopping trip for the week of Thanksgiving. It'll reduce the stress of an overcrowded grocery store and give you a little time to realize anything you may have forgotten.
If you're going to get a fresh turkey, some butchers will need to know a few weeks ahead of time so they can notify their suppliers.
Related Article: Get your home ready for the holidays
GET YOUR CLEANING DONE DURING THE WEEK!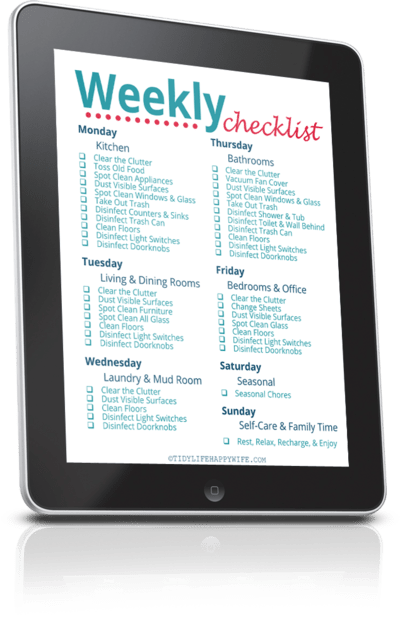 Join thousands of VIPs for cleaning, decluttering, and organizing tips sent straight to your inbox. As a welcome gift, we'll send you this FREE printable Weekly Cleaning Checklist that lists exactly what to deep clean in every room of your home.
2. Time Block for a Stress-Free Thanksgiving
Time block your entire Thanksgiving day. Knowing what needs to happen and when is critical in maintaining a stress-free day.
If you've never done time blocking, let me give you a quick definition. Time blocking is the practice of scheduling out your entire day and assigning each task a specific start and duration time.
It really isn't as intimidating as it seems, and it'll give you a clear picture of what needs to be done and when. It's also great for assigning tasks to anybody brave enough to offer assistance.
Time blocking my day and having a set schedule has saved me from many disasters and a lot of stress.
Need more information on time blocking? You can check out Time Blocking 101.
3. Plan for Extra Guests
Always plan for an extra guest or two. I can't count the number of times we ended up with a college friend who couldn't make their flight back home or a coworker who doesn't have family in the area.
It happens and as long as you have an extra chair and place setting, it'll work itself out.
Related Article: Make your guests feel welcome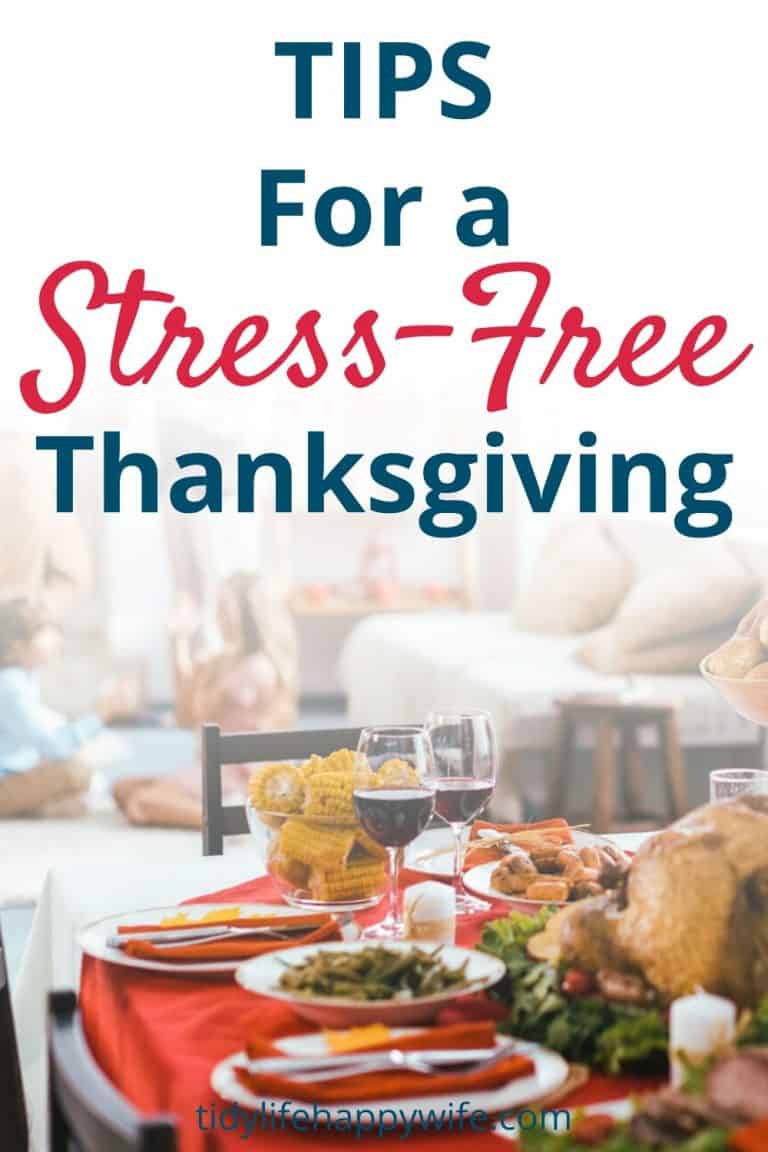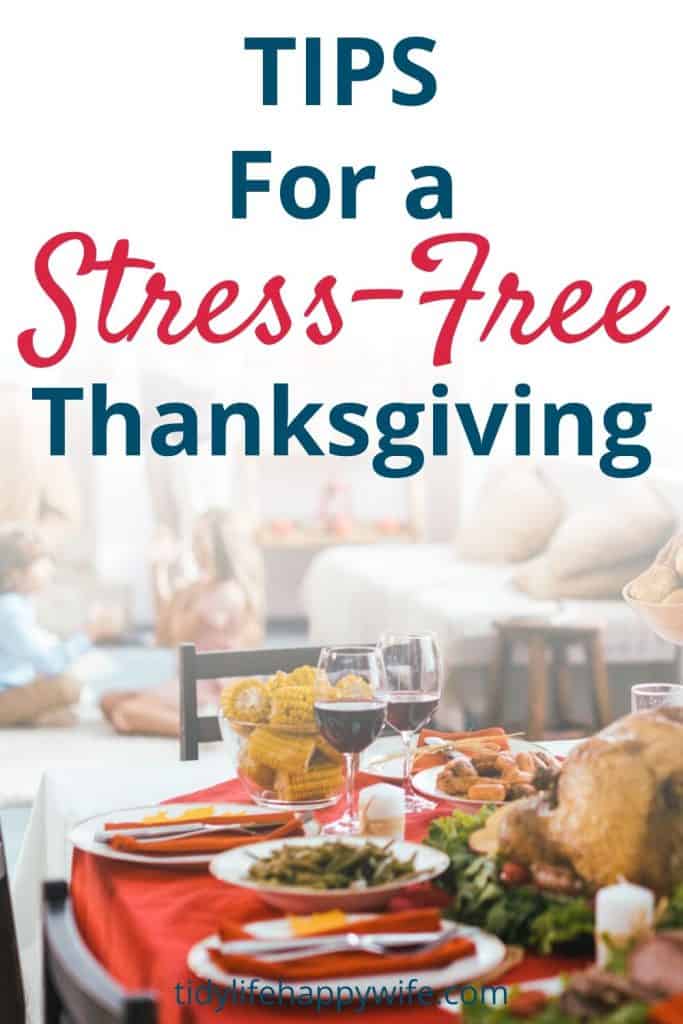 4. Limit Your Menu
Limit the side dishes and accompaniments. You don't need to make every variety known to man. I struggled with this because I always felt like I wasn't going to have enough.
The problem with making so many side dishes is that most people will take a very small portion so they can try them all. You'll end up with a ton of leftovers and probably wind up tossing half of it.
The turkey is going to be the star of the show, so I typically try to limit my menu to two of each type of side.
5. Spatchcock Your Turkey
Spatch – what? Spatchcocking, or butterflying, means removing the backbone and flattening the turkey prior to cooking.
If removing the backbone is too intimidating, have the butcher do it for you, but have him wrap up all of the stuff he cuts away so you can make stock for your gravy.
A spatchcocked turkey will cook much faster and more evenly than a whole turkey. It takes approximately 6 minutes per pound to cook as opposed to the 20 minutes per pound of a whole turkey and the only thing you removed is the backbone that nobody eats anyway.
Prepping a spatchcocked turkey can and should be done the day before. You can add all of your seasonings and cover it before placing it in the refrigerator.
On Thanksgiving, just take it out about an hour before cooking so it can come to room temperature before going in the oven.
6. Pre-Cook As Much As Possible
Pre-cooking has been my saving grace for many years. I prepare and precook as much of the meal as I can the day before or even week before depending on the dish.
Pies can be made days or weeks ahead of time. Most pies freeze very well just don't forget to take them out in time to thaw properly.
Mashed potatoes can actually be made the day before then put in a slow cooker to warm while the turkey is cooking. Make sure to reserve some of the cooking liquid to keep the potatoes moist in the slow cooker. I've had the most success leaving the potatoes in chunks until the turkey comes out of the oven.
You can make the gravy the day before by boiling the backbone, neck, and giblets to make a stock. You can heat it in a smaller slow cooker and add the turkey drippings for added flavor while the turkey is resting.
Dressing (it's not stuffing if it wasn't inside the turkey😉) can be made the day before and warmed in a baking dish or slow cooker.
Candied Yams and Green Bean Casserole can be assembled and covered the day before, then pulled out an hour before baking.
I think you get the picture. An added bonus to all of the preparation is that all of the dishes used to prepare that food will be cleaned and put away the day before.
7. Set the Table Ahead of Time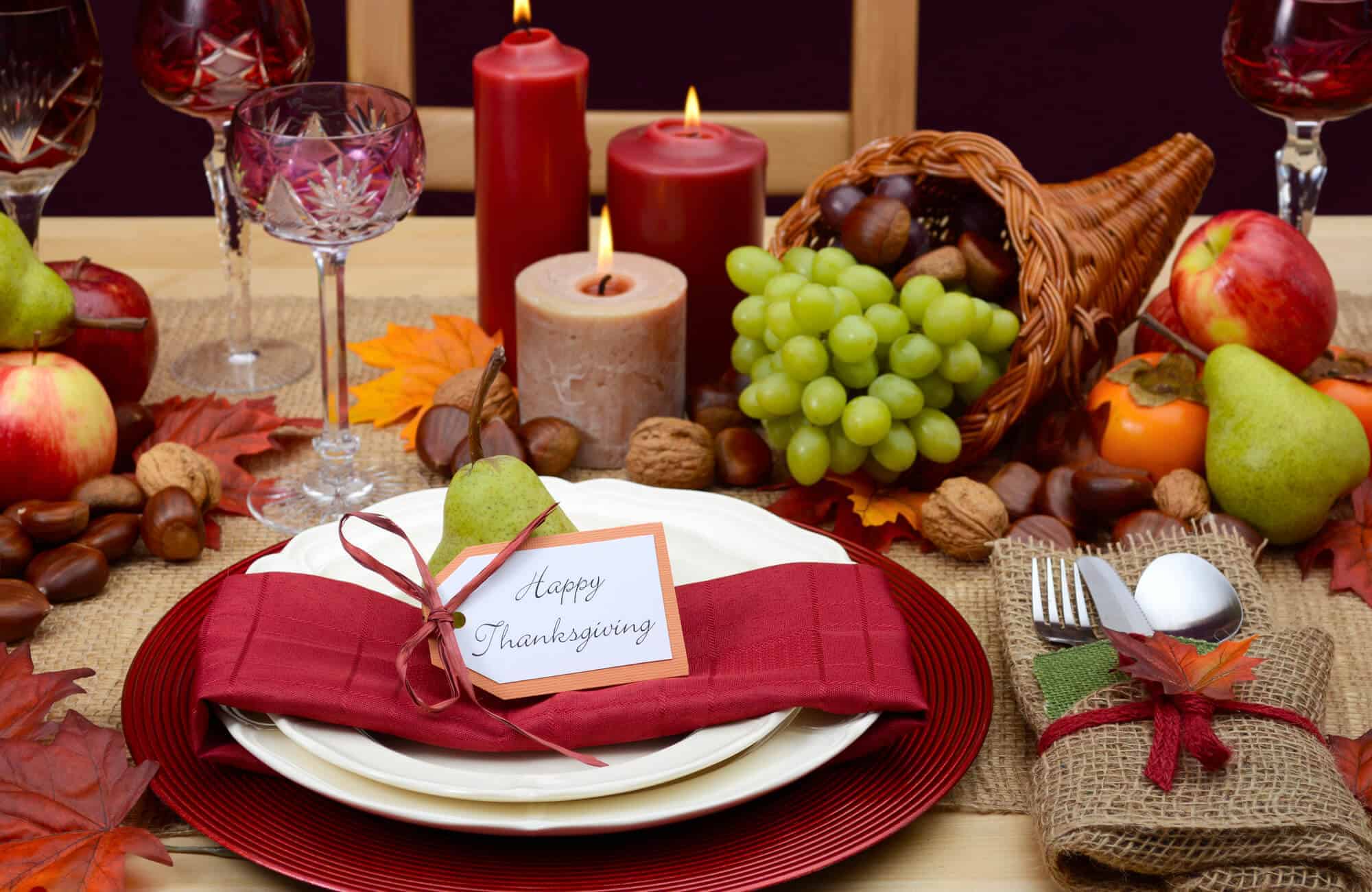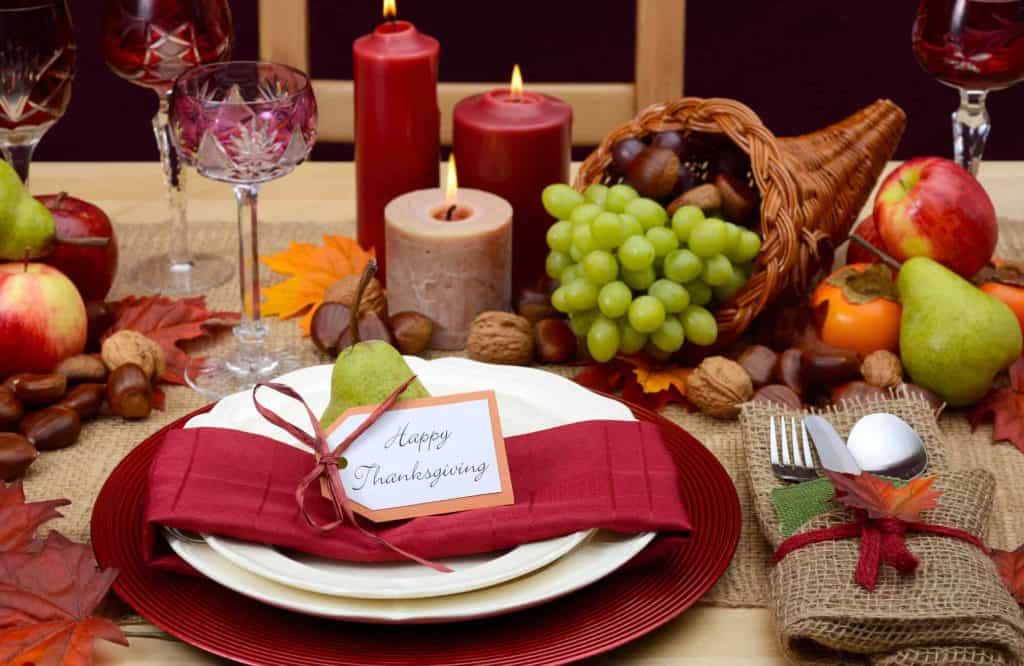 Set the table, including any non-refrigerated condiments and seasonings, a day or two before. Nobody will know you didn't do it that morning, and it's one less thing to think about.
You should also set all of your serving dishes and utensils out so you can make sure you have everything covered. If not, you still have time to buy or borrow what you need.
8. Keep Appetizers Simple and Light
If you're going to serve an appetizer, keep them simple and light. You don't want to be running around refilling appetizers and having everybody fill up before dinner.
A veggie tray and a cheese and cracker plate should be sufficient.
9. Host Potluck Style
My ultimate tip for a stress-free Thanksgiving is to host a potluck style dinner and have each guest bring a dish. Keep track of what each person is bringing so you can have a well-rounded meal.
Make sure you know what kind of prep or reheating each dish will need once they get to your house. It could be a total disaster if five of the dishes need to bake for an hour and you only have enough room for two.
Due to the prep and cooking time involved, Turkey and gravy are still your responsibility.
10. Have Storage Containers Ready
Have leftover containers ready so you can quickly put the leftovers away without digging through your cabinets.
It's also a good idea to have some disposable containers available so guests can take leftovers with them and you don't have to worry about getting your favorite dish back.
11. Enjoy
Remember you did all of this to spend a stress-free Thanksgiving with family and friends. Don't get so caught up in the cooking and cleaning that you forget to spend time with your guests!