How to Maximize Your Savings and Win Big on Amazon Prime Day
Amazon Prime Day is almost here. Open up your Amazon app, and get ready for some amazing deals.
Do you wait all year in anticipation of Amazon Prime Day, or are you reading this thinking 'What the heck is she talking about?'
Prime Day is one of the biggest shopping events of the year. It's a great opportunity to save a lot of money on some of your bigger ticket items.
You can even get the bulk of your Christmas shopping done if you're really organized and already have your list made.
I usually keep a running list of gift ideas and bigger ticket items I'm thinking about purchasing. If they happen to be on sale, I'll take advantage of the prime day prices.
This post may contain affiliate links. Please see my disclosure policy for details.
Want to see some of the products I've bought on Prime Day or highly recommend for keeping your house clean and tidy. Check out my recommendations page here.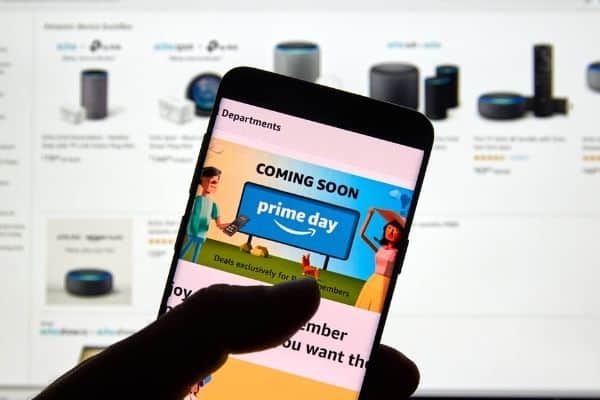 What is Amazon Prime Day?
Amazon Prime Day is a 'once a year' two-day online shopping event that features deep discounts and phenomenal deals. Prime Day's discounts rival those of many Black Friday deals! You can read all about Prime Day here.
Prime Day was created by Amazon in 2105 to celebrate its 20th anniversary. It was intended to be a one-day sales event to celebrate and thank its Prime members.
It was so popular, it's morphed into a two-day event that's held every year now.
When is Amazon Prime Day This Year?
In 2021, Prime Day will start Monday June 21st at 12 a.m. PDT and run through June 22nd. It's 48 hours of deals you don't want to miss.
Prime day is my favorite shopping day of the year. I love the fact that I can shop from anywhere as long as I have my smartphone available, no crowded shopping malls and no long checkout lines.
I do at least half of my yearly shopping on Prime Day, including some of my Christmas shopping.
What if I'm Not a Prime Member?
Not a Prime Member, no worries. You can sign up for a FREE 30-day trial membership, download the Amazon app, and you're in business.
The free trial makes you eligible for all of the same shopping benefits, including the Prime Day deals, and you can cancel any time before the end of your 30 days.
How Does Prime Day Work?
Amazon will run all thousands of different deals during the 2 days of Prime days, and the week leading up to them.
Early Offers
In the week leading up to Prime Day, Amazon likes to release Early Offers throughout the week.
Some of the early deals this year include 33% off of select smart TVs, and up to 50% off Amazon's popular Echo Dot. If you're interested, you can find early deals here.
Daily Deals
Amazon updates Daily Deals throughout the day. These will be some of the deepest discounts of the day.
These deals are often available in limited quantities or for a limited time frame. If you think you want one of these daily deal products, you'll need to complete your purchase before the product runs out or the offer period expires.
You can check out the daily deals here.
Launch Products
Prime Day Launch Products are brand new, never before seen products.
These products are from companies that have chosen the Amazon platform to launch their new products. The products are available to Prime Members only for a limited time.
Amazon starts releasing these products throughout the week leading up to Prime Day.
Coupon Deals
Amazon also offers coupon deal discounts. You go to the Coupon Deals page, select the 'clip coupon' button and it adds the coupon to your cart.
You'll still need to click the link to the product you want and add it to your care also.
Product Deals
Amazon will have deals on a variety of different products ranging from household supplies to the latest tech gadgets on the market.
Prime Day deals aren't always announced. Sometimes they just show up as a discounted 'Prime Day Deal' when you click on the item.
If you're looking to buy a specific product, just check it during Prime Days to see if the price has been discounted.
Some of the best sellers in years past have been the Amazon Kindles, TV's, and streaming devices. Just a few of the products I've bought during Prime Day include my Instant Pot, wireless headphones, and my beloved Roomba.
This year I'm looking for a good deal on a Ninja Foodie Pro and a carpet cleaner. Wish me luck.
Don't Miss Out
Considering all of the issues with limited stock this year, grab the deals and check out as soon as you see them so you don't miss out.
Shopping Pages for Your Home
Here are the pages to some of the types of products to help make keeping up with your home and life a little easier.
Don't forget Amazon offers other programs besides Prime, including Twitch, Unlimited Music, Audible, Kindle, Fresh Food, Unlimited Music, and Home Services including housekeeping.
Get Ready for Amazon Prime Day
Want to know more about Prime Day, you can check out Amazon's Prime Day Guide here.
Related Articles: