Once the 4th of July fireworks subside, it's time to start thinking about Amazon Prime Day!
*This post may contain affiliate links for your convenience. Please see our Disclosure Policy for more details.
What is Amazon Prime Day? It's a 'once a year' online shopping event in July that is only available to Amazon Prime Members. Not a Prime Member, you can sign up for a " target="_blank" rel="nofollow noopener">30-day free trial membership here and download the Amazon app. The free trial makes you eligible for Prime Day deals.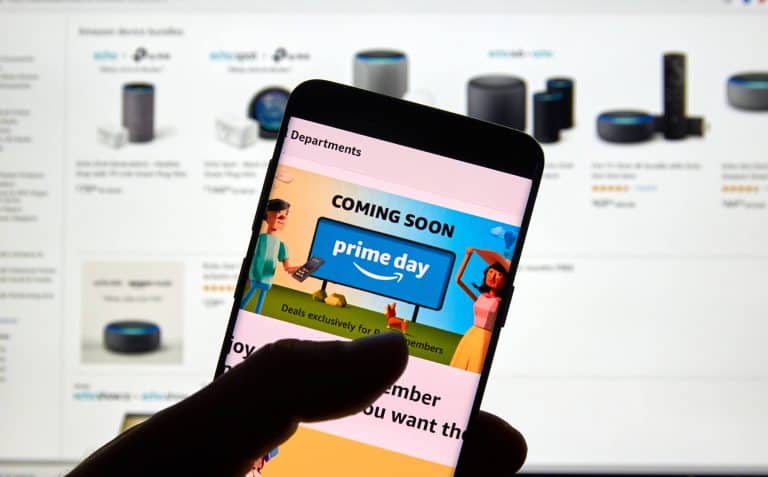 Prime Day features very deep discounts that rival many Black Friday deals! I'm a huge Black Friday fan, but I have to say, Prime day is my favorite shopping day of the year. I love the fact that I can shop from anywhere as long as I have my smartphone available.
I do at least half of my yearly shopping on Prime Day, including some of my Christmas shopping.
Related Articles:
What is Amazon Prime Day?
Prime Day was created by Amazon in 2105 to celebrate its Prime members on its 20th anniversary. It's now an annual event and will span a full two days starting July 15th at 12 am PST.
Prime Day includes several different types of deals and discounts.
Early Offers
In the week leading up to Prime Day, Amazon will release Early Offers throughout the week.
Some of the 2019 deals include 30% off school supplies and household items, and 20% off of Rivet Furniture.
You can check for Early Access offer on Amazons Prime Day Guide.
Lightning Deals
Amazon offers Lightning Deals throughout the day. These will be some of the deepest discounts of the day.
Lightning deals are available in limited quantities or for a limited time frame. If you're buying a lightning deal product, you'll need to complete your purchase before the product runs out or the offer period expires.
Amazon has waitlists you can sign up for to be notified when specific deals become available.
Look for a lot of Amazon branded products offered on lightning deals.
Early Access Lightning Deals
Early Access deals give Prime members 30 minutes of early access to lightning deals.
You can find these deals on the Today's Deals page.
Launch Products
Prime Day Launch Products are brand new, never before seen products.
These products are from companies that have chosen the Amazon platform to launch their new products. The products are available to Prime Members only for a limited time.
Amazon starts releasing these products throughout the week leading up to Prime Day.
Coupon Deals
Amazon also offers coupon deals. You can check out the Amazon Coupon Deals page here and 'clip' the coupons for Prime Day.
Product Deals
Amazon will have deals on a variety of different products ranging from household supplies to the latest tech gadgets on the market.
These deals won't necessarily be announced, they will just show up as a discounted 'Prime Day Deal' when you click on the item.
If you're looking to buy a specific product, just check it during Prime Days to see if the price has been discounted.
Some of the best sellers in years past have been the Amazon Kindle products, 4k tv's, and Amazon Fire Stick. products. Just a few of the products I've bought during Prime Day include a pressure cooker, wireless headphones, and a robot vacuum.
Get Ready for Amazon Prime Day
Want to know more about Prime Day, you can check out Amazon's Prime Day Guide here.