Giving Your Clutter New Life [How to Get Rid of Unwanted Stuff for Free]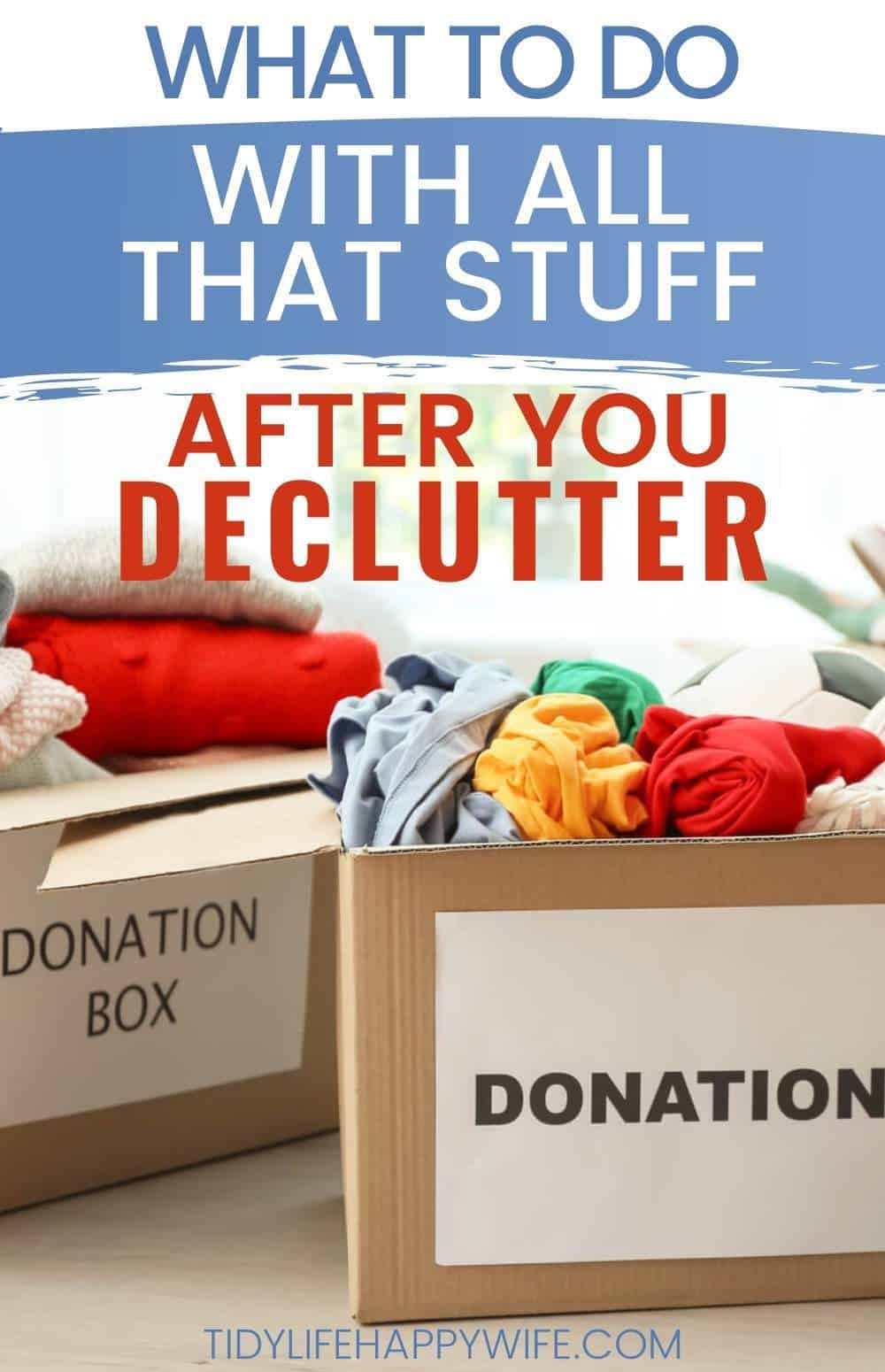 You've been on a decluttering mission and your house is looking really good, but how do you get rid of all of that unwanted stuff? Here are some great no-cost options for giving your clutter new life.
You made a ton of progress. The entire house is pretty much decluttered. You got rid of a ton of unwanted stuff, but now what? You still need to deal with all of those boxes of stuff.
How Do I Get Rid of Unwanted Stuff?
Ways to get rid of stuff fall into 4 main categories. Those categories are to sell it, donate it, give it away, or throw it away.
Chances are you're decluttering and letting go of some really good items that you no longer need or want. It would be a shame to just throw them away, but you need them out of your house.
While completely necessary in some situations, throwing unwanted stuff away should always be a last resort option.
There are plenty of worthy causes you can donate to. Some require you to pay listing fees, and others will require that you pay shipping fees to get the product to the organization.
Since your clutter has already cost you enough, I've only included no-cost options on this list.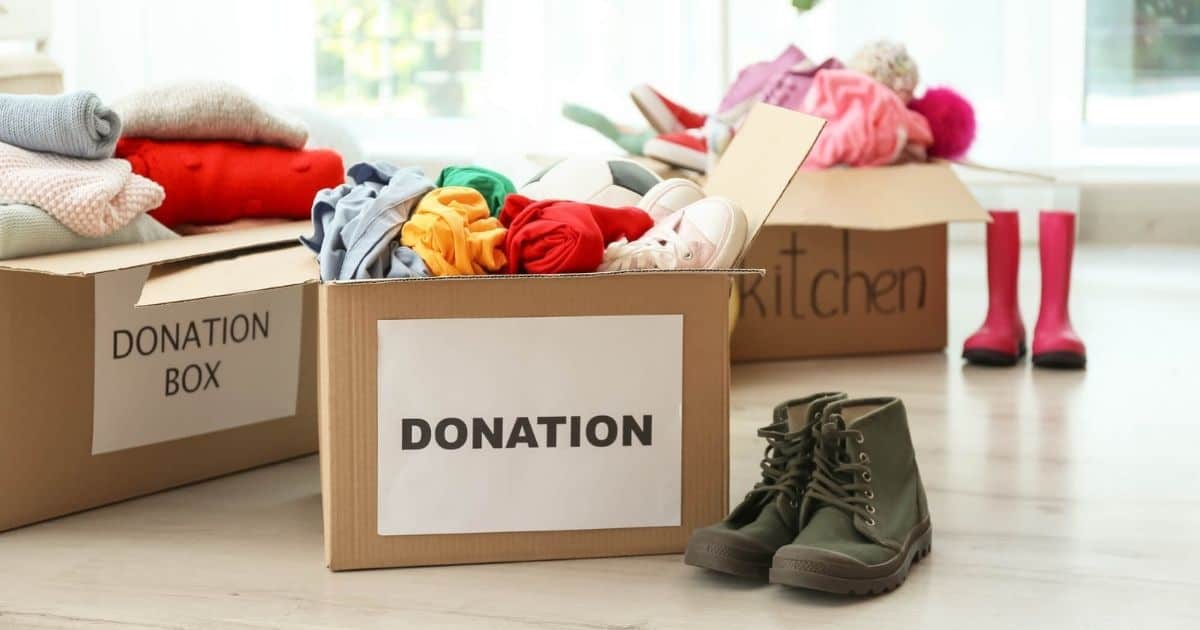 This post may contain affiliate links. Please see my disclosure policy for details.
Give Your Unwanted Stuff Away
One option is to just give it away. It might still feel a little like throwing money away, but I'm pretty sure the recipient will be very grateful.
Friends, Family, or Neighbors will be happy to take some of the stuff off of your hands. Especially if it's that cool kitchen gadget they always wanted but wouldn't splurge for.
Let people know what you have available, then they can come over and pick up their new treasures.
Freecycle is a free grassroots movement where you sign up for a group in your local area. You can list any items you have available, then interested parties will contact you with the information provided.
Facebook Marketplace provides a free online marketplace where you can list your items and interested parties will contact you with the information you provided.
Craigslist is a free online classified ads website where you can list your items and leave contact information for interested parties.
AVOID THE COMMON DECLUTTERING MISTAKES OTHERS MAKE!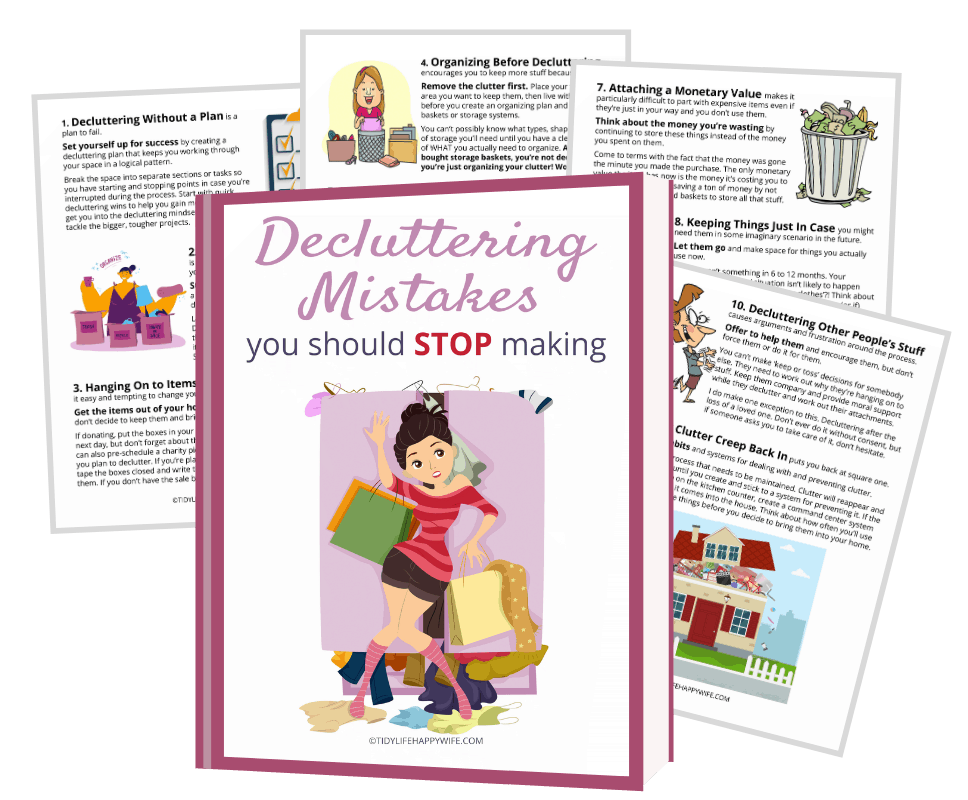 Join thousands of VIPs for cleaning, decluttering, and organizing tips sent straight to your inbox. As a welcome gift, we'll send you this FREE printable Decluttering Mistakes Guide that tells you exactly what NOT to do when decluttering.
Donate Things You No Longer Want
I know what you're thinking. How is donating any different than giving it away? Just slightly. Donating is giving it away with the added benefit of being tax deductible.
This is my preferred 'what to do with clutter' solution for a few reasons.
I get rid of my clutter
I get a tax write off
My clutter becomes somebody else's treasure
My clutter helps somebody in need
Places You Can Donate Pretty Much Anything
Goodwill accepts clothing and household items that they can sell in their retail stores. They use the proceeds to fund their programs including mentoring, education, and employment programs for at-risk youths, single moms, and seniors just to name a few.
You can donate by dropping items off at your local donation station.
The Salvation Army takes clothing, furniture, household goods, appliances, and cars which are sold in their retail stores. They use the proceeds to fund the company's adult rehabilitation centers, veterans affairs services, hunger relief, and emergency disaster services just to name a few.
You can donate by doing a and dropping items off at your local donation station.
The Habitat for Humanity Restore accepts gently used household goods, furniture, appliances, and building materials which they resell in their retail stores. They use the proceeds to help families build affordable housing.
You can donate your items at a local donation station or see if they will pick up your larger items.
Where to Donate Unwanted Clothing
Dress for Success accepts professional women's attire (suits and separates), shoes, and accessories which they give to women to wear to job interviews.
You can donate by connecting with an affiliate in your area.
Alliance of Career Development Nonprofits professional clothing and accessories for men and women who are entering or re-joining the workforce.
You can donate by connecting with a local volunteer in your area.
Nicu Helping Hands turns wedding gowns into beautiful custom Angel Gowns that they given to hospitals and families around the world for the baby's final journey.
You can check their map for a list of local hospitals that accept donations.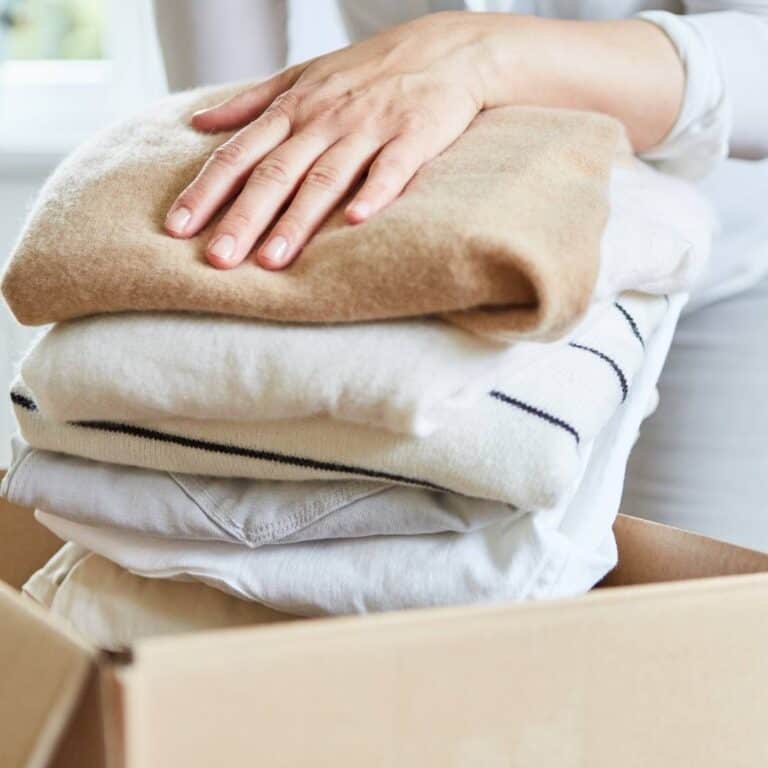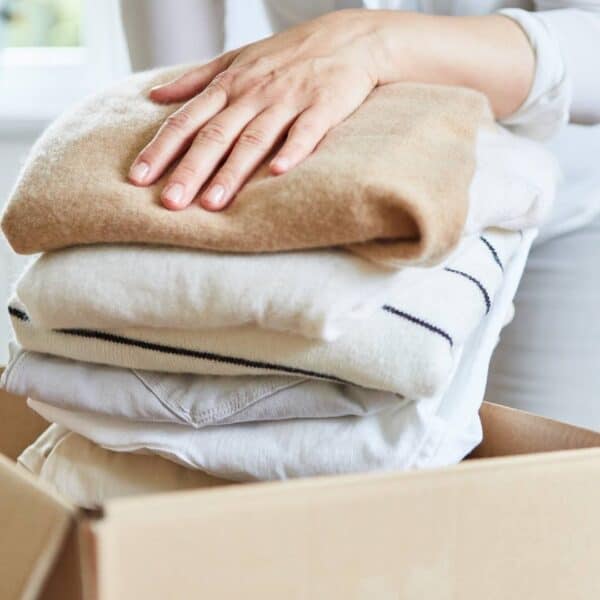 Where to Donate Your Extra Shoes
Soles for Souls accepts new and gently used shoes of any type which they can to people in need in disaster relief areas and to microenterprises in developing countries.
You can donate by finding a local business partner that is a donation drop off location.
Places to Donate Quilts and Material
Quilts Beyond Borders provides quilts to underserved children around the world. They accept quilts, tops, binding, and borders.
You can donate by sending an email to be connected with a regional coordinator.
The Giving Quilt, Inc. gives quilts to wounded soldiers, neonatal units, children's hospitals, Quilts for Kids, St Jude, and Quilts of Valor just to name a few. They accept donations of quilts, cotton fabrics, batting, and thread.
You can donate by checking their list of local organizations.
One Warm Coat gives donated coats to any person in need in the local communities. They accept warm coats of any size.
You can check out their map for a local donation location.
Where to Recycle Old Cell Phones and Tablets
Cell Phones for Soldiers provides free phones and air time to active-duty military members and veterans. They accept smartphones and tablets.
You can search at the bottom of their page for a local drop off location.
Places That Accept Book Donations
Most local libraries will accept new and gently used books. They will either use the books to restock shelves, or they will sell them at fundraisers.
Where to Get Rid of DVD's
Your local senior care facilities are great places to donate old DVD collections.
You can also check with local women's shelters.
Places That Accept Children's Books, Movies, Toys
Children's books, movies, and toys can all be donated to local children's hospitals or shelters.
You can also check to see if they have a local chapter for Ronald McDonald House.
Check with your local police and fire stations to see if they accept stuffed animal donations for children of emergencies.
There are a lot of places that would love those gently used stuffed animals.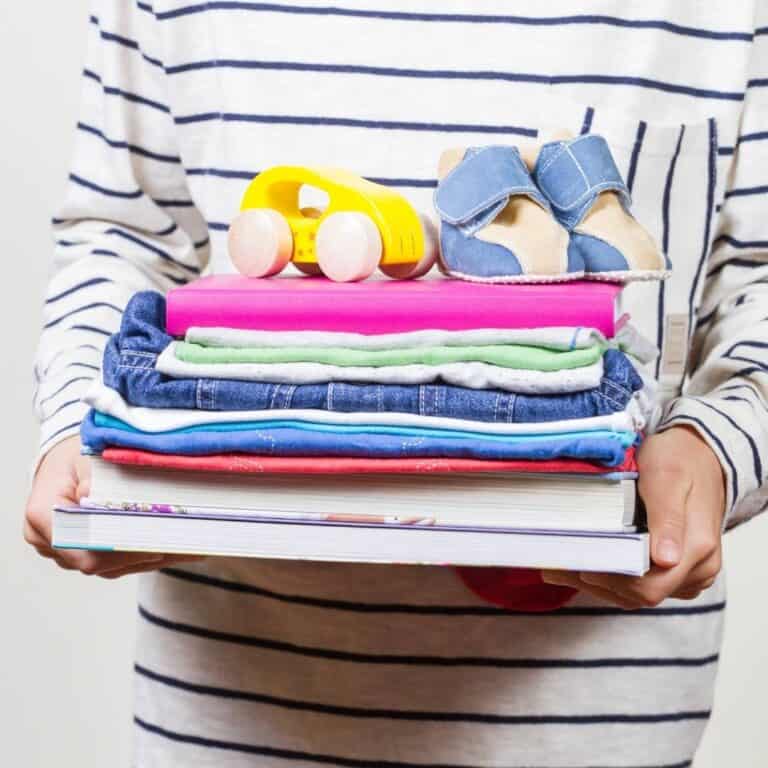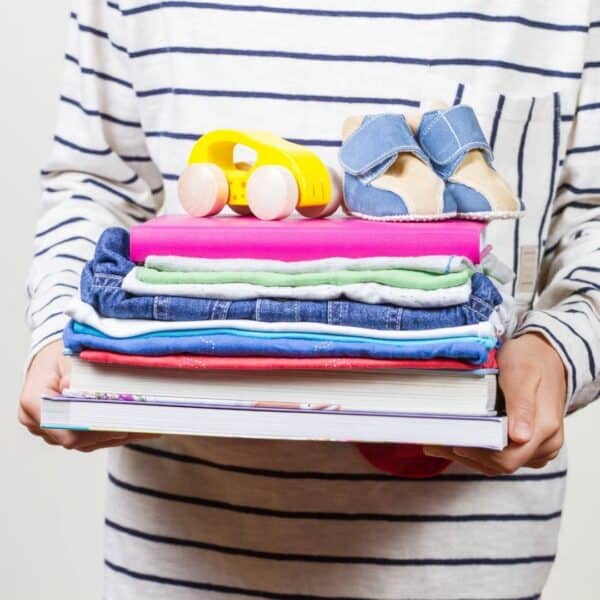 Sell It
Garage Sales provide a way to get rid of your clutter and make money at the same time. A garage sale will cost you time and energy.
Facebook Marketplace was mentioned in the free section, but you can also sell your items through the same process.
Craigslist was also explained in the free section and will also allow you to sell your items.
My hands-down favorite for selling my stuff is Decluttr. They take CD's, DVD's, video games, smartphones, tablets, and smartwatches.
You do have to be in the lower 48 states, use UPS, and send more than 10 items at once to qualify for the free shipping, but it's totally worth it.
You enter your information on the Decluttr app and they'll tell you what your stuff is worth. Once you enter everything, you box it up and ship it to them and they take care of the rest.
Throw It Away
It's an option, but not a very good one.
You already got rid of the actual trash during your decluttering sessions. You separated it because you didn't want to throw away perfectly good stuff or add to the local landfill for no reason.
One of the roadblocks that kept you from decluttering was feeling like you were throwing money away. Now that you've gotten past that, you don't want to do anything to make it rear it's ugly head again.
Now You Know What To Do With Clutter
With all the options available, there's no reason you can't get rid of the stuff you decluttered and help a worthy cause at the same time. I find that I declutter a little bit more when I think of the recipients who could really benefit.