An Honest Review of Harmony Boards Custom Command Center Solutions on Etsy
Sponsored post. I received the command center in exchange for my review. The opinions expressed are 100% genuine and my own.
I stumble on the Harmony Boards website while searching Etsy for a good command center solution. I was looking for a centralized place to organize upcoming events, daily schedules, and paperwork that required action.
Harmony Boards offers several all-in-one family organization systems. I needed something that would be easier to use and more visible than the physical planner I keep on my desk for all things personal and business related.
When I started browsing the Harmony Boards Etsy site, I knew I was in the right place. They have several options to choose from. Each one is beautifully handcrafted and fully customizable.
Command Center Options
You can order a basic style command center and customize it to fit your needs. The command centers come in sizes ranging from 21″ wide up to 32″ wide, and there are several color options.
Ready to order your own customized Harmony Boards Command Center or searching for a great gift for the busy woman in your life? Enter code TidyLife at checkout for $10 off!!!
Once you select your size and color, you can choose to have a dry erase or chalk calendar, or just a plain whiteboard. You also have the choice between a chalkboard, dry erase, or corkboard style message board. There's even an adorable jar attached with a leather strap to hold your pens.
Further customizations include multiple configurations and choices of mailboxes, key hooks, and coat hooks in select finishes. And last but not least, you can have the board further personalized with a custom monogram on the mailbox.
With all of the configurations and customizations, your choices are limitless.
My Customized Command Center
I ordered the Large Chalk Calendar, Chalk Message Board, Cork Board & Mailbox Command Center with Mason Jar and Key Hooks.
I requested my command center in the Early American stain color, an extra mailbox, and 3 key hooks under each mailbox in place of the coat hooks on the original board.
Stephanie was easy to work with and was very helpful with customization suggestions and solutions.
The command center I actually received was perfect. It was much nicer than I had imagined and the stain color enhances the wood grain beautifully.
The entire piece is very sturdy and well built. It comes with 2 triangle hooks attached to sturdy support braces on the back for hanging. It's solid wood and does have a little more weight than just a basic whiteboard or corkboard, so I would suggest making sure you anchor it securely to your wall.
Ordering one? Enter code TidyLife at checkout for $10 off of your own customized Harmony Boards Command Center!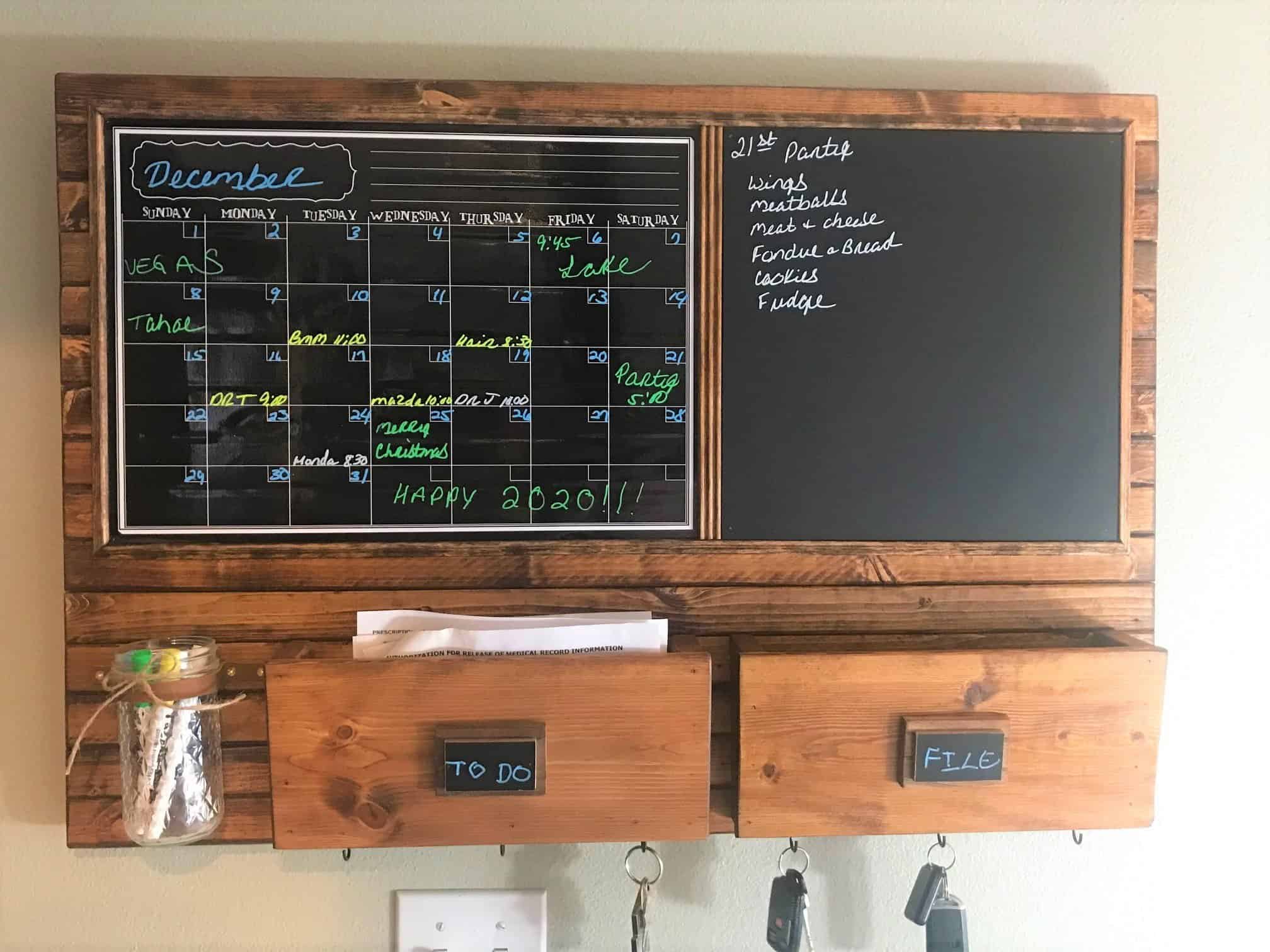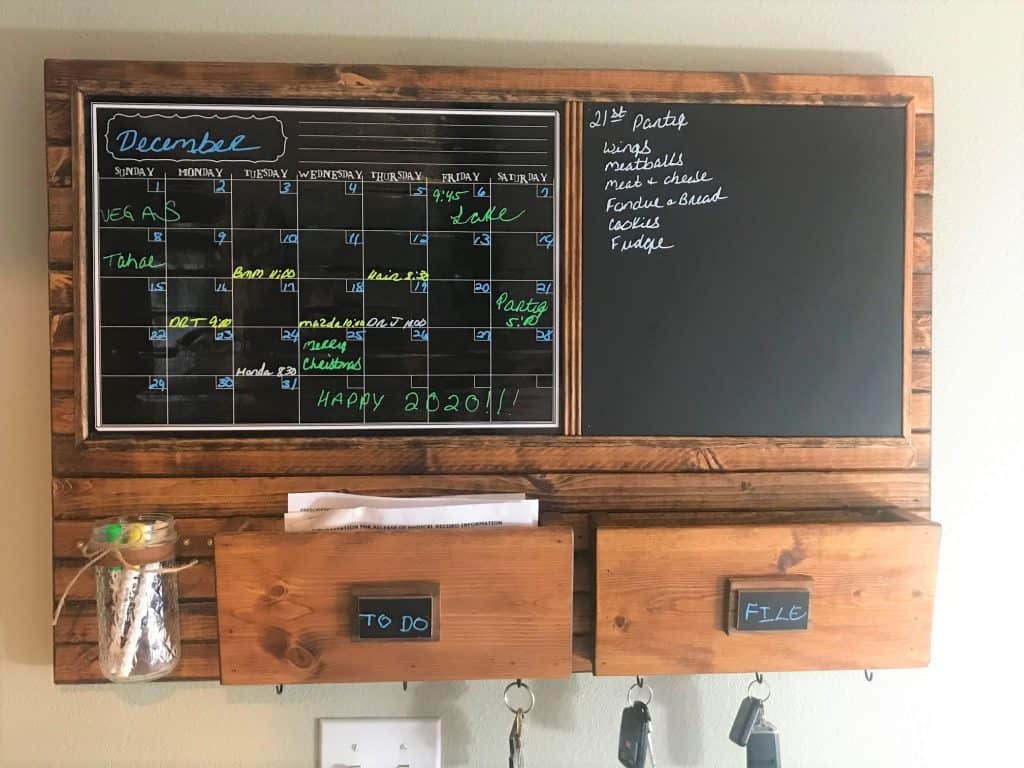 How the Command Center is Working Out
Command centers are not a new thing, but in this digital age, many people have started keeping track of everything on their smartphones.
I'm a paper and pen kind of person and have always had a simple DIY form of command center with a calendar and mail organization system. It worked out ok but was always missing something.
This command center has changed all of that. I now have a central, easy to use place to store important papers that need action, write down schedule information my husband needs to remember and keep track of our keys so we (I) aren't searching for them.
The command center looks amazing on the wall and my husband no longer has to ask me what time the party is, what day his doctor's appointment is, or what time our vacation flight leaves. He just checks the calendar on the command center.
My Recommendation
If you're looking for an all-in-one organization solution for your home and schedule, I would highly recommend checking into Harmony Boards.
Stephanie is wonderful to work with and she knows her stuff. She can make design recommendations and help you figure out the best solution for your family.
Don't forget to enter code TidyLife at checkout for $10 off of your customized order!!!