15 Clever Ways to Organize Pots and Pans in Your Small Kitchen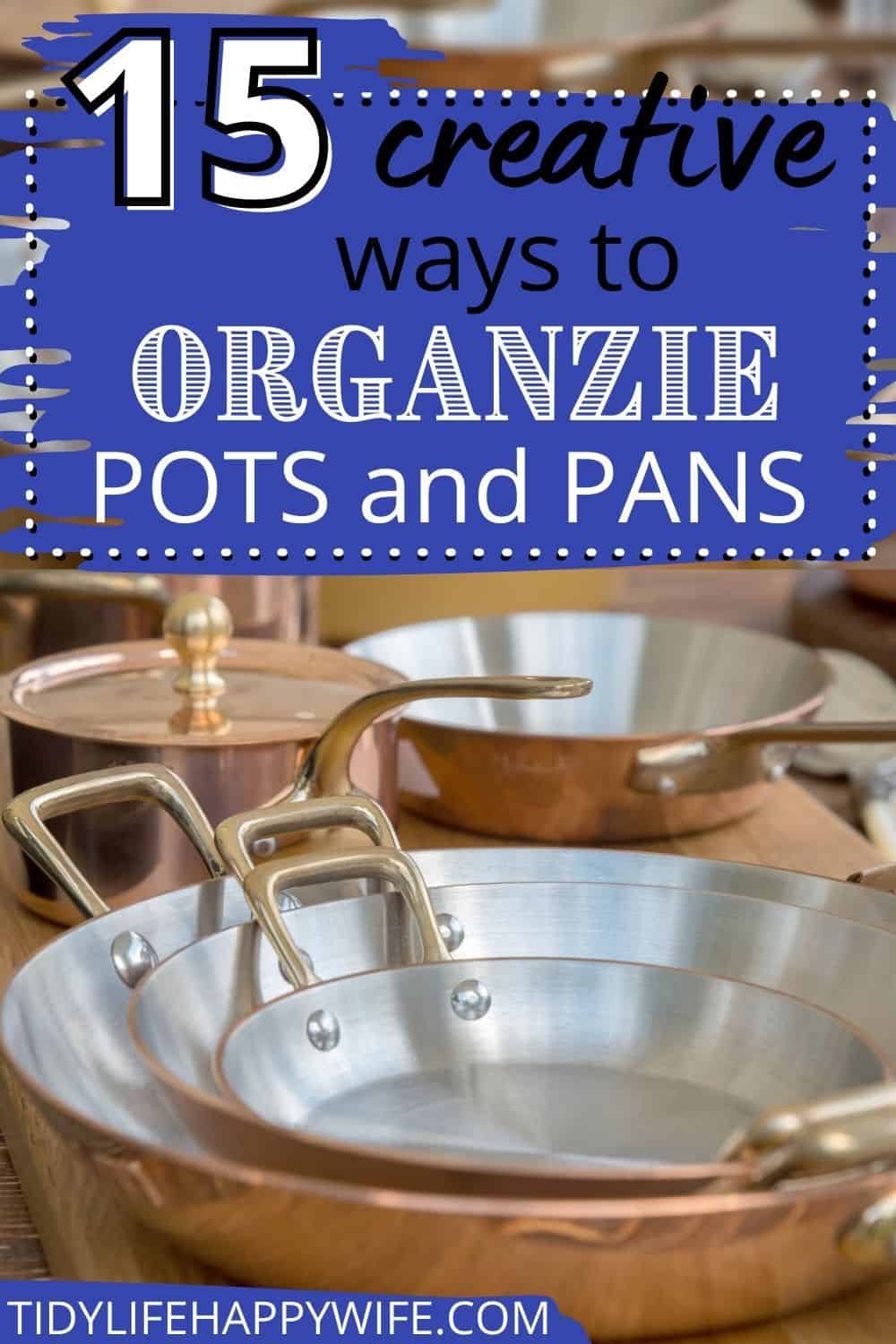 Tired of playing cookware Jenga to get to your frying pan? Here are 15 clever ways to organize your pots and pans without a full kitchen remodel.
When I was growing up, pots and pans storage in our small kitchen consisted of 'wherever we could put them'.
The seldom-used ones went in the drawer under the oven with their matching lids. The frequently used ones were put inside the oven, and the cast iron lived on top of the stove.
Imagine my surprise when my grandma told me to put the bread dough in the 'warming drawer' to proof.
Wait, what? The drawer under the oven is actually a warming drawer, not pots and pans storage? I had no idea! Then again, my mother is a great cook, but not much of a baker.
The point of that story is that pots and pans organization was a challenge as far back as I can remember, and continues to be today.
How many pots and pans do you really need?
That depends! How many people are you cooking for? What types of meals do you cook? Do you have lots of space in your kitchen?
Start by gathering all of your pots and pans in one place. Set aside the ones you use on a regular basis. Evaluate what's left and declutter any you don't need or won't use.
Reminder: Take a Picture! Always take pictures before any decluttering or organizing project so you can see your progress.
Pro Tip: You do NOT need an entire 14-piece set of pots and pans with matching lids. If you never use specific ones, get rid of them. See what else you can declutter from your kitchen.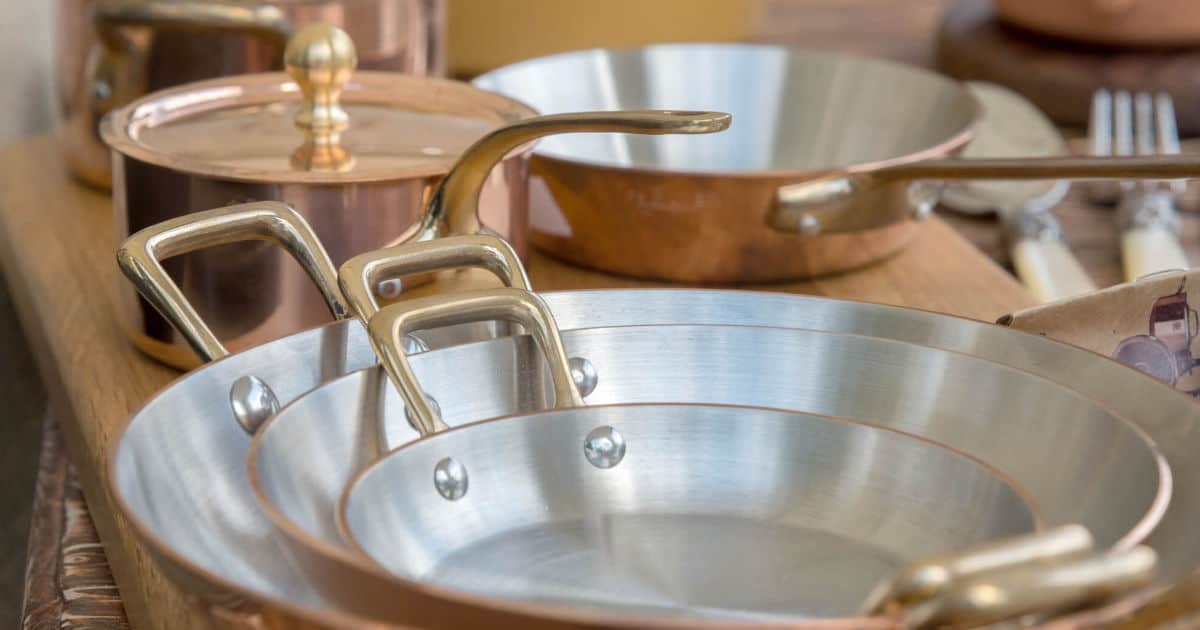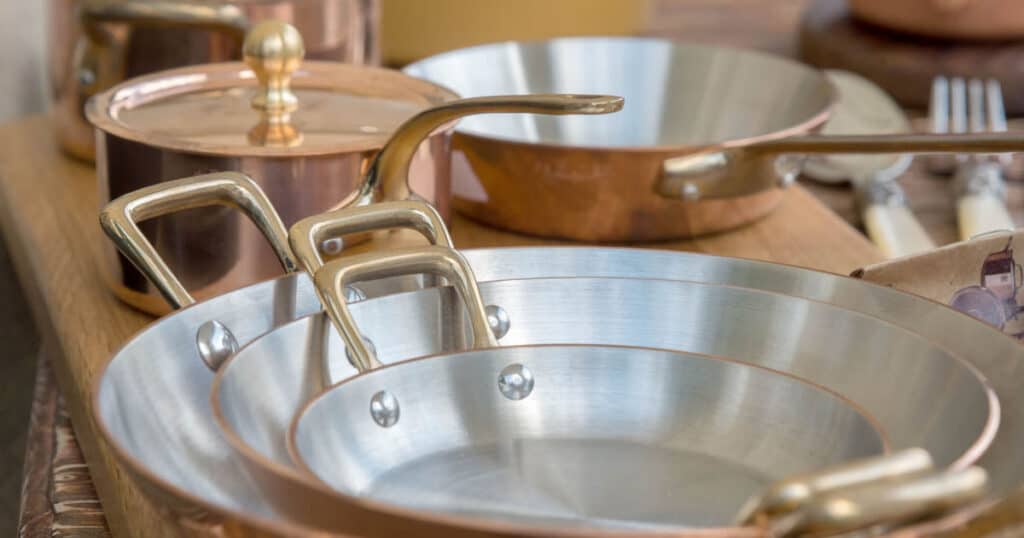 This post may contain affiliate links. Please see my disclosure policy for details.
What is the best way to organize pots and pans?
There are plenty of ways to organize pots and pans. The best option will be the one that allows you quick and convenient access to your pans.
You shouldn't have to dig through cabinets or play 'pots and pans' Jenga before you even start preparing a meal. Here are 15 kitchen organization solutions for your favorite pots and pans.
15 Clever Pots and Pans Organization Ideas
Storage and organization solutions have come a long way from the days of keeping the pots and pans in the oven and the warming drawer. The DIY revolution has spurred homeowners and manufacturers to create some pretty creative ways to maximize the kitchen storage space they have.
1. Stack Your Pots and Pans with Protectors
One of the least expensive and easiest ways to organize your pots and pans is to nest them inside of each other. I suggest using protective pads between each pan to prevent scratching and damaging your cookware.
The pads are made from a thick, flexible felt material and come in all shapes and sizes. You can cut them to fit completely inside of your pans or use them as is with the excess providing extra protection.
I've used these for storing my pots and pans for years. I use one 'leg' of the protective pad to keep the handle of the top pan from damaging the edges of the bottom pan. My lids are stacked next to the pans with pads in between each one.
2. Display Pots and Pans on Your Stovetop
If you're lucky enough to have gorgeous pots and pans, one great solution is to display them on your counters or stovetop.
Nice copper, ceramic, stainless steel pans, or enamel pots and pans are stylish and can add a beautiful pop of color to your kitchen. Plus, they're right there when you need them.
Just make sure you clean off any greased that gets cooked on the exterior. A cooked on grease drip down the side of your pan could be a bit unsightly.
3. Store Pots and Pans on a Tiered Pan Organizer
Another good idea is to use a handy countertop pan organizer to organize your entire collection right on your countertop.
The vertical countertop racks enable you to store your pans and lids in a stacked set that takes up less space.
If you have cast iron, make sure you get a sturdy rack designed to support the extra weight.
4. Organize Pans with a Cabinet Storage Rack
Another fast, simple, and affordable storage option is to buy a storage rack that fits on a cabinet or a pantry shelf.
Cabinet storage racks come in both vertical and horizontal versions. They typically have adjustable tiers that separate and organize your pans for easy access.
I suggest getting one with adjustable dividers so you can customize it to fit your needs. Each divider can be adjusted to fit a specific pot, pan, or lid.
The drawback to these racks is that they aren't fixed to the shelf or cabinet in any way, so they're prone to moving around as you move the pans in and out.
5. Install Pull Out Shelves and Drawers
If you prefer to store your pots and pans in your base cabinets but are tired of playing Jenga to get what you need, install a pull out style shelf or drawer.
They provide convenient access to your pots and pans and eliminate the dreaded task of digging in the back of the cabinet. You can store each pan and the coordinating lid together, or you can stack them as needed.
Pull out shelves come in wood drawer and wire shelf versions. They're also available in single or double-tiered configurations.
They're easy to install and simply bolt to the sides or bottom of your existing cabinets.
6. Organize Pots and Pans with a Corner Cabinet Pullout
Corner cabinets are notoriously useless. Their awkward shape and difficult access make them more of a pain than they're worth. Most people never do figure out what to use them for.
A great way to utilize that space is to install a blink corner pullout. Blind corner cabinet pullouts come in a couple of different styles.
The Lazy Susan pullout style makes good use of the wasted corner space. The 3 tiered blind corner cabinet steps it up a notch and makes use of every inch possible.
These pullouts are a bit spendy, but wasted cabinet space is costly too.
7. Install Hanging Pull Out Hook Organizers
Pull-outs aren't just for shelving. You can also install hanging pullouts with s hooks for organizing your pots and pans. They come in wood and wire styles to fit your design needs.
The hanging rack bolts to the back and top our your cabinet and provides easy access organization for your pots, pans, and lids. Slide the handle of the pan through the handle of the lid before hanging. That way the pan and lid stay together and take up less space.
Pro Tip: Try hanging one in your utility room to store your broom and mop, or your closet to store your handbags, scarves, or belts.
8. Organize Pots and Pans with Dividers for Deep Drawers
Do you have a large, deep kitchen drawer? Use expandable wood or plastic drawer dividers to organize your pans and lids for convenient, easy access.
They're a snap to install and are easy to move and adjust if your storage needs change.
Are you the handy type? Add ¼ inches of plywood pieces to your deep drawer to create cubbies for your pots and pans. You can even paint the plywood pieces to match the colors of your drawer. Here's a great tutorial that shows you how.
9. Hang Cookware from a Ceiling Pot Rack
Ceiling pot racks are a great idea if you have a kitchen with limited storage space and higher than normal ceilings. They come in a variety of styles to fit any kitchen.
The industrial-style reminds me of the ones used in restaurants. The more decorative styles incorporate wood and metal, and can match most kitchen finishes.
Hanging pot racks are incredibly convenient. They are also very visible, so as I mentioned earlier, you should probably keep the exterior of your pots and pans pretty clean.
Your pots and pans will literally be on display 24/7 hanging right there in the middle of your kitchen.
10. Install a Wall Mounted Pot Rack
Don't have the ceiling height or room to accommodate a hanging pot rack? Look for some empty wall space and install a wall-mounted rack instead.
It's a great alternative because it bolts directly to the empty wall and won't take up space above your head.
Depending on how many pans you have, a single rack with hooks might accommodate them all. If not, opt for the two-tiered rack with hooks. You can stack the pots on the rack and hang the pans from the hooks.
Pro Tip: Install your pot rack as close as possible to your stove for easy access.
11. Try a Hanging Pot Rail
Are you lacking wall space and cabinet space? Try a hanging pot rail. It's like a sturdier version of a towel bar, and some even provide knife storage.
A pot rail can be hung on the end panel of your kitchen cabinets for out of the way storage. You can also hang it across your kitchen window. Just be sure you don't completely block your view.
Don't have the wall space to install a rail? Tension rods are a great alternative. Install a sturdy tension rod across the window opening between the cabinets and use s hooks to hang pans and kitchen tools.
Don't' be afraid to get creative. Try to imagine your gorgeous copper pots sparkling in the afternoon sunshine.
Like the industrial look? Build this DIY version with plumbing supplies.
12. Build a Pegboard Wall
Do you love the versatility of pegboard organization? A pegboard wall is a genius solution for organizing pots and pans in your kitchen.
You can install it on the wall space above your stovetop or on the end of your cabinet. You can even install this pegboard on the inside of a pantry door to maximize your valuable space.
Pegboard walls are completely customizable and come in many different colors. If you're handy, here are some DIY instructions to build your own.
13. Try an Open Wire 'Bread' Rack
Open wire racks are a great option for kitchens that don't have a lot of cabinets. Wire racks come in small and large sizes to fit all your storage needs.
Organize pots and pans on the lower shelves and lids on the top. You can even put a microwave, toaster, and coffee pot on one of the shelves to save some additional counter space.
These racks also do double duty for canned food and overstock storage in many kitchens. Think you'll need to move it around? Make sure you get one with wheels.
14. Free Standing Corner Tower
If your kitchen is fairly small and you don't have any open space to hang racks or accommodate a large free standing rack, try a corner tower.
They're fairly compact and take up less space than a wire shelving unit. You can tuck one into the corner at the end of your cabinets.
If that area is open to a living room try a more decorative rack so it doesn't look like your kitchen is encroaching on the living room.
15. Use a Rolling Cart to Organize Pots and Pans
If there's just not enough room in your kitchen for a permanent rack of any kind, try a rolling island, serving cart, or utility cart.
They provide the extra space you need to organize your pots and pans. Plus they can be moved around the kitchen or easily moved to a different storage spaces as needed.
Your Pots and Pans Organizing Dilemma Solved
Stop agonizing over how to organize your pots and pans. Declutter and get rid of the ones you never use, then pick one of the storage solutions that makes the most sense for your limited space.
In cabinet solutions include felt dividers, storage racks, pullout racks, pullout drawers, and pullout corner cabinet systems.
If you have one of those pretty copper, enamel, or ceramic sets, consider leaving them on your stovetop or displaying them around the kitchen as part of the decor.
Need the counter space? try a ceiling rack, a wall-mounted rack, rails, open shelving, or a rolling island for organizing your pots and pans.
Have a different solution or used one of these? Come back and drop your pictures in the comments so we can all see!