8 Tips to Help Organize a Small Bedroom on a Budget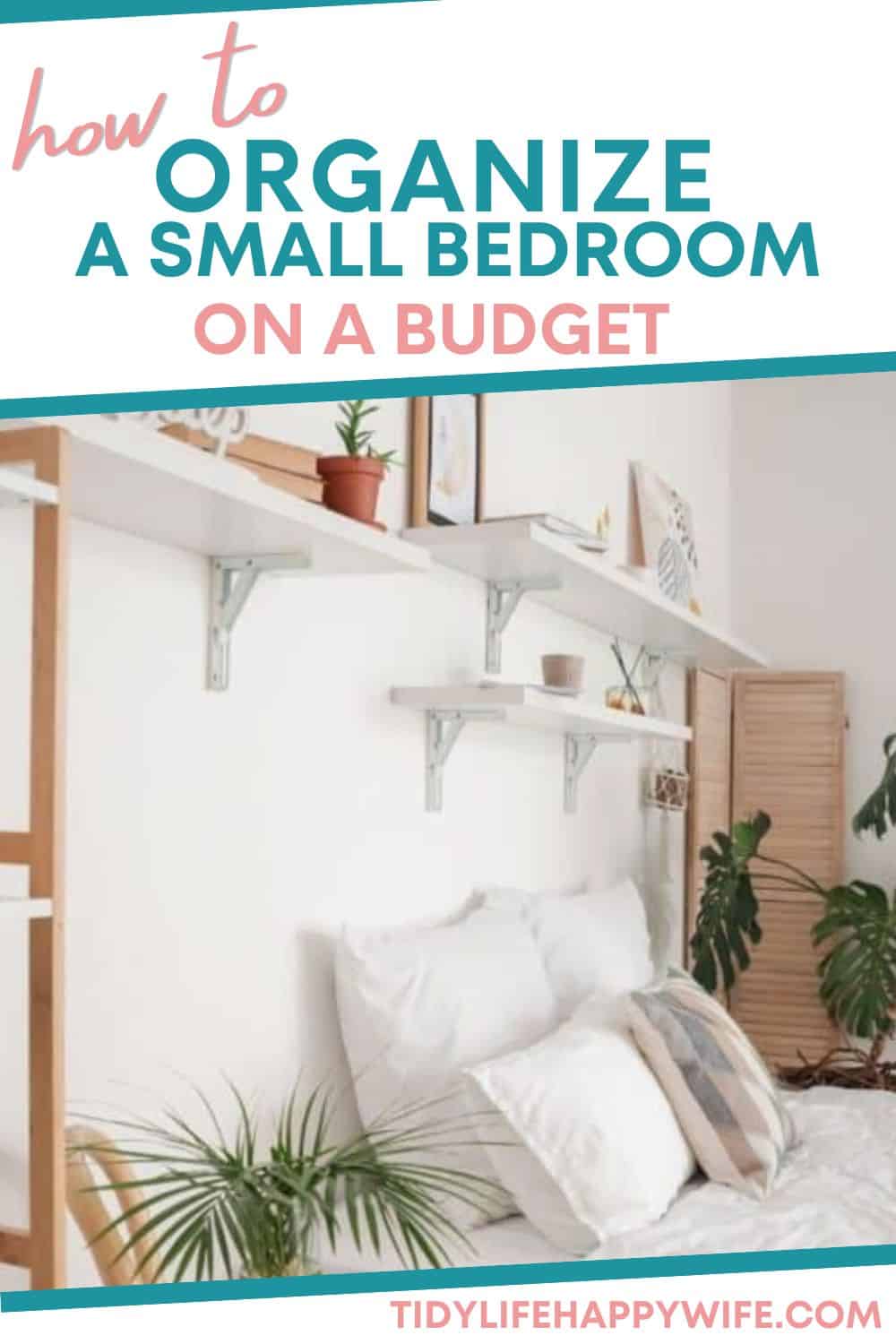 Tired of struggling with a small, messy bedroom, but can't afford to hire a professional organizer? Check out these clever tips for organizing a small bedroom on a budget.
Tiny bedrooms don't seem that bad until you actually have to live in one. There's barely enough room for the bed, much less a dresser or nightstand.
The lack of storage space makes it difficult to keep the bedroom clean, and the constant mess makes the entire room feel even smaller.
Those fancy storage beds, closet systems, and storage units would probably help, but they can be expensive. You need budget-friendly bedroom organization ideas, and you need them now!
How do I Organize a Small Bedroom on a Budget?
There are a myriad of different ways to organize a lot of things in a small bedroom without breaking the bank. Decluttering, creating zones, and getting creative with storage disease will make the most impact.
Let's dive a little deeper into how to organize your small room without breaking the bank.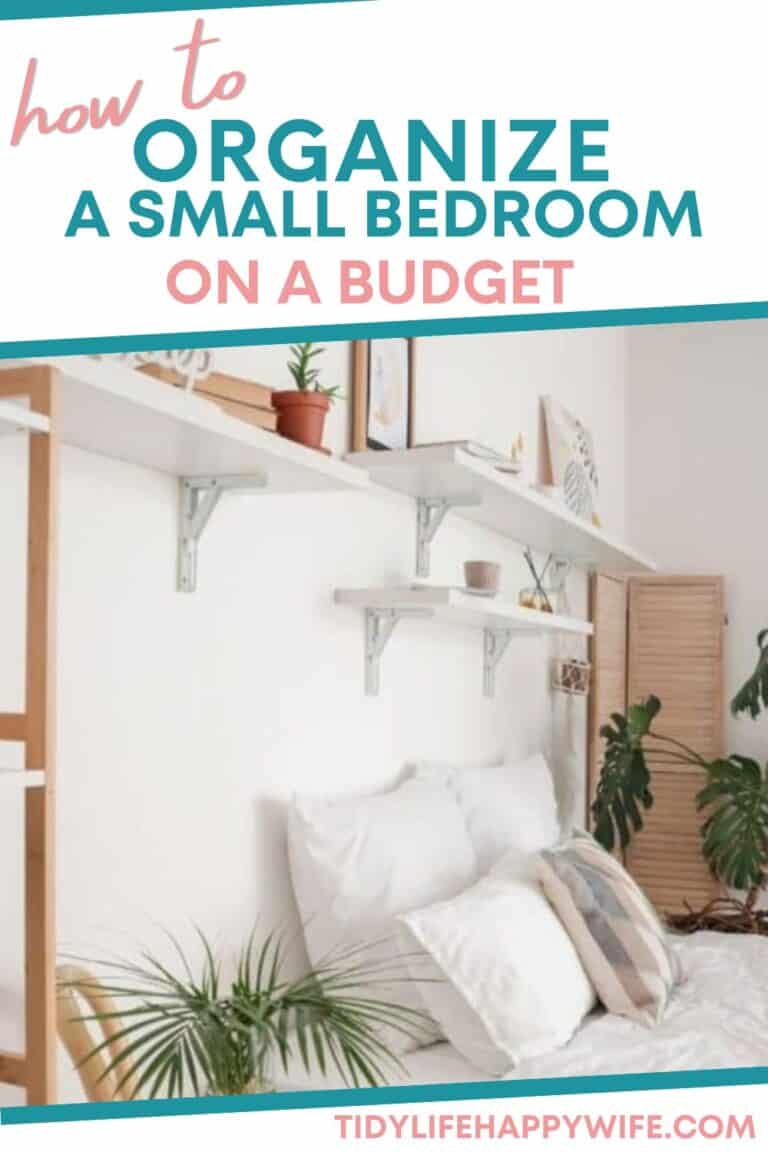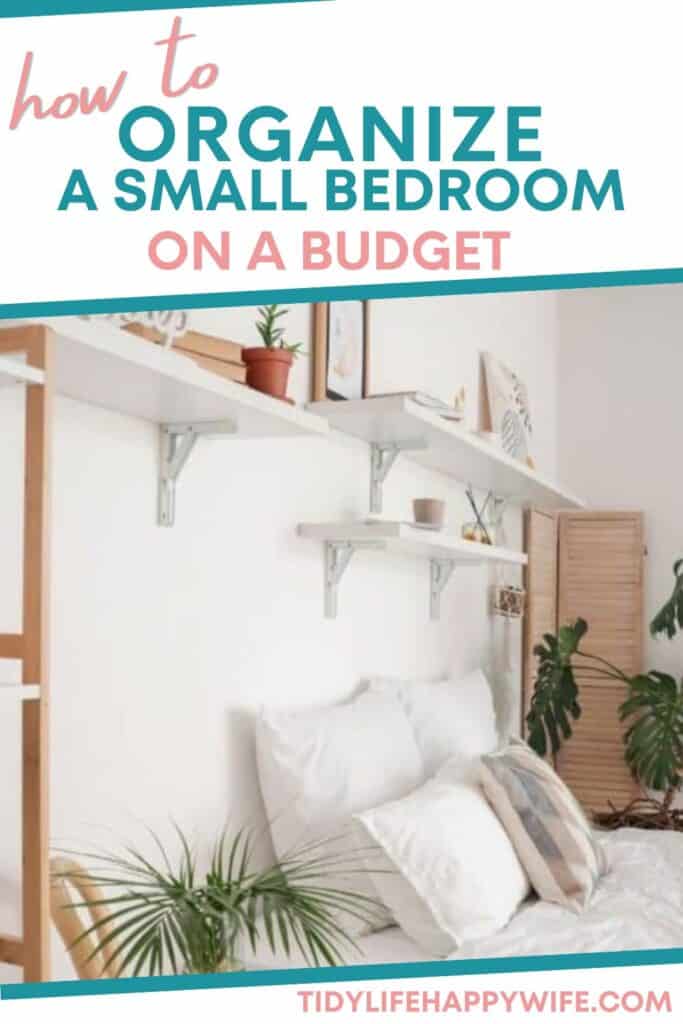 1. Declutter Unwanted Belongings
Start by decluttering the bedroom. It's an easy way to free up a lot of space with no additional cost.
Remove all the stuff that belongs in a different room. Yes, I'm talking about those water glasses that belong in the kitchen, the pile of read books teetering on your night stand, and those dirty towels you should have washed days ago.
Now get rid of unwanted items that you don't really have enough space for. Remove everything you don't need or don't use on a regular basis.
Next, go through your closet, drawers, and shelves. If you haven't worn or used something in the past six months, chances are you're not going to. Seasonal clothing is excluded of course.
Donate or sell anything you don't need or want any longer.
You'll free up a little space and might be able to make a little extra money along the way.
2. Create Zones in Your Bedroom – A Place for Everything
My favorite way to make the most of a tiny bedroom is to create zones.
Zones help you stay organized by making it easier to find and put away those things you regularly use in the bedroom.
Create a designated space that makes sense for the types of items you use in that area. Some logical zones might be a sleeping zone, a makeup zone, and a dressing zone, just to name a few.
Once you identify the zones, think about where you want to store all of the things that are needed for that zone.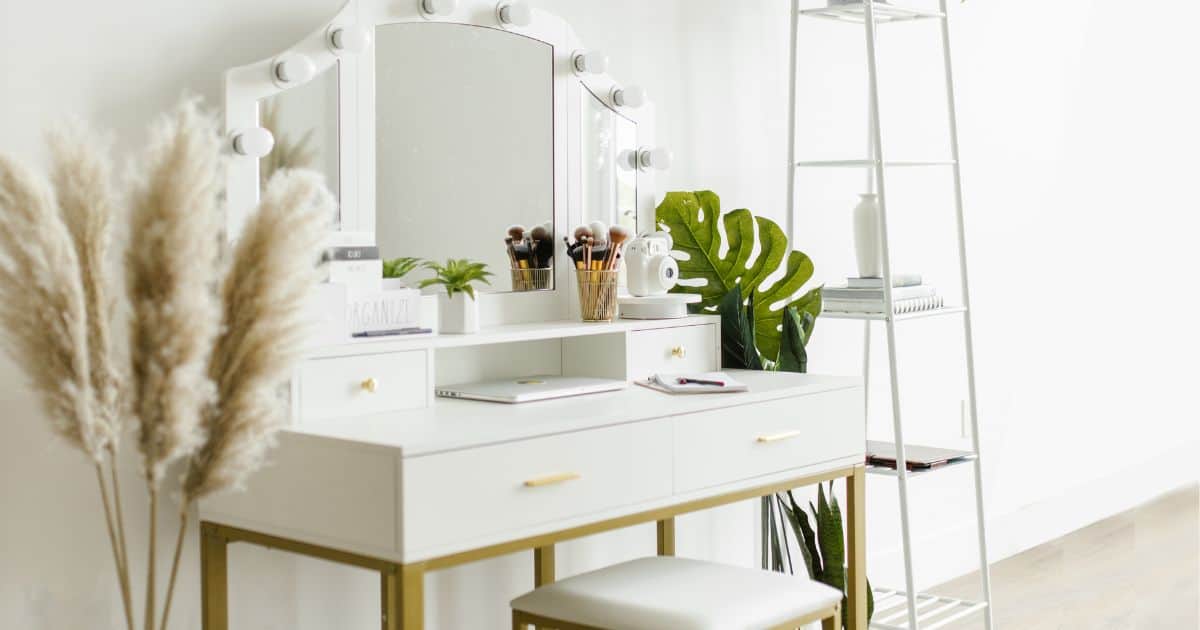 3. Use Stuff You Already Own
The "shop your home" organizing trick won't cost you another dime. Can you tell I like the no-cost options?!
If you've been trying to organize your home for more than a hot minute, chances are pretty good you already have an impressive collection of storage baskets, bins, and containers.
I'll even bet that half of them are piled up in a corner or stashed away in a closet somewhere because they didn't really work for the project you were doing at the time. They're sitting there taking up additional storage space and contributing to clutter.
Check the rest of your home for those empty or unused baskets, bins, containers, caddies, boxes, or any other receptacles you can use for storage. You just might find the perfect use for that container that was just taking up space before.
4. Put Those Vertical Spaces to Work
Consider installing shelving to take advantage of vertical space. It's one of my favorite ways to maximize and increase storage.
You can install floating shelves above the door, windows, and closet. Try adding corner shelves to create valuable storage space.
Hang a shoe organizer on the back of the door to create additional storage space, or use command hooks on your closet door for purses, belts, robes, etc.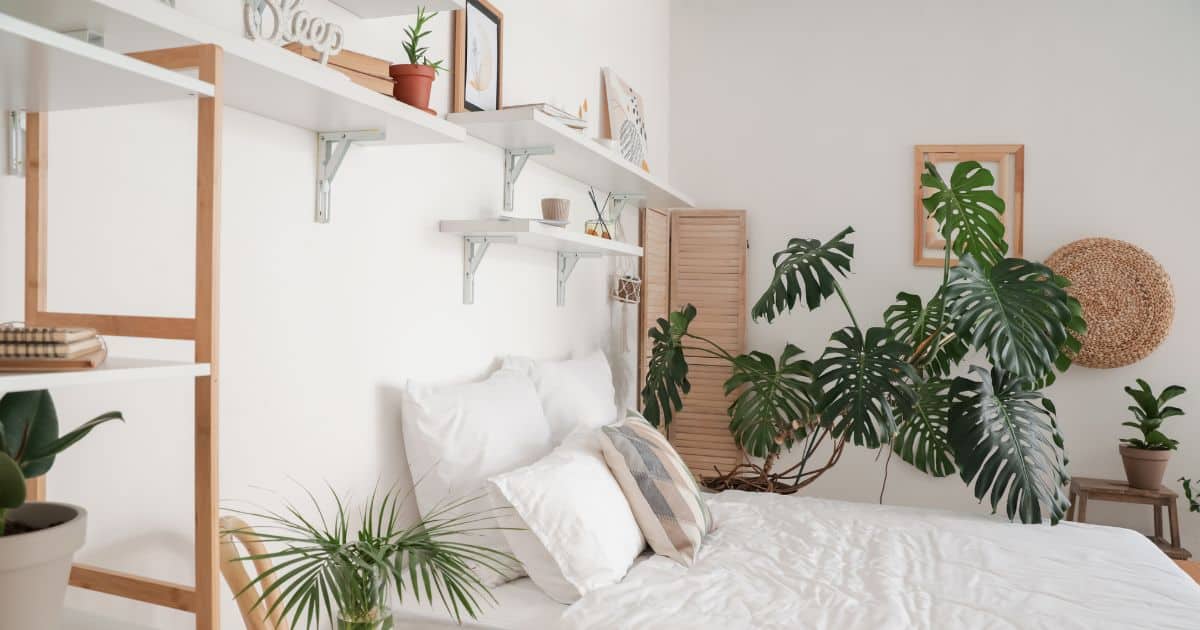 5. Repurpose Specific Use Containers
Not only is this option budget-friendly, but it also keeps waste out of landfills, and that's a win-win any way you look at it.
Reuse all of those food storage containers that are no longer airtight, or are missing their lids. Use them to create a home for small items in your bedroom like makeup and hair accessories (all while freeing up some extra space in your kitchen cabinet😉).
Repurpose the sturdy cardboard packaging your everyday products come in. I like to use the Neutrogena facial wipes boxes from Costco to organize my nightstand drawers.
Try deconstructing and reconfiguring an Amazon box. Cover it with some pretty contact paper, and use it as a drawer separator so you can keep multiple types of clothing all in the same drawer.
For little to no cost, you can create storage containers out of almost anything.
6. Hang Closet Organizers On the Back of Doors
If you have a small bedroom, the chances are that there isn't much room for clothing storage in your small closet. A great way to maximize space is by hanging a closet organizer or shoe rack on the back of your door.
This will help keep your shoes organized and out of sight when guests come over. Shoes are often one of the first things people notice in a bedroom, so it's essential to store them neatly.
I've also used the hanging pouch organizers to store belts, bras, dress socks, and even camisoles just to free up some other closet space.
7. Utilize Baskets, Bins, & Shelves to Keep Things Tidy
Use baskets, bins, and shelves as part of your room decor to keep your things neat and out of sight.
Keep personal items in storage boxes you can tuck away when not in use. Craft and writing suppliers stay much tidier when stored in a box as opposed to stacked up on a shelf.
This helps maximize your small bedroom space by keeping things off the floor and out of view from visitors to your home.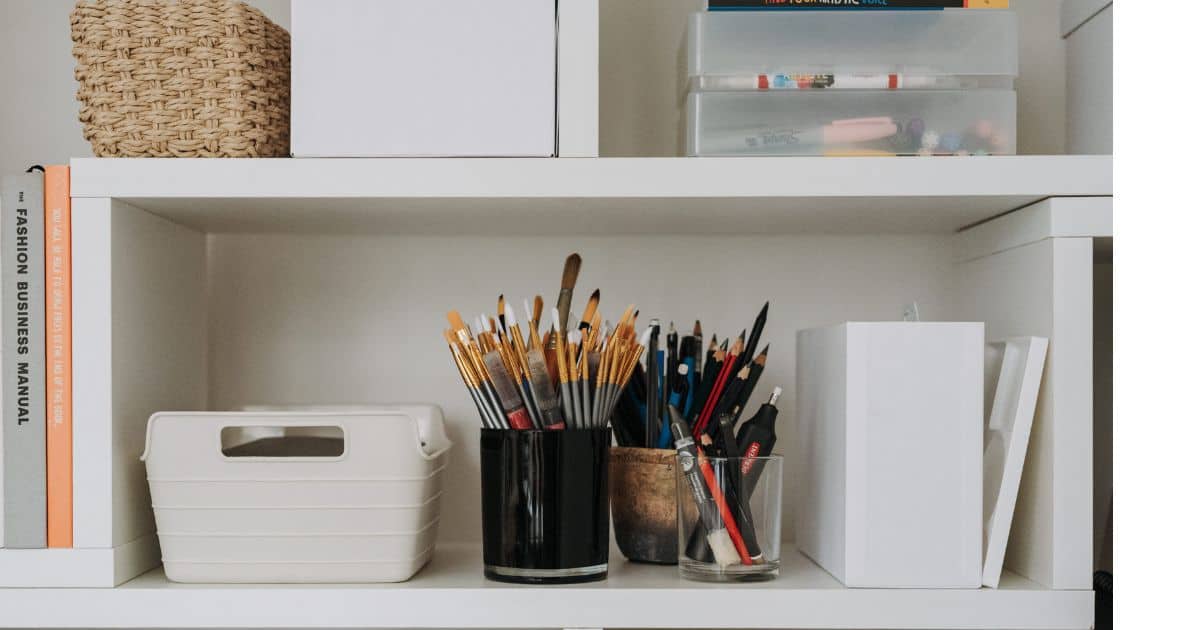 7. Invest in Budget-Friendly Storage Solutions
If you must buy storage solutions, be smart about it. Buy ones that actually help maximize the space you have.
Stay away from pretty baskets just for the sake of being pretty. If you're going to opt for a decorative basket, make sure it fits in the space you have and can hold the items you need to store.
There are several different types on the market, so you should be able to find something that meets your needs.
I buy most of my storage bins and baskets at Amazon, Dollar Tree, Tuesday Morning, Big Lots, and Home Goods. They're more affordable than The Container Store and work just as well.
8. Don't Forget the Hidden Storage Under the Bed
Look at all of that hidden space under your bed. That's prime storage space that can get seldom-used items out of the way.
Use under-the-bed storage containers, rolling storage drawers, and wardrobe boxes to capitalize on that valuable space under the bed.
Look for more storage ideas by visiting your local home improvement store or searching online.
Be sure to measure the space under your bed before you purchase any storage containers so you can make sure everything will fit properly. If the bed sits too low, pick up some bed risers to increase the height of the area under our bed frame.
Organizing Your Small Bedroom Doesn't Have to Be Expensive
A small bedroom can be a challenge to organize, but with a bit of creativity, you can make it feel just like home. When you decorate your small bedroom, it's important to consider your budget.
If you're on a tight budget, there are ways to create an organized space without investing in expensive bedroom furniture or accessories.
Use these tips to create a functional and stylish space that you'll love spending time in. We hope you enjoy your newly-organized small bedroom!