Insanely Practical Gifts for Busy Women that They're Actually Going to Love
You want to buy an amazing gift for the busy woman in your life but any time you ask what she'd like, you get the same response. 'I can't think of anything I need'.
But that isn't what you asked, is it? Instead of asking the question again and being annoyed with the non-committal answer, get her a gift that she probably won't buy herself.
Get her something that will make her life a little easier or give her an excuse to relax. Here are a few ideas from a busy woman who's completely guilty of giving her husband that same non-committal answer.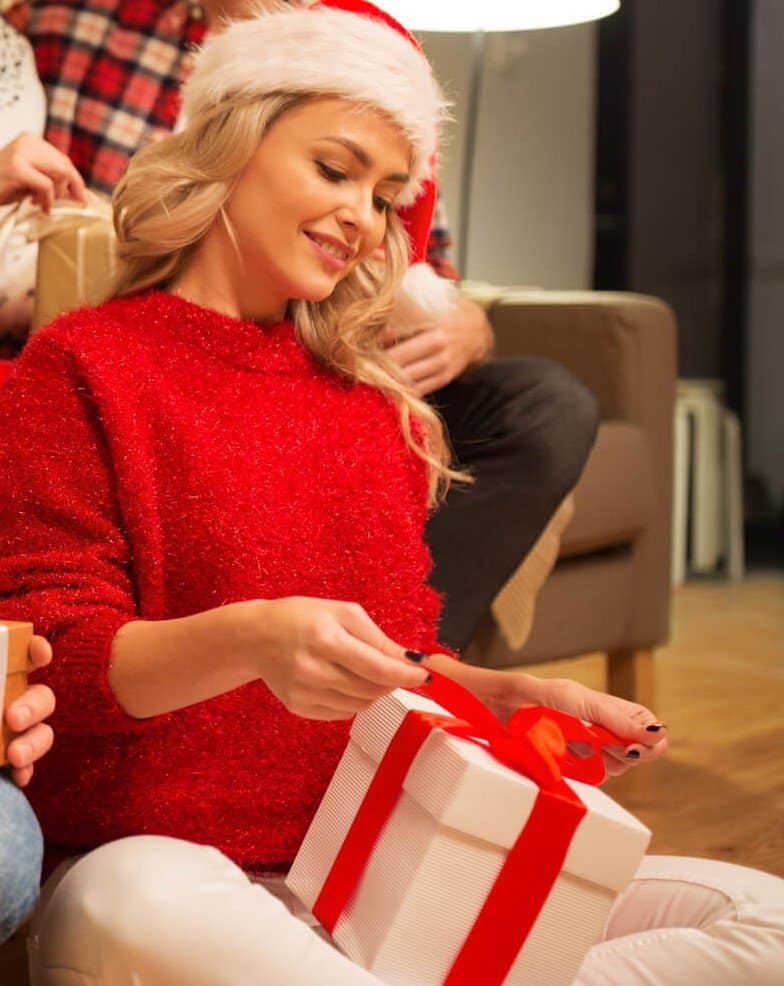 This post may contain affiliate links. Please see my disclosure policy for details.
Everything Self Care and Relaxation
One of the most challenging things for a busy woman to do is to slow down and take care of herself. Make her day with something that helps her relax and gives her an excuse to practice self-care.
Self Care Spa Kit
Give her this Relaxation Spa Gift Set from Lizush for a complete spa feeling right at home. She won't be able to resist a relaxing hot bath. You can make it extra special with a personal note and her name written on the top of the box.
Spa Robe
After she gets out of that relaxing bath, she'll love wrapping up in this Spa Robe from Monogram Works. It can be personalized with a monogram and will keep her nice and toasty after that long, relaxing bath.
Facial Steamer
A Facial Steamer will help cleanse her pores, clarify her skin, and boost blood circulation to help prevent the signs of aging, but maybe leave the 'signs of aging' part out.
Facial Cleansing Brush
This Facial Cleansing Brush system will help cleanse and exfoliate her face to help prevent acne and reduce wrinkles. It's like a massage for her face with the benefit of cleaning.
Related article: Gift ideas for the traveler.
Related article: Gift ideas for the woman who's always cold.
Related article: Gift ideas for the cook.
Something To Make Cleaning Easier
Any time you can make housework a little easier for her, she's sure to appreciate it. Here are a few ideas that will definitely save her time and energy.
Robot Vacuum
Any busy woman will love this Roomba vacuum. My husband surprised me with one on Black Friday a couple of years ago and I love it.
She can set it to vacuum while she's out and empty the collection container when she returns. It will save her a ton of time and make house cleaning much easier.
Multi-Purpose Floor Cleaner
This CrossWave Multi-Purpose Floor Cleaner vacuums and mops both hard floors and carpets at the same time to make floor cleaning much faster.
DocaPole Cleaning Kit
The DocaPole Cleaning Kit is a multi-tasking cleaning tool that will make cleaning high places and washing the outsides of windows much easier. It comes in different extension lengths and will eliminate the need for climbing a ladder to get the tough to reach places.
Anything That Helps Organize Life
Busy women can always use something that helps organize life and make keeping track of everything a little easier. Here are a couple of great solutions that help with schedules and keeping the entire family on track.
Command Center
Get her a command center from Harmony Boards to make keeping track of everybody's schedules, important papers, and keys just a little bit easier.
These command centers are beautiful and allow the entire family to easily communicate and keep track of important times and dates.
A Life Planner
The Living Well Planner from the Living Well Shop is a comprehensive life planner that has sections for goal planning, yearly planning, weekly planning, daily time blocking, project organization, budgeting, and meal planning.
The planner is great for helping her organize her days and keep track of all that she has going on.
Service-Based Gift Ideas for Busy Women
Don't think she'll like any of the ideas above, here are a few more suggestions.
Maid Service
Hire a cleaning service to come in and do a thorough deep clean, or weekly cleaning for a specified period of time. Any time you can take the responsibility off of her plate, she'll likely be grateful.
Spa/Salon Service
Book her a day at the spa and get her the all-inclusive package. A spa day can totally recharge even the most overworked and exhausted woman.
Surprise Her
One of the most exhausting things for the busy woman in your life is that she's making decisions all of the time.
When you ask her what she wants for any special occasion, that's just another decision she needs to make. Instead of making that decision, it's just easier to say 'I don't need anything'.
So surprise her. Get her something that'll make her life a little easier, or make her slow down a bit and take care of herself.
Need more ideas? Here are a couple more gift guides.