67 Bedroom Storage Solutions to Organize a Small Room
It's a challenge to keep a bedroom organized. It's even harder if that room isn't very big. Here are some genius bedroom storage hacks to help you organize your small room.
Your small bedroom gets messy pretty quickly. One good way to prevent that is to declutter your bedroom.
Once you've decluttered, you can start figuring out what kind of storage solutions will work for you.
The right storage solutions can help turn your bedroom into the relaxing, organized space it should be
How can I increase storage in my bedroom?
There are several different ways to increase storage in any room. Every square inch of dead space is a potential storage space that can be organized to fit your needs.
From off-the-shelf storage solutions to your own DIY creations, there's a way to turn every bit of precious floor space into additional storage.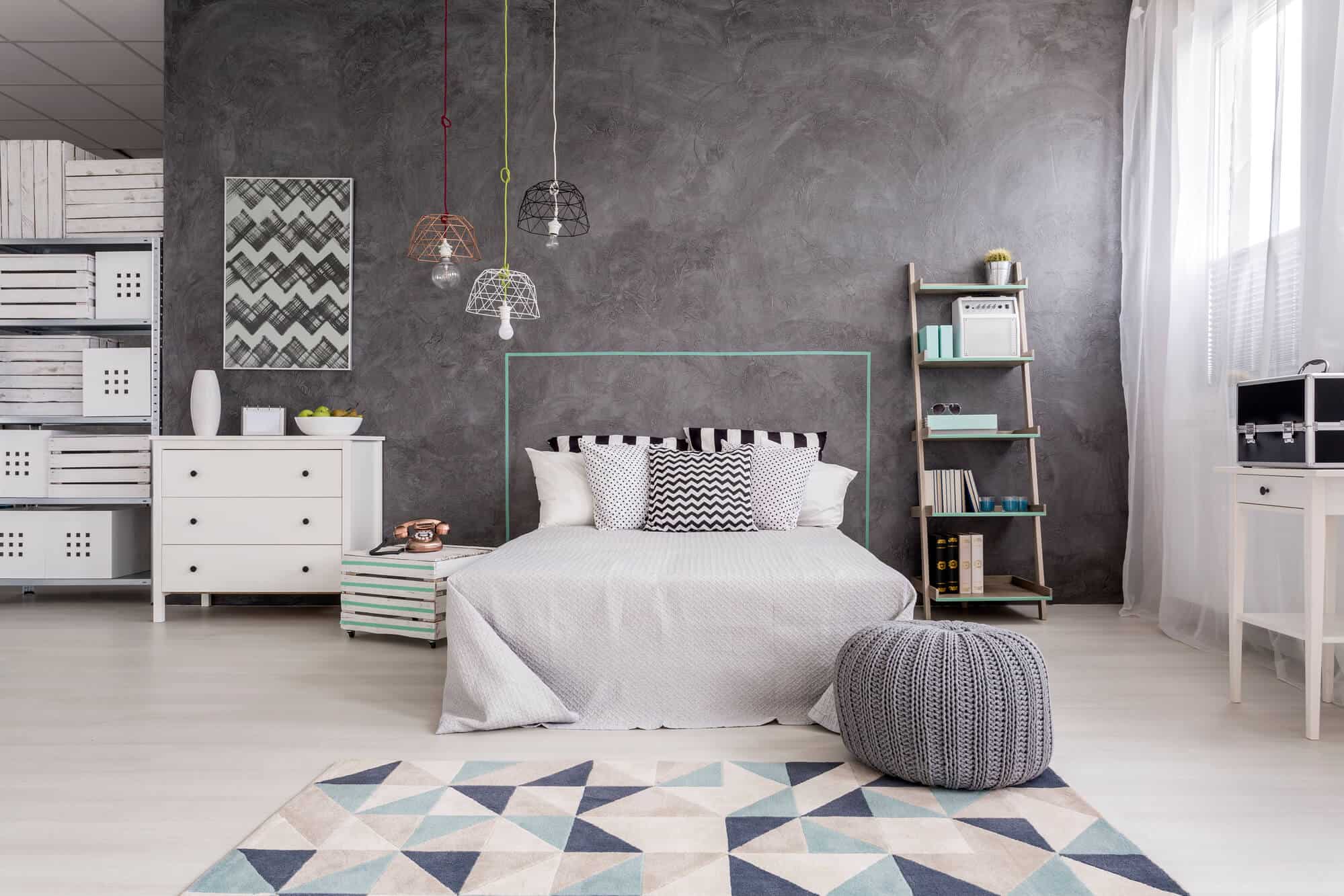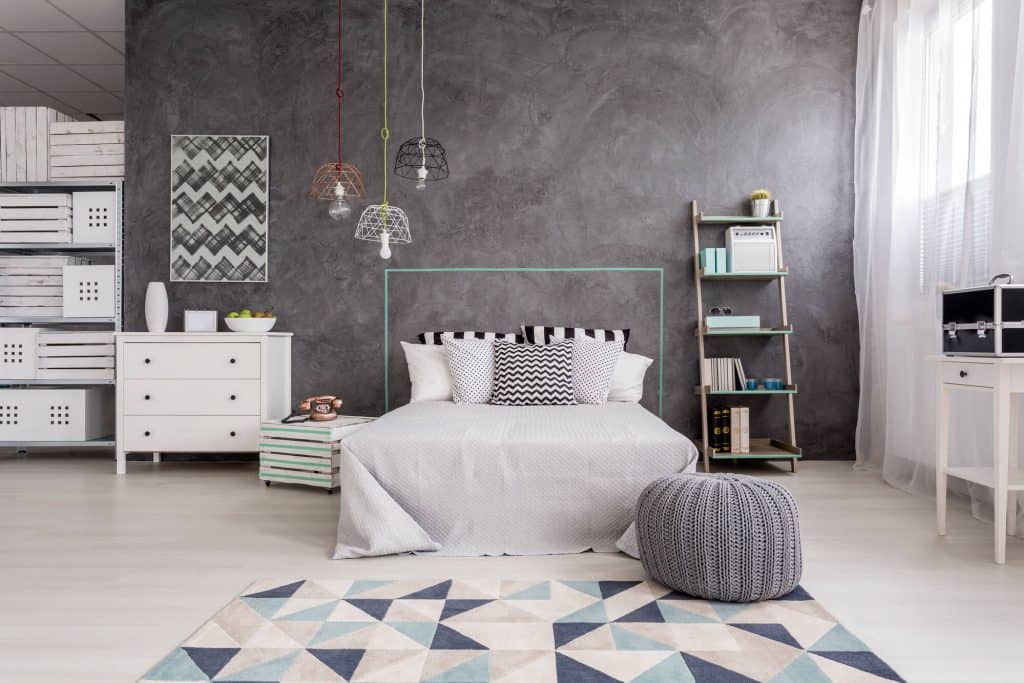 This post may contain affiliate links. Please see my disclosure policy for details.
Bedroom Storage Hacks
Here are 67 storage solutions to help you organize and maximize your small bedroom.
1. Mount Adjustable Wall Lamps
Lighting is a big part of the bedroom ambiance, and adjustable lamps mounted to the wall can free up precious space on your nightstand. They also provide task lighting that can be moved out of the way if needed.
The easy way is to get the corded type that plugs into an outlet so you don't need an electrician.
2. Hang Pendant Lights
If you don't want lamps on the wall, you can hang pendant lights from the ceiling to free up all of the flat surfaces below and still provide ample lighting.
These will need to be hard-wired and likely require an electrician.
3. Get an Over the Door Purse Hanger
One of the most frequently missed bedroom storage hacks is using the back of a door.
You can hang a purse rack on the back of your bedroom door to create extra storage for purses, scarves, belts, and more.
4. Install a Mirrored Hanging Jewelry Storage Armoire
A hanging jewelry armoire can go over the inside of the bedroom door or outside of the closet door for handy storage and the armoire door serves double duty as a mirror.
5. Get an Over the Door Cap Rack
Does your husband or son collect baseball caps? This over-the-door cap rack will keep them organized and out of the way – if you can get him to hang the hats up.
6. Hang Your Shoes On the Door
Here's a great way to keep your shoes from taking up valuable floor space. This shoe organizer hangs over the door for out-of-the-way shoe storage.
7. Get an Over the Door Pocket Organizer
Get a pocket organizer that hangs over the door and has several slots for all of your storage needs. Common uses are toys, toiletries, and undergarments.
8. Hide Your Laundry Hamper
Hide your dirty laundry behind the door too. A hanging laundry hamper keeps your dirty laundry off the floor and out of sight behind the door.
9. Use an Over the Door Folding Hanger Holder
An over-the-door hanger holder is great for storing shirts. It extends when hanging, then folds down for compact storage.
10. Install a Clothing Rack Over the Door
An over-the-door clothes rack turns the back of your door into a hanging closet rod that's great for shirts and jackets. Now that we're done with the door, we'll talk about the hacks that give you wall storage.
11. Hang Floating Shelves
Install floating shelves to turn empty wall space into usable space and decorative storage.
12. Install Hanging Corner Shelves
Corners are often lost storage. Install these hanging corner shelves to reclaim that space.
13. Hang Floating Shelves with Storage Drawers
Hang floating shelves with drawers to store things out of sight.
15. Hang a Wall Mounted Shelf with Baskets and Hooks
Hang this triple threat wall-mounted shelf that has storage baskets and coat hooks.
16. Install Ceiling Mounted Shelves
This ceiling-mounted shelf is great for adding storage in that unused space over doors and under higher ceilings.
17. Hang a Modular Pegboard Organizer System
Hang this modular pegboard organizer for a versatile organization and storage solution.
18. Store Makeup in a Caddy
Get a makeup caddy to keep your makeup contained and organized all in one place.
It keeps everything together and in easy reach.
19. Hang a Wall Mounted Fold Out Desk
Install a wall-mounted desk that folds up out of the way and into a convenient chalkboard.
20. Install a Hideaway Ironing Board
Install a hideaway ironing board that won't take up a ton of space. The best part is when you're done, you can tuck it out of the way.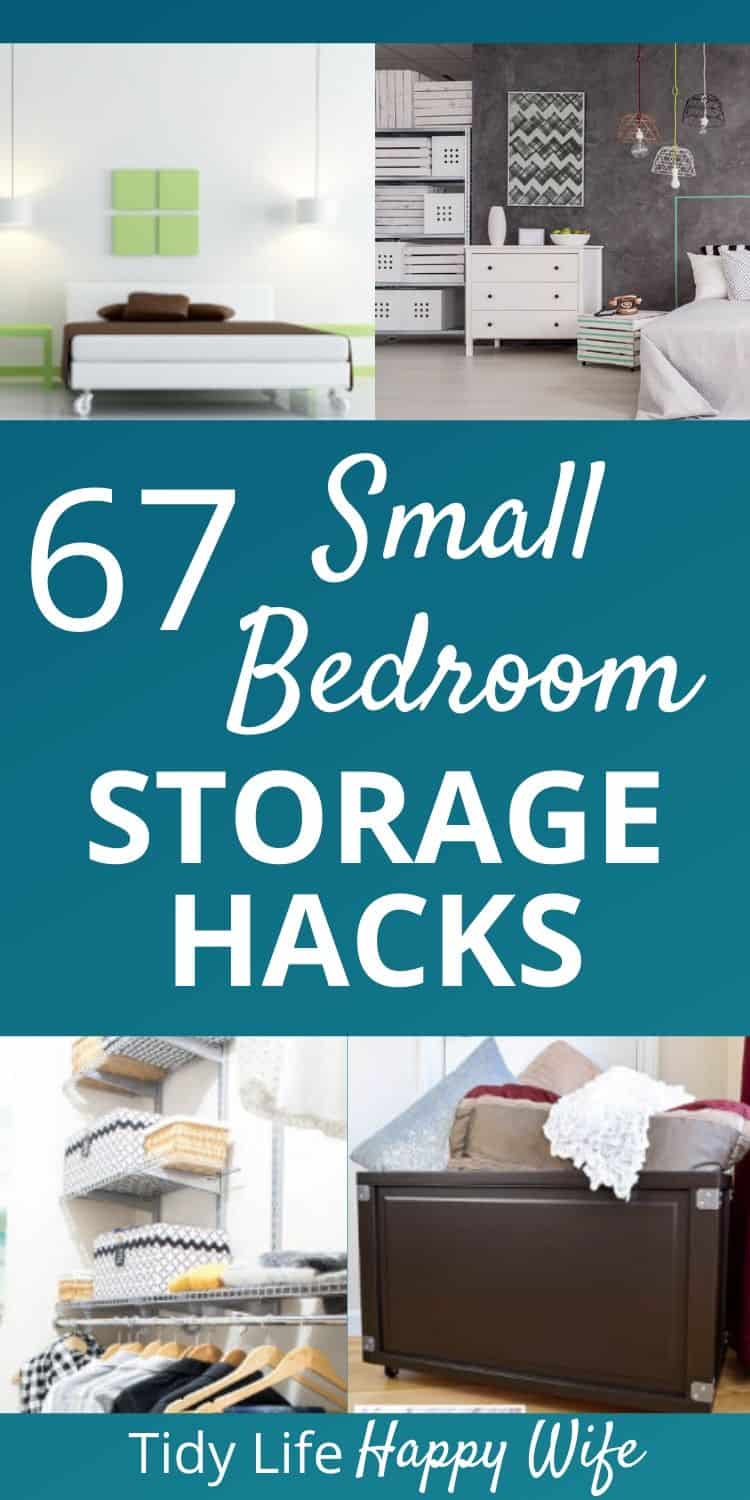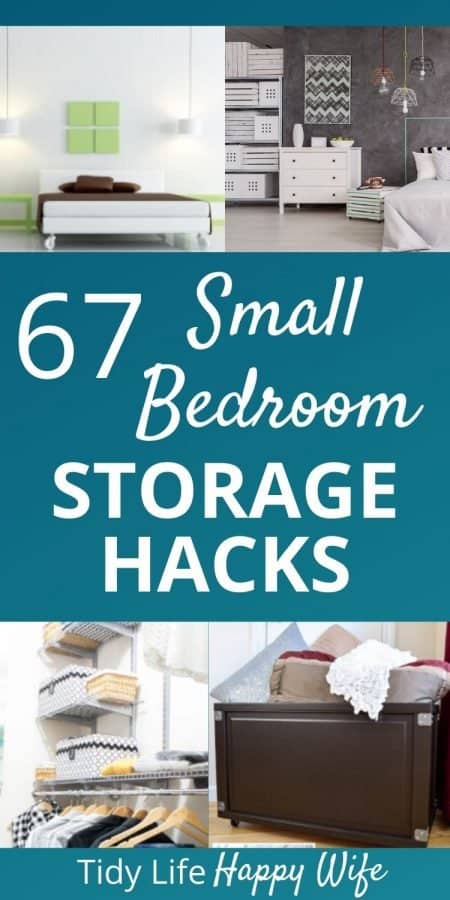 21. Get an Extendable Hanging Closet Rod
A hanging closet rod hooks over your regular rod and doubles your hanging space.
22. Use a Hanging Closet Organizer
Try a hanging closet organizer to maximize your closet space. It slips right over your existing rod to create extra storage cubbies.
23. Hang Your Camisoles All On One Hanger
Save space and hang several camisoles, belts, or scarves in your closet on a handy little storage hanger.
24. Get Pants Hangers
Get some pants hangers that hold 5 pairs of pants and only take up the space of one hanger.
25. Keep Your Workout Clothes Together
Hang several tank tops and pairs of leggings on an organizing hanger that keeps them all together and compact on just one hanger.
26. Get Space Saving Clothes Hangers
Get some space-saver clothes hangers that hold up to ten hangers at one time.
AVOID THE COMMON DECLUTTERING MISTAKES OTHERS MAKE!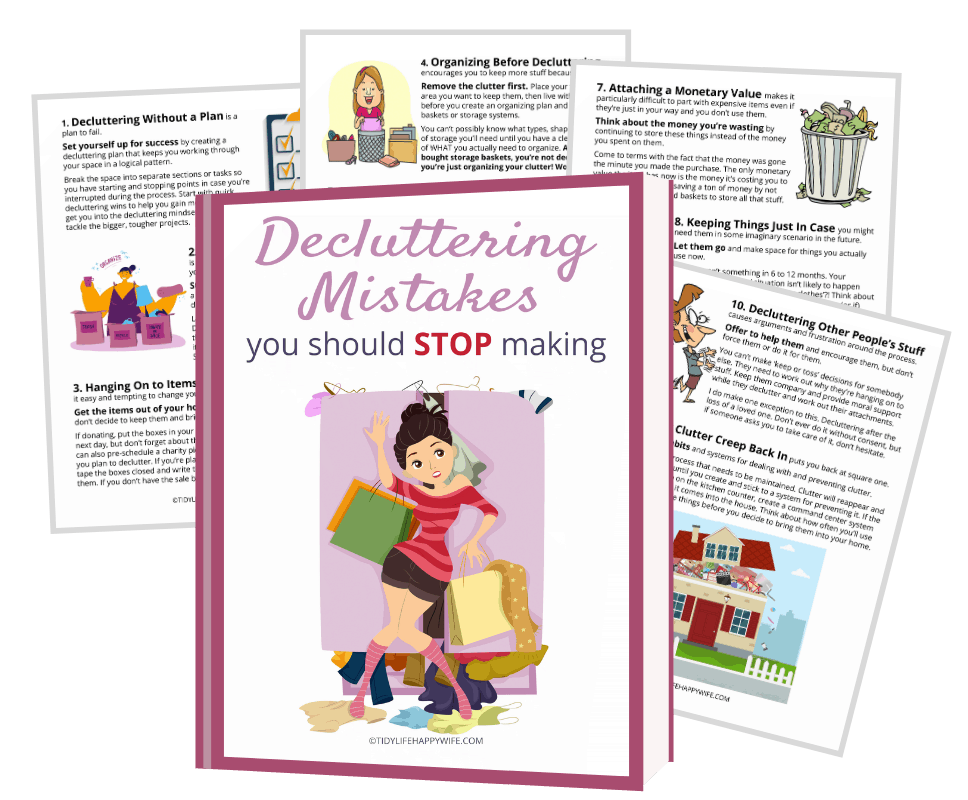 Join thousands of VIPs for cleaning, decluttering, and organizing tips sent straight to your inbox. As a welcome gift, we'll send you this FREE printable Decluttering Mistakes Guide that tells you exactly what NOT to do when decluttering.
27. Install a Motorized Tie Rack
A motorized tie rack holds several ties in a small space and rotates for easy retrieval.
28. Use Space Saver Shoe Racks in the Closet
Try this space-saver shoe rack that holds both shoes in the slot for just one without stacking and scuffing your shoes.
You can line up several of them on one shelf and double your shoe storage space.
29. Use Stackable Closet Shelves
Use stackable storage shelves that help maximize your shelf space by adding extra tiers.
30. Get or Build a Lazy Susan for Your Shoes
Get a lazy susan to store your shoes in a corner and still be able to see them all.
31. Use a Spinning Shoe Tree
Another style of lazy susan for your shoes is a spinning shoe tree that holds 24 pairs of shoes.
32. Get a Customizable Shoe Tower
Portable shoe racks can be expanded, extended, and arranged in whatever configuration you need to fit your storage needs.
33. Use an Adjustable Shoe Tower
Use an adjustable shoe tower to maximize your shoe storage.
34. Install an Adjustable Closet Organizing System
Install adjustable closet racks so you can maximize your space by making sure each section is perfectly sized to meet your needs. See how Sustain My Craft Habit finally gave her husband a little closet joy.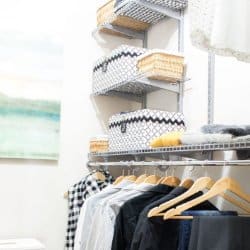 35. Use a Free Standing Closet System
If you don't have any closets, use a free-standing closet system that can be placed anywhere in your room for maximum convenience.
36. Get a Corner Shelf Unit
Put a standing shelving unit in the corner to use lost space.
37. Set Up Stackable Cube Organizers
Set up stackable cube organizers for adjustable and expandable storage. Now let's tackle my hacks for storing toys in the bedroom.
38. Hang a Toy Storage Chain
Toy storage chains are great for hanging stuffed animals, art projects, and baseball caps out of the way.
39. Store Toys in a Corner Hammock
Install a toy hammock in the corner to corral stuffed animals and action figures.
40. Use Toy Storage Bins
Toy storage bins are great for small toys. Each type of toy can be assigned its own bin and stored accordingly. Great for legos, toy cars, barbies, etc.
41. Get a Toy Chest
A toy chest is great for getting toys off the floor and out of sight. It can also do double duty as a bench for extra seating.
42. Build Rolling Storage for Convenience
Build yourself a rolling storage bin that can be used for storing blankets, extra linens, or toys. Find out how from The Handyman's Daughter.
43. Get a Bench with Storage Cubbies
Make your bench do double duty and get a bench with storage basket cubbies for additional seating and storage space.
44.Use a Storage Ottoman
A nice storage ottoman does double duty by providing hidden storage space and extra seating.
My storage ottoman is my favorite piece of furniture in my bedroom. It sits at the end of my bed and doubles as a seat and winter bedding storage.
45. Set Up a Portable Closet
A portable closet can provide necessary clothing storage for bedrooms with no closets.
It's probably not the most desireable permanent solutions, but it'll certainly help keep your room organized until you can come up with a better option.
46. Get a Storage Armoire
Get a storage armoire for much-needed clothing storage in rooms with small or no closets.
I use a storage armoire for my bathroom towels because I don't really have anywhere to keep them in my master bathroom.
47. Use a Narrow Vertical Storage Dresser in Tight Spots
Maximize narrow spaces by buying right-sized storage. These vertical storage dressers come in several sizes including one as narrow as four inches.
48. Get an Over the Bed Table
This bed table fits over your bed and would make a great desk or table. It slides back and forth for easy storage of bedroom items and can be moved to the foot of the bed when it's time to go to sleep.
49. Hang a Bedside Storage Caddy
This bedside storage caddy hangs off the side of the bed for easy and convenient storage of items you'd usually stack on your nightstand including books, remotes, and glasses.
50. Attach a Bedside Shelf
The bedside shelf attaches to the side of your bed and provides extra storage for small items.
51. Get a Rolling Cart for a Bedside Table
This handy rolling cart can serve double duty as a bedside table and it can be moved around as needed.
The rolling cart is one of the most versatile storage solutions available and I've seen people use them in their kitchens and craft rooms too.
52. Use a Storage Table Next to the Bed
A lot of bedside tables are just flat surfaces. Make sure you look for something with shelves or drawers so you have some extra storage room.
53. Install Bed Risers for Extra Space
Install bed risers to increase the height of the space under your bed for extra storage.
54. Use Vacuum Bags for Extra Linens and Clothes
Use vacuum bags to compact seasonal and seldom-used linens and clothing so you can slide them under the bed or under a dresser.
55. Use a Clothing Bag to Store Clothes Under the Bed
Clothing storage that has transparent windows and slides under your bed.
56. Store Shoes Under the Bed
Use these under-bed shoe storage containers with transparent zippered tops and adjustable dividers to store your shoes under the bed.
57. Put Rolling Storage Bins Under the Bed
Use rolling plastic storage bins with lids to store stuff under your bed.
58. Use Stackable Drawers to Reclaim Space
Use stackable drawers to reclaim extra space under beds and benches.
59. Get Drawers on Wheels to Hide Under the Bed
Drawers on wheels allow you to hide stuff under the bed and still have easy access.
60. Use a Rolling Cart for Under Bed Storage
A rolling cart can be packed full and rolled right under the bed for conveniently hidden storage.
61. Use a Bed Skirt to Hide Under Bed Storage
Put a bed skirt on your box spring mattress or around your bed frame to hide all of those under-bed storage containers. If you don't want to stuff everything under the bed, you'll like these last few bedroom storage hacks, but they might get a bit expensive.
62. Get a Daybed with Drawers
Daybeds are a great option when you're short on space or need an extra bed for company. This daybed with drawers does double duty by providing extra storage space.
63. Install a Desk Under a Loft Bed
Loft beds offer a lot of storage underneath but this loft bed with desk is more than storage. It includes a desk workspace tucked underneath the bed.
64. Get a Loft Storage Bed
Get a loft bed to maximize storage with extra bookshelves and storage cubbies.
65. Use a Liftable Platform Bed
If you're really limited on space or want hidden storage, this platform bed lifts up to reveal all of the hidden space underneath.
66. Get a Panel Bed with Storage Drawers
Get a panel bed with storage drawers underneath for hidden storage.
67. Install a Bookcase/Dresser Headboard
Use the space behind your bed and create a surrounding headboard out of bookcases and dressers.
Which Bedroom Storage Hacks Are You Going to Try?
That's it! Those are all of my bedroom storage ideas. Which storage hacks will you try in your small bedroom?