This post may contain affiliate links. Please see our Disclosure Policy for details
You want a clean home but you just don't have enough time to get it all done. It's not easy to keep up with all the demands on your time, and the housekeeping seems to be the thing that suffers. Here's a cleaning routine checklist for busy women to help you get it all done.
Life happens. You spread yourself so thin that eventually, something has to give, and for a lot of us that ends up being the housework.
Part of the problem is our definition and perception of a clean home. I know people who mop their floors and dust the furniture every single day. Once a week is all I can manage, and I just spot clean any major messes that arise in the meantime.
I used to do all of my cleaning every Sunday. It would take me most of the day and then I was too tired to do anything else. I loved the results, but I dreaded cleaning day each and every week. It was pure torture.
Cleaning Routine Checklist for Busy Women
Then I tried something different. I started a daily cleaning routine. It's actually just a bunch of 'clean as you go' habits. It helps keep my house tidy and presentable until I get the weekly cleaning done.
Some people prefer to break their routines up by tasks. That means they might dust their entire house one day, then clean the floors the next.
That's never worked for me because I never feel like I'm finishing anything. I prefer to clean each room from start to finish.
I also created a weekly cleaning routine and checklist to spread the rooms throughout the week so I wasn't spending an entire day cleaning. The daily and weekly cleaning schedules make up my normal cleaning routine. Check it out and see if it'll work for you.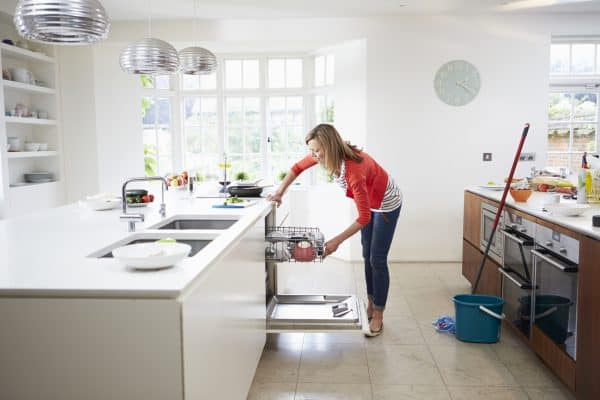 Daily Cleaning Routine
The first half of the cleaning routine is the daily cleaning routine. These are the 'clean as you go' tasks. The ones that only take a couple of extra minutes throughout your day.
Make Your Bed
It may not seem like it but making your bed every day makes a huge difference. It instantly makes the room look tidy and it's a quick task that can set the tone of accomplishment for your entire day.
If you feel like it takes too long to make your bed, try to simplify the linens. Limit pillows and try a duvet or coverlet that lies on top of the bed instead of a bedspread that has to be tucked in.
Squeegee The Shower
When you finish with your shower, run a squeegee
over the walls and doors, then spritz with diluted vinegar and let dry. This only takes a couple of minutes, but significantly cuts down on soap scum in your shower and extends the time between shower cleanings. Still not convinced, check out the pros and cons of the professionals.
Put Away Toiletries and Makeup
Between our makeup, deodorant, and hairbrushes, our bathroom counters can become quite cluttered. When you finish with these items put them away and remove all extra items from the counter.
Wipe Down Bathroom Counters and Sinks
Wipe down the water spots, toothpaste splatters and any other spills on the bathroom counters, wipe off the sink fixtures, and wipe out the bathroom sink. Dirty counters will attract even more dirt and they just look nasty.
Do the Dishes
When you're finished eating, take care of the dishes. Either wash them or rinse them and place them in the dishwasher. Dirty dishes sitting in the sink are just more for you to clean up later.
Wipe Down Kitchen Sink and Counters
Once you're done with the dishes, wipe down the counters, wipe off the fixtures, and wipe out the sink.
Do a Load of Laundry as needed
Laundry seems to be the one thing that everybody has trouble keeping up with and one of the hardest tasks to catch up on.
Try keeping two hampers in a convenient place, one for colors and one for towels and whites. Once one of the hampers is two-thirds full, do a load of laundry.
Declutter Dump Zones
Clutter gives the appearance of a messy home. Clear out any dump zones or place items in a wicker storage basket
on a daily basis. I have a rule that any time I head to the master bedroom located in the back of the house, I grab something that needs to be put away.
Once you've incorporated the daily cleaning tasks into a normal routine, they'll just become a habit. You won't have to think about them and will just automatically do them.
Need to do a thorough declutter, check out these related decluttering posts on how to declutter your kitchen, your bathroom, and your living room.
Take Out the Trash as needed
You can take out the trash as needed or on a daily basis – whichever works best for you. I take mine out when it fills up, or if I put something in it that has the potential to get stinky.
Weekly Cleaning Routine and Checklist
The second half of the cleaning routine is weekly cleaning. The weekly cleaning tasks are a little more involved and take a little longer to complete. You can pick the days that work best for you, but here's how I break mine down.
Some days I get in the zone so I just keep moving on to the next room. This schedule is flexible so tweak it how you like to fit your needs.
Monday – Kitchen
I do a lot of my cooking and food prep on the weekends, so Monday is Kitchen day. Once it's clean, it stays that way through most of the week.
Clear the clutter
Check refrigerator, freezer, and pantry and toss any old leftovers or expired food
Wipe out the insides of the refrigerator, microwave, and oven
Dust cabinet faces, tops, counters, and any other flat surfaces
Spot clean and polish exterior of appliances
Spot clean windows and glass
Take out the trash
Disinfect counters, sinks, and trash can
Vacuum and mop floor
Disinfect light switches and door handles
Tuesday – Living Room & Dining Room
Clear the clutter
Dust all decorations, tables and flat surfaces
Spot clean and polish furniture
Spot clean television, windows, and glass
Vacuum and/or mop floors
Disinfect light switches and door handles
Wednesday – Laundry, Utility & Mud Rooms
Clear the clutter
Dust all outer surfaces of cabinets and flat surfaces
Take out the trash
Vacuum and/or mop floors
Disinfect light switches and door handles
Thursday – Bathrooms
Clear the clutter
Dust or vacuum the exhaust fan cover
Dust all outer surfaces of cabinets and flat surfaces
Spot clean mirrors, windows, and glass
Take out the trash
Disinfect the shower, tub, toilet, the wall behind the toilet, and the trash can
Vacuum and/or mop floors
Disinfect light switches and door handles
Friday – Bedrooms & Office
Clear the clutter
Change the Sheets
Dust all outer and flat surfaces
Spot clean mirrors, windows, and any other glass surfaces
Vacuum and/or mop the floors
Disinfect light switches and door handles
Saturday – Garage & Outdoors
Clear any clutter
Disinfect light switches and door handles
Do your seasonal chores a needed
Sunday – Self-Care and Family Time
This is my favorite day.  There's usually very little or no cleaning involved and my focus is on my family.
Spend time with family
Rest, relax, and recharge
Cleaning Routine Checklist Complete
So that's it.  It looks like a lot when it's in writing, but it's really pretty quick and easy. Keep in mind that most of the tasks are spot cleaning tasks, so if it isn't dirty, there's no need to clean it.
Life is really busy, and we all have different circumstances. If you miss a day, skip it completely that week. Don't beat yourself up. A week isn't going to make that big of a difference.
If this routine doesn't work for you, tweak it so it does. Mine didn't start this way. It has morphed over the years and continues to do so. We adopted two rescue kitties, and it turns out one of them is a Mainecoon, so now I am vacuuming more often then I used to.
My Go-To Cleaning Supplies
I won't bore you by listing all of the cleaning supplies I use, but I couldn't finish this post without suggesting these four.
I've tried every glass cleaner on the market and haven't found a single one that works better than HOPE'S Perfect Glass
. It leaves my glass clean and streak-free with very little effort.
Bar Keepers Friend
is my go-to cleaner for sinks, glass stovetops, the grease burnt on bottoms of pots and pans, and the cutlery scuff marks on my white dishes.
I absolutely love these Zwipes Microfiber Cleaning Cloths
for all cleaning tasks. They come in a 24 pack with 3 different colors. I use the green cloths for mirrors, windows, and stainless steel appliances, the yellow for flat surfaces, countertops, and interior surfaces, and the blue for floors, tubs, and toilets.
Much like the glass cleaner, I think I have tried every mop on the market, and none works as well as the O-Cedar EasyWring Spin Mop. It has a foot pedal wringing feature that enables me to control how much moisture stays in the mop. I can leave it a little wetter for the kitchen tile floors but wring it pretty well for the hardwood floors in my living room.


Related Post 13 Dirtiest Things You Should Be Cleaning, But Aren't
Your Turn
So that's it, my daily habits and cleaning routine checklist for busy women with a side of my favorite cleaning supplies. Let me know what you think and how you manage to get your cleaning done with your busy schedule.