How To Speed Clean Your House When There's NO Time for Anything
You're lounging around the house on a lazy Saturday afternoon and the phone rings. It's the in-laws, they're 'in the neighborhood' and will be stopping by in 30 minutes or so. You smile at the phone, say 'ok, see you in 30' in the happiest voice you can muster.
Then you hang up and launch into full-on panic mode. You look around and realize the house is looking a bit messy and you don't want anybody (let alone your mother-in-law) seeing your house this way.
Take a breath, you've got this. Here's a 30-minute quick clean routine that makes the house presentable and gives you 5 minutes to freshen yourself up before you open the door. Need more tips, check out my cleaning page.
What Exactly is Speed Cleaning?
Speed cleaning is removing the obvious clutter, tidying up, and removing the visible surface dust and dirt around your home.
It's not meant to be a deep clean because you just don't have time for that. The only purpose here is to freshen up the areas that your guests will be in.
How to Speed Clean for Company
These speed cleaning steps are designed to make you the most efficient and give you the biggest improvement possible with the limited time you have available.
This routine takes 30 minutes, if you have less than 30 minutes, decide what's the least important and cut it from the routine to save time.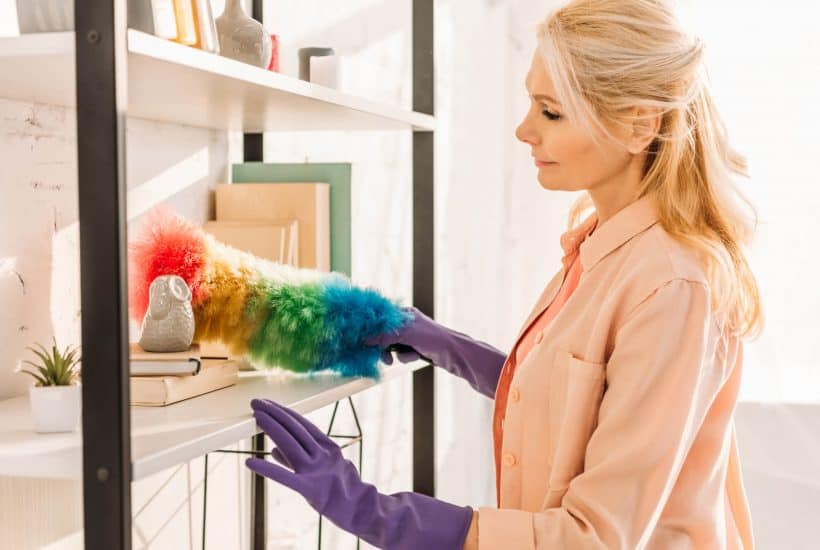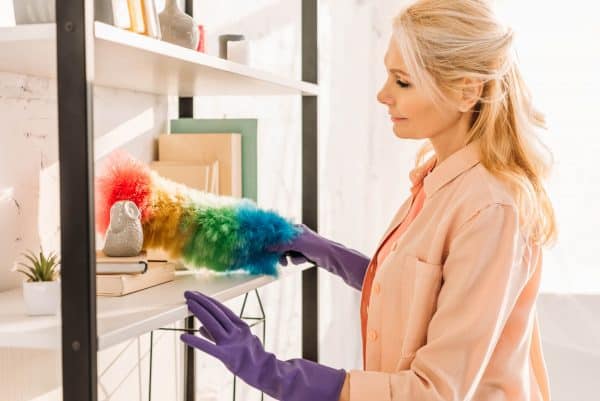 This post may contain affiliate links. Please see my disclosure policy for details.
1. Grab Your Supplies – 3 minutes
You won't need your entire supply of cleaning products for this speed clean, so just grab a few out of one of your cleaning kits.
During my weekly and deep cleaning routines, I use a few different types of cleaners. For this speed clean routine, I stick with Hope's multi-surface cleaner. I can use it on any and all surfaces and it means grabbing only one bottle of cleaner.
Here's a list of what you'll need.
Candles or Air Freshener
Basket
Microfiber Cloths
Toilet Cleaner and Scrubber
Vacuum Cleaner – a stick vacuum would be really handy here
2. Freshen the Air – 2 minutes
Freshen the air and make your home smell inviting. The smell of a home can greatly influence your guest's perception.
I usually light a couple of my favorite candles so they have time to release the fragrances into the air. If you don't have candles handy, try some air freshener spray, or put a pot of water on the stove with some cinnamon sticks and cloves in it.
3. Do a Declutter Walk Through – 5 minutes
This step only applies to the rooms your guests might be in. If there's no reason for them to be in a specific room, just close the door.
Grab your basket, laundry hamper, or a garbage bag and pick up the clutter while walking through the house. It doesn't matter where it actually belongs, just collect it all and stash it in the garage or a closet for now.
GET YOUR CLEANING DONE DURING THE WEEK!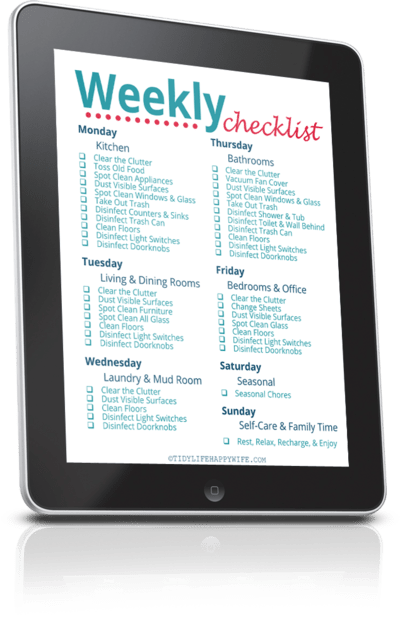 Join thousands of VIPs for cleaning, decluttering, and organizing tips sent straight to your inbox. As a welcome gift, we'll send you this FREE printable Weekly Cleaning Checklist that lists exactly what to deep clean in every room of your home.
4. Speed Clean Your Bathrooms – 5 minutes
Your guest are very likely to use the bathroom at least once while they're there, so I clean this room first.
Squirt some cleaner around the inside of the toilet bowl and let it sit for a few minutes.
While you're waiting for the toilet cleaner to work, spray some multi-surface cleaner on the mirror, faucet, counter, and sink. Wipe them all down with a microfiber cloth, then run the toilet brush around the inside of the toilet and flush.
Wipe down the exterior of the toilet, check the toilet paper and hang new hand towels.
5. Touch Up The Kitchen – 5 minutes
Depending on the layout of your home and the way you entertain, your quests may or may not be in your kitchen. My house is fairly open, so my kitchen is always visible.
Start by getting any dirty dishes out of sight and clear off the counters as much as possible. Even if that means stuffing everything in the pantry or garage just to get it out of sight.
Spray multi-surface cleaner on the stovetop, countertops, faucets, sink, and appliance fronts and wipe them down with a microfiber cloth.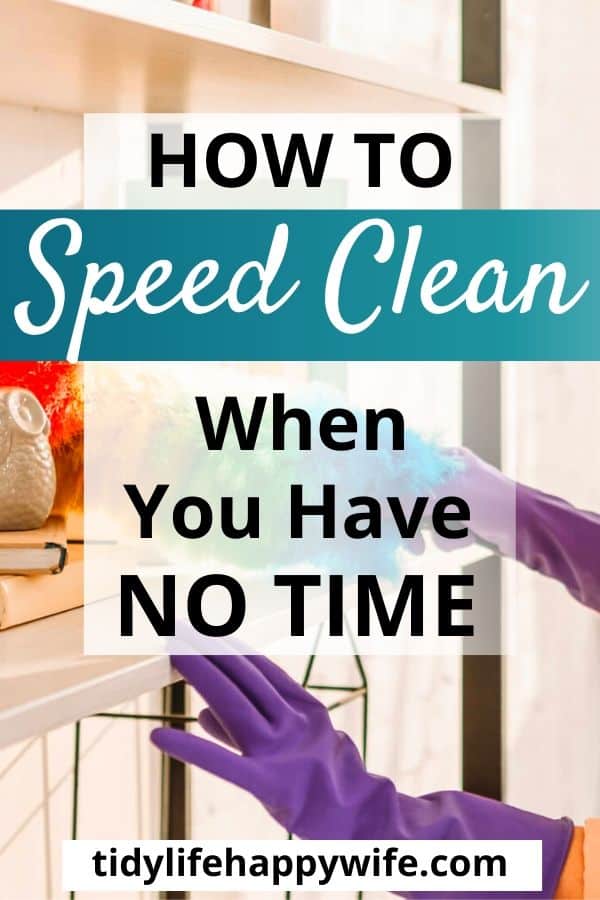 6. Speed Clean Your Floors – 5 minutes
I said speed clean, so don't even think about mopping. Just grab your vacuum and quickly run it over the floors in the kitchen, bathroom, living room, entryway, and any other room your visitors might need to go into.
This is just a quick 'once-over' to get the bigger, visible stuff, no need to move furniture and worry about corners right now.
7. Freshen Yourself Up
Now that that house has had a quick freshen up, your turn.
Go brush your hair and straighten your clothes. It's probably a good idea to brush your teeth too. I also like to put on a bit of mascara and a light layer of lipstick so I don't look like I've been lazing around all morning – what they don't know won't hurt them.
Speed Cleaning For Company
Cleaning for company is a personal choice because your house only needs to be as clean as you're comfortable with, regardless of what anybody else thinks. I'm always a little less stressed if I've given my house a once over before company arrives, so I speed clean any time I know that people are stopping by.
Only clean the rooms your guests will be in, and only worry about visible surfaces. No need to clean under couch cushions or in the corners of the room. If there's no reason for a guest to be in a specific room, don't clean it at all, just shut the door.
Spot clean the house, freshen yourself up, and enjoy your company.