51 Clever Quotes About Cleaning to Inspire, Motivate, and Entertain You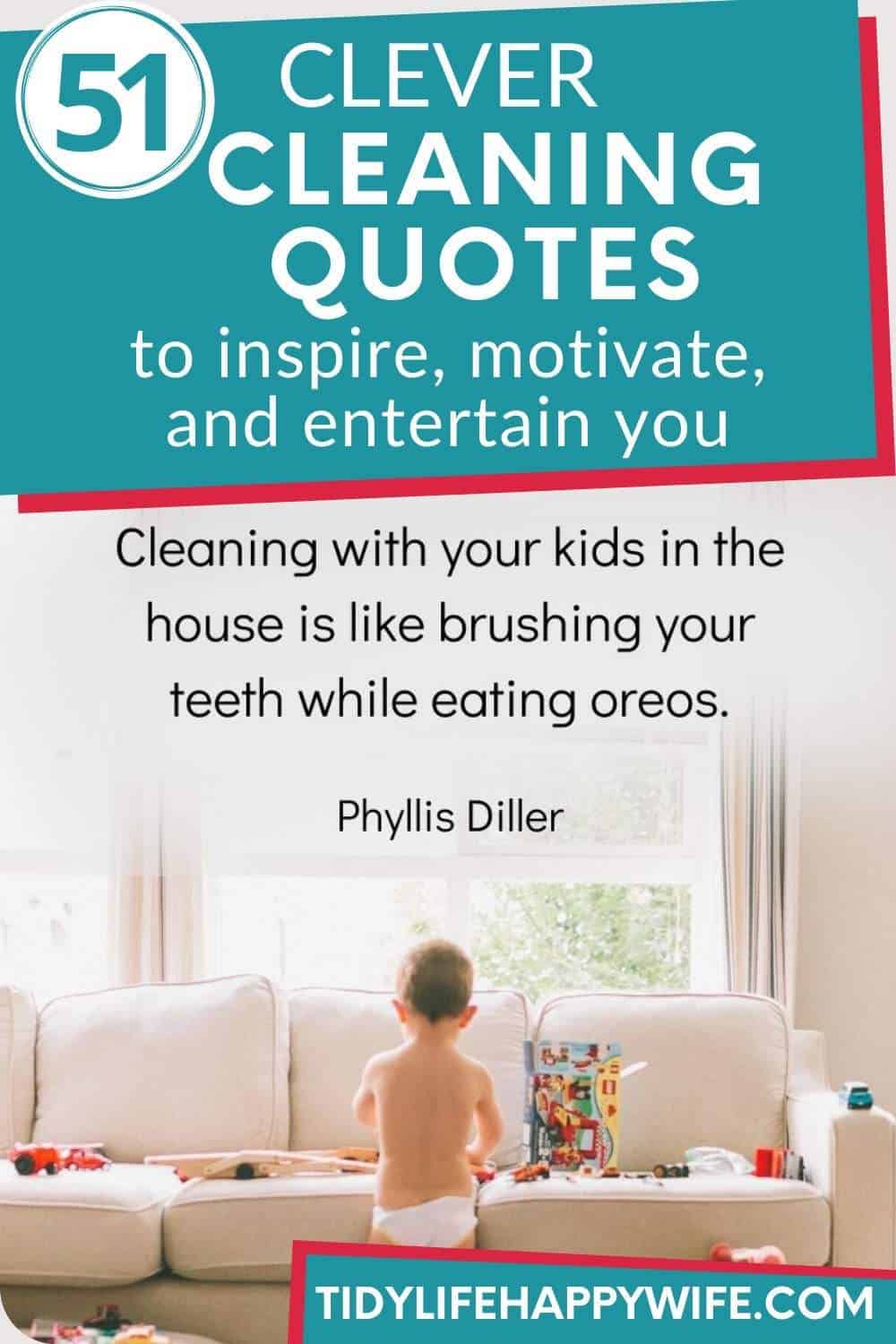 Love a clean home but loathe having to clean it? Hiring a housekeeper isn't an option? Here are some clever quotes about cleaning to help inspire, motivate, and entertain you.
Personally, I don't actually like cleaning, but I enjoy the results so much that the pros outweigh the cons in the end.
Regardless of whether you love or loathe it, there's surely a clever quote about cleaning that resonates with you.
Here's a collection of the best cleaning quotes you can find.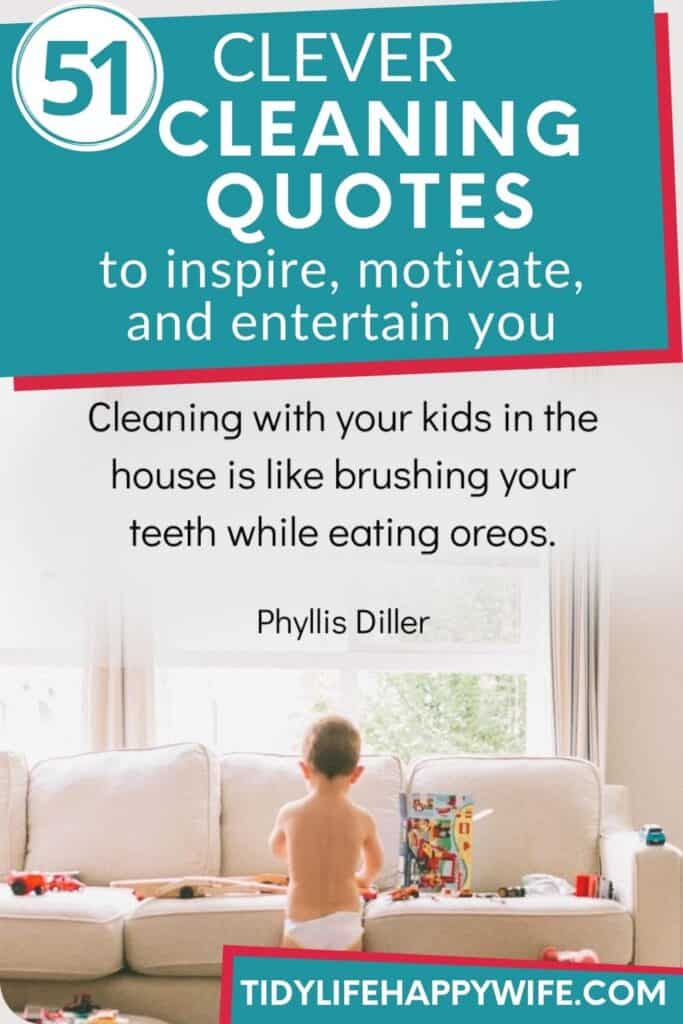 Funny Quotes About Cleaning That'll Make You Laugh
1. "Housework can't kill you, but why take a chance?" Phyllis Diller
2. "Nature abhors a vacuum. And so do I." Anne Gibbons
3. "My daughter wanted a Cinderella-themed party so I invited all her friends over and made them clean the house." Unknown
4. "Cleaning up with children around is like shoveling during a blizzard." Margaret Culkin Banning
5. "Nothing inspires cleanliness more than an unexpected guest." Radhika Mundra
6. "Cleaning your house while your kids are still growing up is like shoveling the walk before it stops snowing." Phyllis Diller
7. "My idea of housework is to sweep the room with a glance." Erma Bombeck
8. "Excuse the mess, but we live here." Roseanne Barr
9. "Cleaning the house fascinates everyone in my family. They can sit and watch me for hours." Unknown
10. "Housework is like cleaning fish. No matter how often you do it, it still stinks." Thelma Harper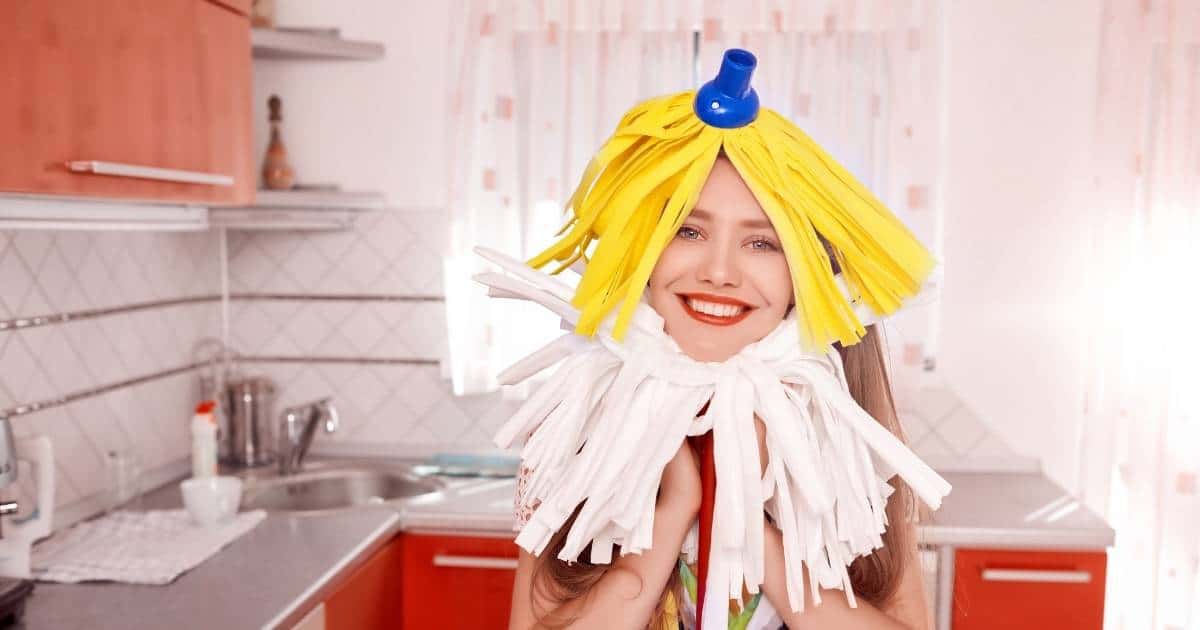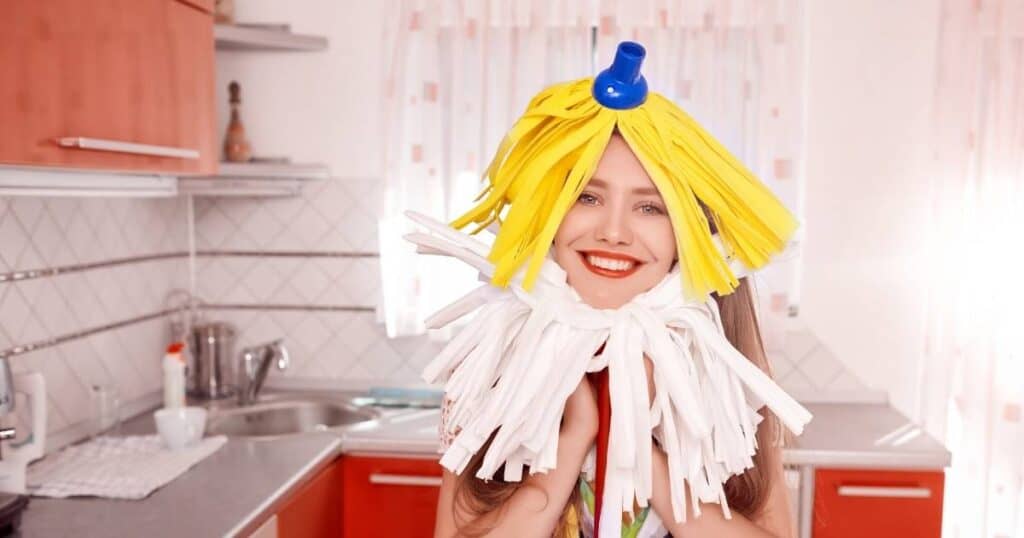 11. "Everyone wants to save the earth; no one wants to help mom do the dishes." P.J. O'Rourke
12. "First rule of housecleaning while listening to music: the toilet brush is never the microphone." Unknown
13. "Dust is a protective coating for fine furniture." Mario Buatta
14. "I'm not going to vacuum until Sears makes one you can ride on." Roseanne Barr
15. "I hate housework. You make the beds, you wash the dishes and six months later you have to start all over again." Joan Rivers
GET YOUR CLEANING DONE DURING THE WEEK!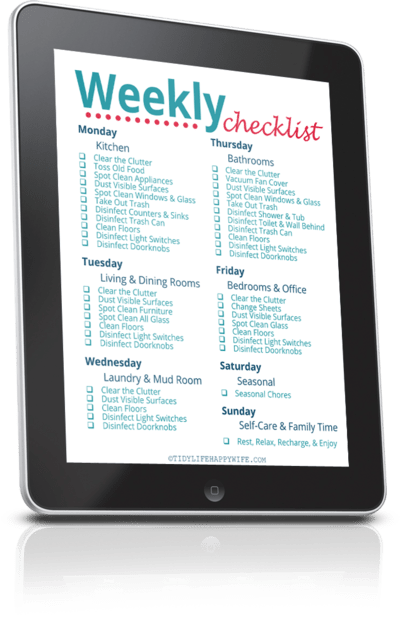 Join thousands of VIPs for cleaning, decluttering, and organizing tips sent straight to your inbox. As a welcome gift, we'll send you this FREE printable Weekly Cleaning Checklist that lists exactly what to deep clean in every room of your home.
More Funny Cleaning Quotes
16. "This is a self-cleaning kitchen. Clean up after yourself." Unknown
17. "Don't you wish you could finish cleaning the house and just hit the 'save' button." Unknown
18. "If your house is really a mess and a stranger comes to the door, greet him with, "Who could have done this? We have no enemies." Phyllis Diller
19. "My kitchen was clean last week. Sorry, you missed it." Unknown
20. "Housework is what a woman does that nobody notices unless she hasn't done it." Evan Esar
21. "The day I worry about cleaning my house is the day Sears comes out with a riding vacuum cleaner." Roseanne Barr
22. "Don't confuse my desire for a clean house as a desire to clean up after you." Unknown
23. "A man thinks all dust stays outdoors." Ernest Vincent Wright
24. "I'm eighteen years behind in my ironing. There's no use doing it now, it doesn't fit anybody I know." Phyllis Diller
Inspirational Cleaning Quotes to Get You Moving
25. "Cleaning is my favorite way to relax. I clear things out and get rid of the stuff I don't need. When the food pantry and the refrigerator are organized, I feel less stressed." Jennifer Morrison
26. "The way to get started is to quit talking and start doing." Walt Disney
27. "I make no secret of the fact that I would rather lie on a sofa than sweep beneath it. But you have to be efficient if you're going to be lazy." Shirley Conran
28. "We dream of having a clean house – but who dreams of actually doing the cleaning? We don't have to dream about doing the work, because doing the work is always within our grasp; the dream, in this sense, is to attain the goal without the work." Marcus Buckingham
29. "When your environment is clean you feel happy motivated and healthy." Lailah Gifty Akita
30. "The objective of cleaning is not just to clean, but to feel happiness living within that environment." Marie Kondo
31. "Don't let perfect be the enemy of the good. Lower the bar. Actually spending ten minutes clearing off one shelf is better than fantasizing about spending a weekend cleaning out the basement." Gretchen Rubin
32. "When all else fails, cleaning house is the perfect antidote to most of life's ills." Sue Grafton
33. "Clean your screens as if you are cleaning your soul, allowing the air to flow through freely." Shoukei Matsumoto
Famous Quotes About Cleaning
34. "Housekeeping is like being caught in a revolving door." Marcelene Cox
35. "Cleaning and organizing is a practice, not a project." Meagan Francis
36. "There is no daily chore so trivial that it cannot be made important by skipping it two days running." Robert Brault
37. "My idea of superwoman is someone who scrubs her own floors." Bette Midler
38. "Housework, if you do it right, can kill you." Erma Bombeck
39. "You don't get anything clean without getting something else dirty." Cecil Baxter
40. "I always clean before the cleaning lady comes. If not, when I come home, I can't find anything. Cleaning ladies are always hiding things you leave out." Celia Cruz
41. "Housework is a treadmill from futility to oblivion with stop-offs at tedium and counter-productivity." Erma Bombeck
42. "Have you ever taken anything out of the clothes basket because it had become, relatively, the cleaner thing?" Katherine Whitehorn
43. "A spotless house is a sign of a misspent life." unknown
44. "Sweeping only moves the dust somewhere else." Marty Rubin
45. "A bright person can always think of something better to do than housework." Ruby Lou Barnhill
46. "Housekeeping ain't no joke." Louisa May Alcott
47. "Few tasks are more like the torture of Sisyphus than housework, with its endless repetition: the clean becomes soiled, the soiled is made clean, over and over, day after day." Simone de Beauvoir
48. "At worst, a house unkept cannot be so distressing as a life unlived." Rose Macaulay
49. "I have sporadic OCD cleaning moments around the house. But then I get lazy and I'm cured. It's a very inconsistent personality trait." Chris Hemsworth
50. "A clean desk is a sign of a cluttered desk drawer." Mark Twain
51. "Cleaning anything involves making something else dirty, but anything can get dirty without something else getting clean." Laurence J. Peter
Pick One or Share Your Favorite Cleaning Quotes
Pick a few of your favorite cleaning quotes and write them down so they're handy the next time you need a little cleaning inspiration or a good laugh.
Have a favorite I didn't share here, drop it in the comments so we can all enjoy it!