This post may contain affiliate links which means we might earn a commission if you make a purchase. Please see our Disclosure Policy for details
Have you ever met a French Dip you didn't like? Me either. A French Dip is my standby order at restaurants when I can't decide what else to get.
The French Dip has been a staple in my meal planning routine for as long as I can remember, and even more so since I came up with this super easy Slow Cooker French Dip recipe I can make at home.
Growing up, my mom always made French Dips in an old electric frying pan. She would sear the outside of the roast, then let it cook for thirty minutes or so. Then she would remove the roast, slice it with an electric knife, and place all the slices back in the pan to simmer for a couple of hours. That beef was always tender and delicious
When I started making my own French Dips, I made them the same way. But it's time-consuming! You have to be close by to slice the meat once the roast is partially cooked, and you have to stick around to add water occasionally so the liquid doesn't steam dry and leave you with a burnt, leathery mess
I needed to find an easier way so I turned to my trusty old Crock Pot and this recipe was born. With minimal effort and a cheap cut of beef, you can whip up a delicious masterpiece right at home.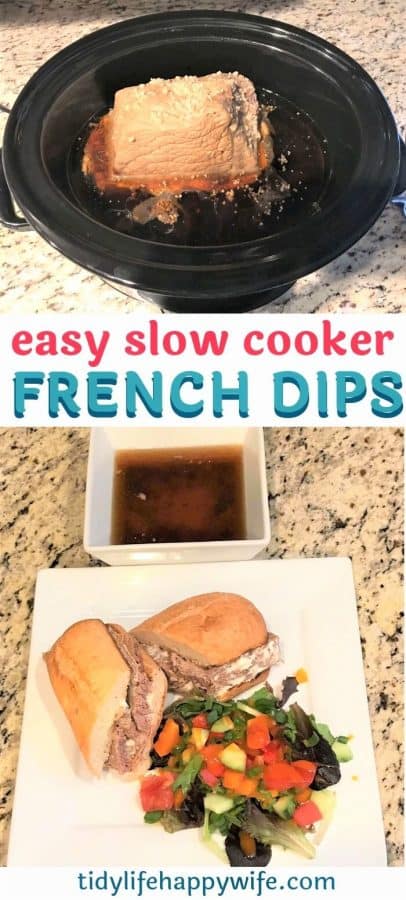 Slow Cooker French Dips
4 lb Chuck or Bottom Round Roast
1 medium Yellow Onion
2 10.5 oz cans Beef Consomme
1 tbsp Worcestershire
2 tbsp diced or crushed Garlic
1 tsp Salt
1 tbsp Pepper
6 Sandwich Rolls
2 tbsp Butter – softened
Mayonnaise
Horseradish
Turn the slow cooker on low heat.
Coarsely chop the onion and layer in the bottom of the slow cooker. Place roast on top of onions.
Pour in beef consomme, then add salt, pepper, and 1 tbsp of garlic.
Cover and let cook five to six hours.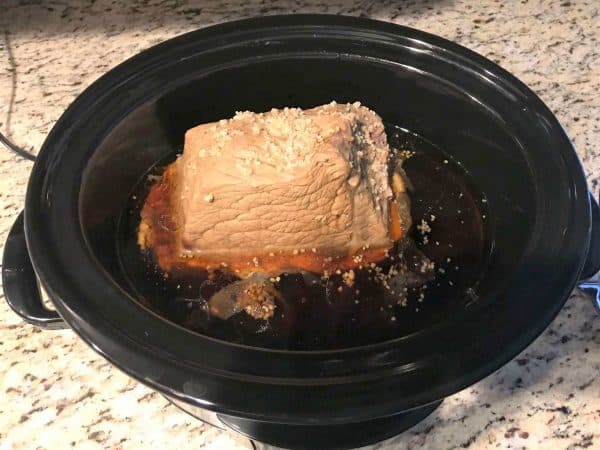 Remove roast from slow cooker and let rest on cutting board for approximately five minutes.
While roast is resting, Turn oven on broil. Combine softened butter and 1 tbsp of garlic in a bowl. Mix thoroughly.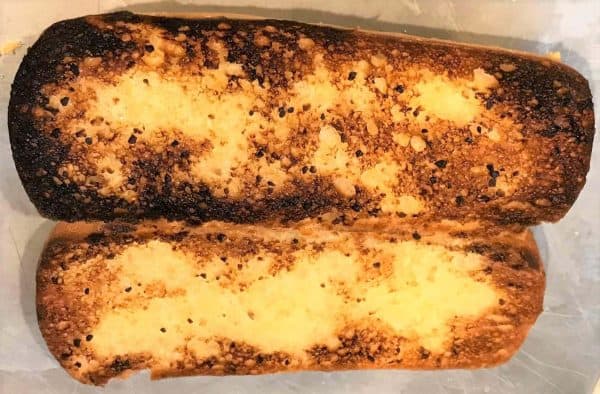 Split sandwich rolls and cover with garlic butter. Place on a cookie sheet under the broiler until rolls are toasty brown.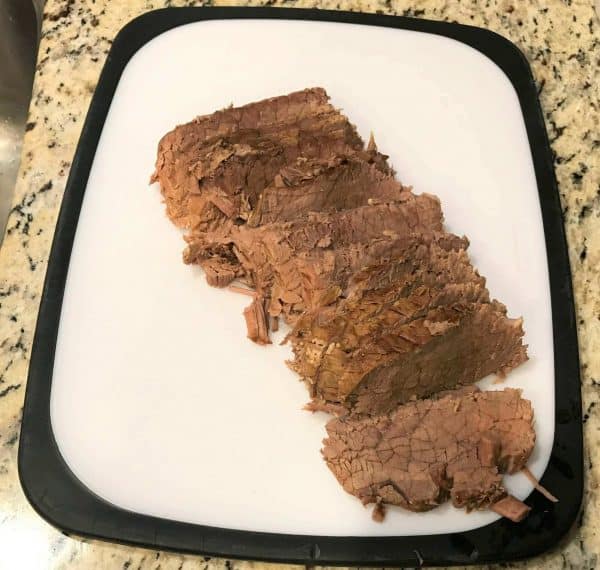 Remove from oven and spread with mayonnaise and horseradish as desired.
Slice roast and assemble sandwiches. Ladel Au Jus into bowls and enjoy!
These French Dips come out of the slow cooker very tender and juicy every time.
I like to pair my Slow Cooker French Dips with french fries, a scoop of cottage cheese with Johnny's Salad Elegance, or a nice garden salad.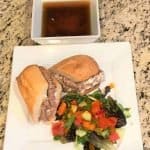 Print Recipe
Easy Slow Cooker French Dips
Prep Time 5 min, Cook Time 5-6 hours, Plating Time 5 min
Ingredients
4

lb

chuck or bottom round roast

1

medium

yellow onion

2 10.5

oz

cans beef consommé

1

tbsp

Worcestershire

2

tbsp

diced or crushed garlic

1

tsp

Salt

1

tbsp

Pepper

6

Sandwich Rolls

2

tbsp

Butter - Softened

Mayonnaise

Horseradish
Instructions
Roast
Turn slow cooker on low heat.

Coarsely chop the yellow onion and cover the bottom of the slow cooker.

Place roast on top of onions.

Pour in beef consommé and Worcestershire sauce.

Spread 1 tbsp garlic over the top of the roast

Place lid on the slow cooker and cook on low for 5-6 hours.

Remove roast and place on cutting board to rest for 5 minutes.

While the roast is resting, turn the oven on broil.
Sandwich Rolls
Mix butter and 1 tbsp garlic.

Spread garlic butter on rolls.

Place rolls on a cookie sheet under the broiler and watch for tops to turn toasty brown.

Remove from broiler and set on top of the stove.

Spread mayonnaise and horseradish on toasted sandwich rolls.

Slice roast to desired thickness.
Notes
A thinner slice will tend to shred a bit.  If you like your sandwiches a little extra juicy, place the roast slices back in the Au Jus for a couple of minutes before assembling the sandwiches.
Want some cheese on your french dip, layer slices on your sandwich roll and place it back under the broiler for a minute or two to melt the cheese.